Why Wearing Lingerie Empowers Me As A +Size Woman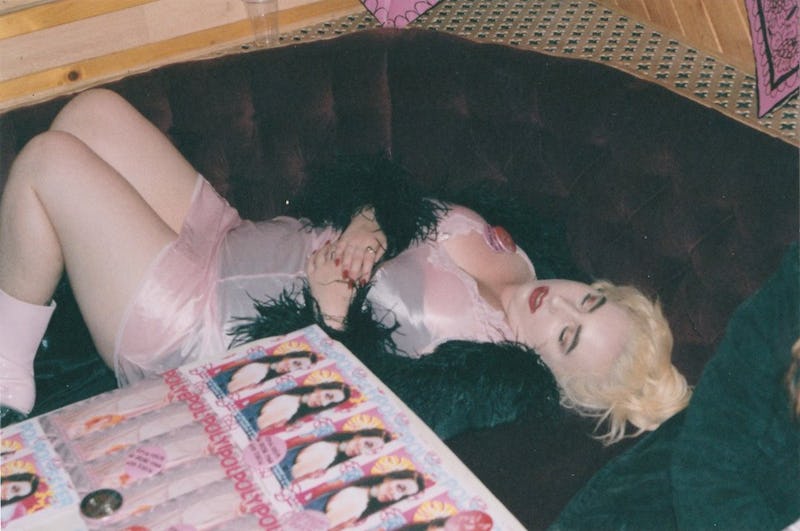 When I was younger and thinner, I didn't care about lingerie. My panties were purchased primarily from Topshop. More often than not they had Care Bears on them. Six years later, I wear lingerie more than any other garment. I find lingerie empowering on my plus size frame — not just in a sexual manner, but in a thoroughly non-sexual way too.
I wear lingerie in the same way many (I imagine) might wear their favorite pair of sweatpants. I work from home writing, sitting in a satin nightie, with a messy bun, and a cigarette in one hand. I'm fulfilling the dreams of who I wanted to be as a teenager: I'm washing the dishes in a silk dressing gown and long, acrylic nails. I go out to get the mail in a sheer cami and shorts set. I exude glamour in a way that a thinner, younger version of myself would never have thought possible.
Perhaps therein lies the thrill I get from wearing lingerie for myself: I'm not only wearing negligees and nighties for the Stepford Wives throwback montage in my head, but I'm wearing lingerie as a fat woman, and that in itself is a taboo that I thrive from.
Being sexual as a plus size woman is a double edged sword: We tend to toe the line between being fetishised and being ridiculed. Personally, I enjoy experimenting with the role of the oversexualized plus size woman, yet when I wear lingerie, I feel as though it's for nobody but myself. In fact, it doesn't even feel like it's for myself, but simply an aspect of who I am and how I naturally present myself to the world. I am Georgina Jones and when I'm at home, you'll find me in a red satin nightie and nothing else.
I also wear lingerie outside the house, both under my clothes and in lieu of them. None of my panties come from a multipack and they're all made from lace or satin. Even out on the town, I love pulling a Madonna and wearing underwear as outerwear. It feels equal parts revolutionary and comforting — this is just who I am, true, but who I am and how I dress rebels against the norm simply because my body is bigger than others.
In an essay for i-D, artist Angel Rose discussed how the dance floor is a utopia and more importantly, how the nightclub is a place of refuge for the plus sized. "For me the club experience is transcendental and this is specific to my own body, as a woman, and as a fat person. If dancing at a club is a form of social liberation, then I would argue that the effects of this liberation are amplified when enacted out by non-normative bodies and marginalized communities."
Rose continues, "If you want to find me at a club, you will most likely spot me spinning around like Stevie Knicks in a feather negligée in the basement of VFD (formerly Vogue Fabrics). The dance floor of VFD is one place where I am allowed to savor such visibility, without fear of censure or ridicule."
Along this line of thought, I am only empowering myself when there is a safety net in place. In the safe spaces of the dance floor and the bedroom I can thrive in this attire and claim it to be a non-sexual practice for myself. In relationships — both one night long and seriously committed — my lingerie drawer is barely touched.
I spoke to fat positive photographer Substantia Jones about the difference between my relationship with lingerie alone and with a partner, with lingerie on a sexual and a nonsexual level, as well as my relationship with lingerie as a plus size person. Jones has photographed hundreds of plus size bodies in various stages of undress and full-blown nudity, basically spending her career observing the plus size form.
Surprisingly, she disagreed fundamentally with the concept that lingerie could ever be non-sexual, as that is its inherent purpose — but not for the reasons I originally thought.
She explains via email, "I wouldn't call it non-sexual simply because there's no partner involved. I think moving through your day with fancy foundations beneath your duds gives the wearer a constant little hum of 'yesssss.' One needn't save all their hums for a partner. I've been known to, on rare occasion, wear stockings and/or stilettos to bed. Not for a romp. Alone. To sleep! I sometimes dig the sensation. Why not give these pleasures to ourselves?"
"I think wearing pretty underthings is a part of self care," she says. "Particularly for fat people, who are accustomed to not having their bodies celebrated — or even given visibility — in media or culture. Feeling evidence of self love against your skin all day is a lovely treat. And I believe the most fulfilling sensual lives are the ones where you don't differentiate between what's for sex and what's for utility."
To me, Jones' point seems to be that finding empowerment in the sexual is just as valid as finding empowerment in the non sexual. She opened my eyes that maybe, I was focusing on my perceived non-sexual aspect of wearing lingerie because I didn't want to see my empowerment as a sexual thing.
Dressing in lingerie has always been all about the fantasy for me: Of being a glamorous housewife, of being a sexy surprise to open the door to, of being beautiful, fabulous, brilliant and interesting. It projects a sexual image of myself into the cosmos and the eyes of my mailman, but inadvertently, it helps me see myself as an object of desire — a concept I would never have realized without the help of an expert. While there is no romantic partner in my life to see me as a powerful, attractive person, I showed myself that adoration instead.
Finding empowerment in the sexual capabilities of our bodies, especially as plus size people, can be revolutionary. Fat sexuality is a topic that is often seen as taboo, but by adoring ourselves on every level (yes, even by wearing lacy delicates), we allow for a more inclusive sense of self love — sexually, non-sexually, and otherwise.