Daniel Craig Wants To Play James Bond Again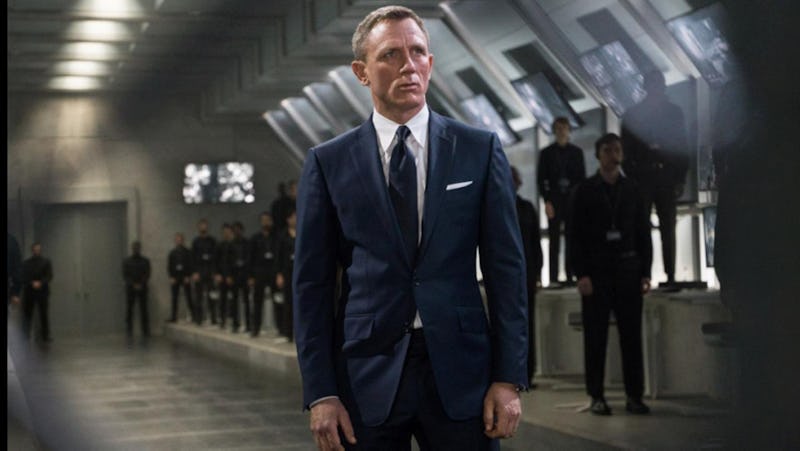 Daniel Craig's reign as James Bond seemed to be reaching its end. With four Bond films under his belt and at least one more rumored to be on its way, Craig shocked the world in a 2015 interview with Time Out when he said in no uncertain terms that he would "rather break this glass and slash [his] wrists" than play the famous spy once again. However, in a recent interview at the New Yorker Film Festival, the actor had something very different to say. Craig wants to play James Bond again, after all, and his original comments were down to timing more so than genuine feeling. However, I think it might be time for the actor to hang up the suit and bow tie once and for all, and it's not because he doesn't make an amazing Bond.
"As far as I'm concerned, I've got the best job in the world. I'll keep doing it as long as I still get a kick out of it," Craig reassured fans on on Friday, October 7. "If I were to stop doing it, I would miss it terribly." As much as fans would miss him too, I already feel as if I mourned the end of Bond's career in Craig's most recent leg of the story. At the end of Spectre , his love connection with Madeleine Swann was tied up with a neat little bow. All of 007's previous connections came together to reveal his ultimate enemy. Bond was left vulnerable, but prevailed. So where does Daniel Craig's Bond go from here? A brand new casting of James Bond could breath new life into an otherwise played-out storyline.
Rebooting Bond's story with another actor could open the door for an entirely new story arc and disconnect audiences from any more obscure past connections to present day villains. This was an idea that already seemed a little far-fetched when Bond came face-to-face with Blofeld (played by actor Christoph Waltz), which brought James Bond back to the days before someone as vital to him as Agent M was walking the line of being in and out of the picture. So, casting a new bond would provide a fresh start for the next generation of Bond fans, fans who may have otherwise found their solace in the fresh 007-inspired action-comedy, Kingsman: The Secret Service.
If you've been following the news surrounding the Bond films over the course of the past year, then you know exactly how far the speculation train has run on who could fill the shoes of the spy. British actors Idris Elba and Tom Hiddleston have expressed interest in the role, and fans have certainly expressed their interest in handing the role over to an actor who could change the game of Bond as we know it. Even Craig himself agreed that it's time for a female Bond, showing his support for the Jane Bond movement.
Craig remains the rumored Bond for the upcoming 007 film, Bond 25 , but there is so much more he can do in his career. While I'll of course be sad to lose the actor as Bond, it's time he moves on from the franchise for good.
Images: Columbia Pictures; Giphy