These Are The Faces Of Millennial Immigrants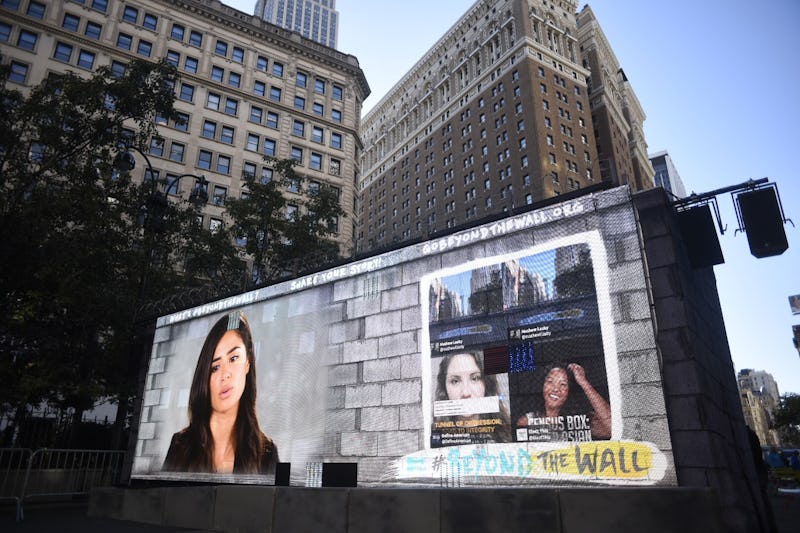 If you've been following the 2016 presidential election, you've probably heard Republican nominee Donald Trump propose building a wall along the U.S.-Mexico border to keep immigrants out. Today, though, a different kind of wall is going up in New York City's Herald Square — and it has the exact opposite message. MTV's "Beyond the Wall" installation showcases Millennial immigrants in a series of videos that show their stories are far more multifaceted, human, and positive than anti-immigration politicians would like us to believe.
The 10 foot by 35 foot wall is part of MTV's Elect This campaign, which helps Millennials get involved in politics. According to a press release from MTV, Millennials are particularly concerned with immigration: 84 percent think the United States is a country made up of immigrants, and 72 percent think immigrants make the country stronger. The majority believe it should be easier for immigrants to become citizens, get an education, and live free from discrimination.
"Young people are tired of politics as usual during the 2016 election and want real change on the issues they care about most," Ronnie Cho, MTV's Vice President of Public Affairs, said in the press release. "This symbolic border wall installation is a powerful way for our audience to go beyond the rhetoric, beyond the talking points and beyond the wall, towards a more meaningful conversation about issues that are at the heart of this election cycle and are core to defining who we want to be as a country."
The installation is intentionally up on Columbus Day, which is also Indigenous Peoples' Day, to call attention to the fact that the only people in this country who are not immigrants or decendents of immigrants are Native Americans.
MTV collected the videos from celebrities including Diane Guerrero from Orange Is the New Black and Arturo Castro from Broad City, as well as social media users who submitted their videos with the hashtag #BeyondTheWall. Here are some of their stories.
Diane Guerrero
Guerrero, who plays Maritza Ramos on Orange Is the New Black, tells a story about her parents' arrest and deportation. "My family came here for a better opportunity just like so many others have, and if we had a better system in place, I think it would work out for all of us," she explains. "All of my life, I've sort of struggled to feel fully American because I hear so many people telling me that my story is different from the American story. Being the daughter of immigrants is a very American story." She's right: 13.3 percent of Americans were immigrants in 2014, according to the Migration Policy Institute, and 25 percent of children under 18 had immigrant parents. And, of course, even more have grandparents and great grandparents who were immigrants. Immigrants' families should not feel "different."
Brandon Calvillo
Calvillo, an actor and director, describes his father working under poor conditions in Mexico, seeing the United States on TV, and deciding to pursue a better life. He came to LA and worked all sorts of jobs other people didn't want to do. People would give him looks because he didn't look like his son. But he overcame it all: He's now a chef and has his own house, like he dreamed of. "It's called the American dream," Calvillo says. "It's not called the American 'only we can dream this and you can't.'"
Daniel Leon-Davis
It was 14 years before Leon-Davis, Senior Creative Director at SOZE, got his green card. During high school, he wore a shirt that said "I am undocumented" on National Coming Out Day to "come out" as undocumented. "The power that came from being able to come out is one of the most beautiful things on Earth," he said. Privileged people, he explains, may not be able to see how difficult it is when you're not able to be open about your identity — or all the good that comes out if it when undocumented immigrants can be accepted and celebrated. "What they don't see is all the amazing talent, all the amazing drive that comes from these immigrant communities."
Priya Prasad
Prasad recounts her grandmother being told she spoke good English because she was dressed in Indian clothing even though she was highly educated and spoke many languages. "Sometimes it's just ignorance," she explains. "Once the conversation begins and people are honest about their feelings and are able to learn more, I think that's the only way to eradicate fear. ... I don't think a wall is going to solve any problems. I think that it's going to cause more issues and we need to think beyond it."
Brenda Abdelall
Abdelall, who works for Muslim Advocates, recounts overhearing women in a coffee shop complaining about "those Muslims" and how they're bringing crime into the U.S. and Europe. But this story has a hopeful ending: She comes over and starts a conversation, and they actually learn what she and her family are really like. "What we need is more dialogue," she explains. "Putting up walls between us does the exact opposite."
You can view more videos on the project's website, which also provides links to Change.org petitions to remove "illegal immigrant" from CNN's editorial guidelines, let Sikhs serve in the military, and make other changes to benefit immigrants. The page asks, "What kind of country do you want to live in? One that builds walls or tears them down?" That's a question every American could stand to ask themselves during this election.
Images: Courtesy of MTV