Julian Albert May Bring Another 'Flash' Twist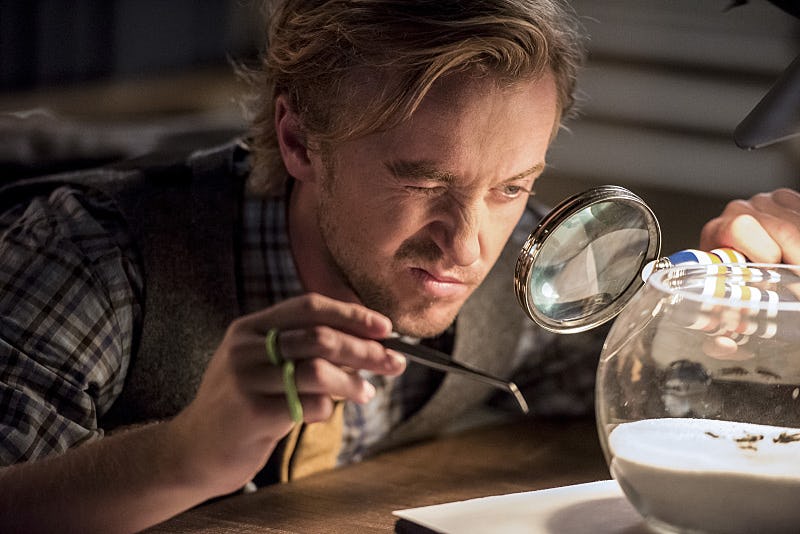 When The Flash returned for Season 3 on Oct. 4, it was immediately clear that a lot had changed. Sure, Barry Allen reversed his decision to go back in time and save his parents, but the effects of spending that short time in the "Flashpoint" universe created a ripple effect. Though the full extent of the ripple is still not clear, it seems that its consequences will bring the opportunity for new characters. In the Oct. 12 episode, Tom Felton joins The Flash as Julian Albert and while we don't know too much about him just yet, there could be more to this particular new character than meets the eye.
TVLine reported that Felton will be a series regular on The Flash Season 3, which already suggests that Julian will have some significance beyond being a member of the CCPD. Most main characters on the superhero series either end up joining Barry's team in the fight against evil or being the latest source of evil themselves, and there are already theories suggesting that Julian falls in the latter category. Even though TVLine's casting reported described Julian as "a fellow CSI at the Central City Police Department who suspects there's more to Barry Allen than just his good guy reputation," many fans are speculating that his role will grow to be much bigger.
Melty TV theorized that Julian Albert will actually be Doctor Alchemy, one of the major villains in Season 3. It would not be the first time the show has brought such a twist. Let's not forget that in Season 1, Doctor Harrison Wells was introduced early in the season as Barry's mentor, only to be revealed as the big bad of the season, the Reverse-Flash. Similarly, the mysterious villain of Season 2, Zoom, was unmasked as Jay Garrick, who viewers had known for most of the season as an Earth-2 hero trying to help Team Flash. As Melty TV pointed out, it's very possible that Julian will have a similar trajectory, culminating in a big Doctor Alchemy twist.
But before you decide whether you believe this theory, you need some background on Doctor Alchemy. In DC Comics, he is a super villain with multiple personalities who becomes a major rival for the Flash. It seems that he's on his way to Central City in the CW series as well, as at the end of the Season 3 premiere, the word "alchemy" was scratched into Edward Clariss' mirror. Although it is not Julian who sees this message, it doesn't mean his character isn't connected to Doctor Alchemy in some way. He could be the one doing the scratching, or Doctor Alchemy could somehow manifest in multiple characters, perhaps as a nod to his multiple personalities in the comics.
The most damning clue is the fact that there's no character named Julian Albert in DC Comics. See, Doctor Alchemy's real name in the comic books is Albert Desmond, so Julian's last name may not be a coincidence. Then there's the much less viable clue that in the comics, Doctor Alchemy uses a philosopher's stone, and, as everyone knows, Felton got his start portraying Draco Malfoy in Harry Potter and the Sorcerer's Stone, aka Harry Potter and the Philosopher's Stone outside of the U.S. While that is more likely to be a coincidence than the shared name of Albert, it's still a connection.
We may not know much about Julian Albert, but I'm excited to see what Felton brings to The Flash this season — especially if we'll get to see him play a villain.
Images: Dean Buscher/The CW (2), The CW