Hailey Baldwin Made A Major Hair Change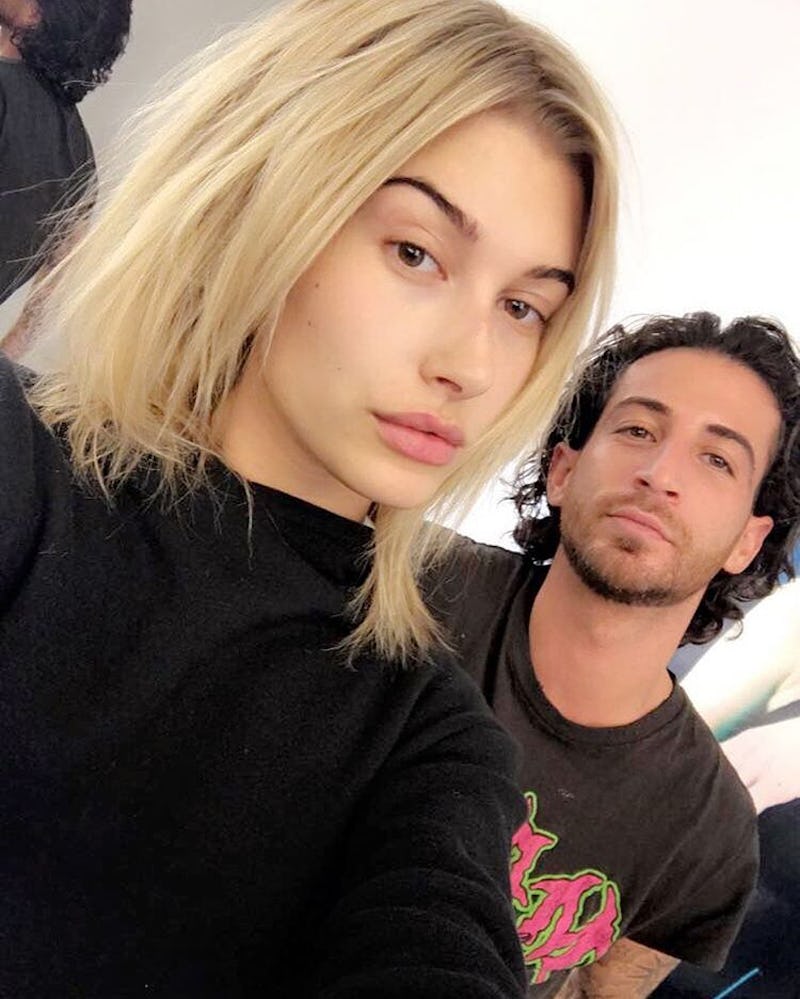 To me, fall is the time to go darker with your hair color — add in some low lights, or maybe dye your light blonde locks a cool brunette for the cooler weather. But one model seemed to have the opposite idea, and Hailey Baldwin's new blonde hair is convincing me that maybe I should go lighter for the fall after all.
Baldwin, who's been progressively lightening her blonde hair over the past several months, went super blonde on Monday. Celeb stylist Ryan Pearl, who works at the Cutler Salon in the Soho neighborhood of Manhattan, was the mastermind behind her even-brighter blonde hair. And luckily, I have all the deets about the new hair from Pearl himself.
"The look we both agreed on was a much brighter blonde than she has had for the past few months," he tells Bustle. "It also will be an essential part of her Halloween costume — stay tuned."
Um, is anyone else now super curious about what Baldwin is being for Halloween? The finished product is super gorge, so it had to take forever to do, right?
"The whole process took about three hours, including a full head of foils as well as multiple glazes to add depth in the right areas for a seamless grow-out," Pearl says. Three hours isn't too bad, especially when this is the end result.
It looks stunning and the color is definitely lighter than her previous look too.
Baldwin's former shade was a little more dirty blonde, while this hue is definitely more platinum than what she's done before.
It helped that Baldwin's hair was already pretty blonde — the process went faster, according to Pearl. "I think if someone has dark hair and wants to get this blonde, understand that it is a process and it might take as few sessions to keep the hair in a healthy state," he says. "Hailey already had previous highlights, which makes it much easier to do in a single session."
But when you're going that light, it's bound to cause damage, and Pearl has the solution for that. He swears by Olaplex, a product that's added to hair lightener to protect your hair during the dyeing process.
Olaplex Traveling Stylist Kit, $76.98, amazon.com
"This will help the hair from creating any damage or breakage when trying to lift to a light level of blonde," Pearl says. Sounds like a dream come true for anyone who wants to go blonde. And considering how cute Baldwin's hair looks, that just may be me.
Image: RyanPearl23/Instagram; Courtesy of Amazon