'Bach's Ben & Lauren Are On The Marriage Track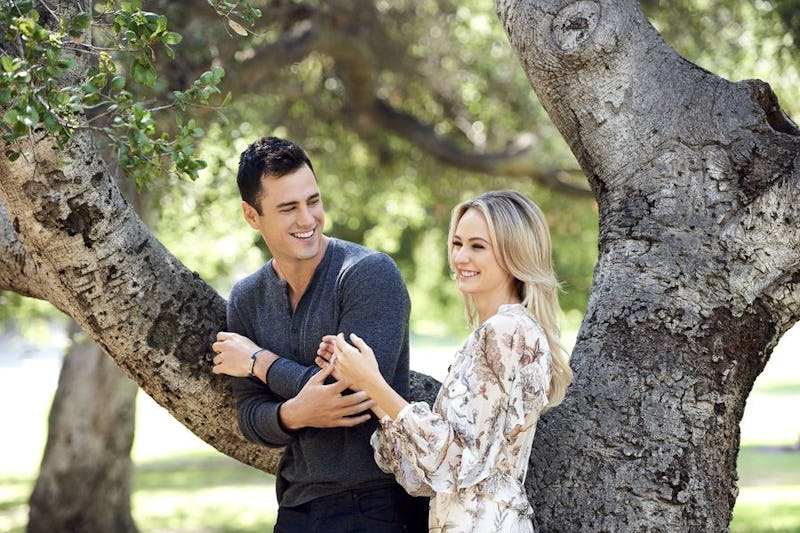 Ben Higgins and Lauren Bushnell went from falling in love on television to being engaged on television — they met and courted on Ben's season of The Bachelor — and now they have their own show, Ben & Lauren: Happily Ever After?, that's documenting their life post-engagement. Are Ben and Lauren still planning a wedding on Ben & Lauren: Happily Ever After ?
Ben may have told both Lauren and former Bachelorette JoJo Fletcher that he was in love with them, but I always thought his chemistry with Lauren was more apparent from the start. He only had eyes for his blue-eyed beauty from the moment she stepped out of the limo. They traveled the world together, got engaged on a beach in Jamaica, and Lauren moved from California to Ben's adopted hometown of Denver, Colorado. So things are good, right? Probably — promos for Ben & Lauren: Happily Ever After show the two arguing over JoJo and her appearance at a lunch they were having, but I don't think something as small as that could derail Ben and Lauren's whole relationship. As far as wedding planning goes, there's no sign of it on Ben and Lauren's social media. Does that mean that they won't get married? Absolutely not.
In fact, I think it's smart of Ben and Lauren to perhaps put a pin in planning a wedding and, you know, get to know each other some more. The nature of The Bachelor is such that you get engaged to a person that you've known for only six weeks. How could you possibly know everything about one person in such a short amount of time? If you don't want to head to Splitsville, population two, as I suspect Ben and Lauren do not, you have to work on your relationship. According to Lauren, they are — she recently told E! she and Ben were in couples counseling and proud of it:
"It is kind of taboo, and I don't think it should be that way. I think everyone just wanted to make sure we are okay, and yes, we are okay. It was more preventative. We want to have a really solid foundation and we want to address certain problems maybe before they even exist and just have that third party to help us through pre-marriage and engagement and being a new couple."
It's this sort of planning that makes me think that Ben and Lauren are really in this thing for the long haul. It's really easy to think you're in love, and it's pretty easy to sign the paperwork and just get married. But it's very, very hard to stay together. As a couple, you have to evolve and grow as one, and not in different directions. The fact that Ben and Lauren want to put the work in now to ensure that their relationship is solid is a wonderful thing. The fact that they're not wholeheartedly planning a wedding (at least from what I can see) isn't anything to worry about — Ben and Lauren want to make sure that they have the best relationship possible (because none is truly perfect) before they tie the knot. That's admirable.
Images: Vu Ong/Freeform