Ben & Lauren's 'ATFR' Appearance Was Strange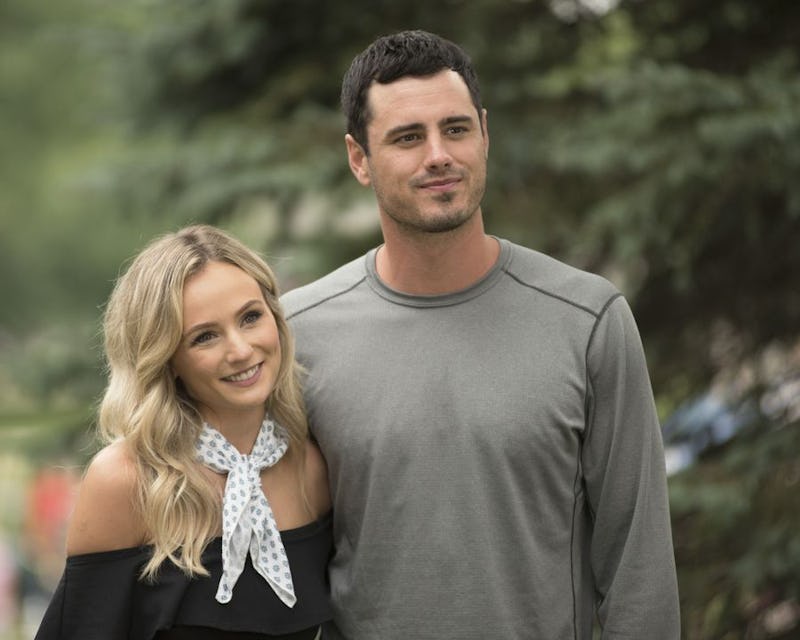 Ben Higgins and Lauren Bushnell have moved on from The Bachelor, people — they have their own show. Called Ben & Lauren: Happily Ever After? , the new series basically follows the world's cutest couple around as they hang out with other Bachelor Nation alumni, go on wacky adventures, redecorate Ben's Denver home, and, oh yeah, plan the rest of their life together. From the looks of it, it also features a little bit of JoJo, the other woman that Ben said he loved while on The Bachelor. That made for a pretty awkward After The Final Rose appearance for Ben and Lauren when they stopped by JoJo's finale.
Ben and JoJo had an OK courtship on The Bachelor, but he ended up choosing Lauren. No big deal, I suppose, because JoJo got her own season of The Bachelorette and took home former football player Jordan Rodgers as her happily ever after. For some reason (maybe because there was a show to promote, but I try not to be so cynical), Ben and Lauren popped into JoJo's After The Final Rose to give JoJo and Jordan advice about what comes after the cameras start rolling, and it was all a little strange.
JoJo spent a lot of her season talking about how much Ben had hurt her. He told her that he loved her, talked about a future with her, and then he chose the other girl. That would make anyone feel bad about themselves, so the fact that that guy was sitting there in the audience as JoJo and her new fiancé were introducing themselves as a couple struck me as odd. That being said, everyone there handled the situation well, and Ben gave JoJo and Jordan some decent advice — don't listen to the haters.
"We realized it very quickly… you're going to get criticism no matter what you do in life. At times, we've stayed strong through that, because if you're getting criticism, you're doing something, right? And you're trying to make your relationship work. So stay strong through the criticism, support each other. There will be times when you want to pull your hair out because some 13-year-old girl in Idaho is, you know, saying names to you on Twitter. Just support each other, love each other well, and it's going to be a lot of fun."
You can check it out for yourself at this link. That's not bad advice, right? Dealing with haters has to be the worst part of being in the public eye, and it's only gotten worse on Twitter. Don't listen to them, guys! (I don't listen to mine — I relish their whining.) Things seemed OK between JoJo and Ben, even if the scenario was odd. Ben & Lauren: Happily Ever After promos even show a meal between JoJo and Ben and Lauren that definitely happened post-After The Final Rose, so I hope that bygones were bygones and everyone just had a nice, leisurely lunch. Hopefully, there was rosé involved, too, because there should always be rosé during nice, leisurely lunches. From what we've seen, I'm going to assume that everyone involved has moved on into happy, new lives with their new partners where they all ignore the haters.
Images: Melissa Jordan/Freeform