Lauren B. Will Find Herself On 'Ben & Lauren'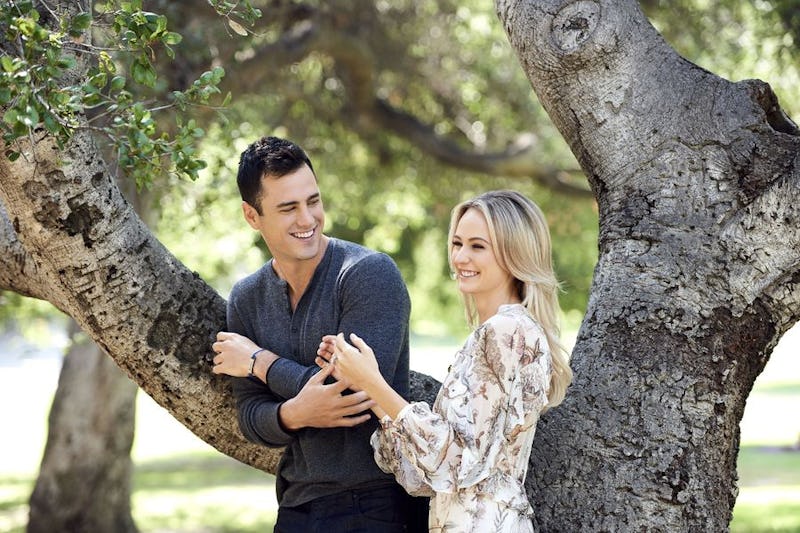 The new Freeform show Ben & Lauren: Happily Ever After? is going to provide Bachelor Nation with a look at life for a couple post-Bachelor. A lot of things have changed for Ben Higgins and Lauren Bushnell since Season 20 of the reality TV show, so does Lauren still have the same job as she did on The Bachelor? If all of the drama from Ben's season took over that space in your brain that might have remembered what Lauren did for a living, I've got you covered. As highlighted when Lauren was first introduced on The Bachelor during the season premiere and as indicated on her Bachelor profile, Lauren is a flight attendant. But, that doesn't necessarily mean you'll be seeing Lauren up in the air when Ben & Lauren: Happily Ever After? premieres on Oct. 11.
As I already mentioned, Lauren's life is significantly different since she won Ben's heart and accepted his marriage proposal on The Bachelor and, in that way, her job title should probably be updated to "reality TV star." However, before meeting Ben, Lauren was working for Alaska Airlines and her Instagram showed that she took advantage of the perks of her career since she traveled to some pretty cool places. After The Bachelor season finale, Alaska Airlines' publication Alaska Beyond Magazine highlighted its employee and noted that Lauren not only had been working as a flight attendant for them for three years, but her younger sister Mollie was inspired by her career path and became a flight attendant with Alaska too.
As for if Lauren has been working as a flight attendant since becoming famous, she told Entertainment Tonight in June, "So I was a flight attendant, and I am still a flight attendant, but I haven't actually been on the airplane [since The Bachelor]." She also discussed with ET that Ben & Lauren will feature her trying to figure out her next move career-wise.
"A lot of my life has changed in the last six months and with that, I've kind of also thought about possibly a career change. Whether that means staying on part-time with Alaska [Airlines] and being a flight attendant or doing something else with them, I don't know, but I also really want to explore what it is that I'm passionate about."
Since Lauren has more opportunities now than she did when she first entered her line of work, taking this time to discover what she really wants to be doing for a living totally makes sense. Plus, she moved to Denver to be with Ben, so she has a new home and area to explore her options in. She mentioned to ET that she was interested in interior design and that she was starting a lifestyle blog. Since that ET interview, Lauren has launched the blog, entitled Sparkle in Her Eye. It's described as a "travel and style diary" and covers style, beauty, interior, and — of course — "Life with Ben."
While her blog might indicate that her time in the sky as a flight attendant is up, you will still be able to see what her career transition has been like on Ben & Lauren. "I think it'll show going through a career change and kind of my own journey of finding what it is that I want to do in Denver," Lauren told ET. "Finding my own job, and my own passions, and how that's coming about on a daily basis." And though life after The Bachelor is not going to be relatable for many viewers of Ben & Lauren: Happily Ever After?, finding your passion is an inspiring topic for almost everyone.
Image: Vu Ong/Freeform