'A Monster Calls' Is Scarier Than You Think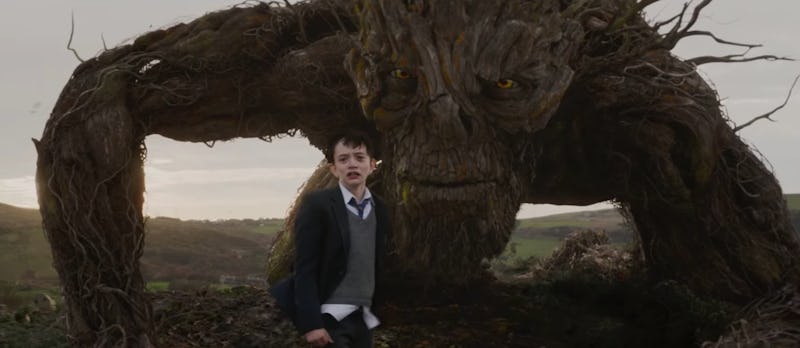 Tues, Oct. 11 is National Face Your Fears Day, and a monster is coming to help you celebrate. Not just any monster, either, but The Monster from the upcoming film A Monster Calls . In A Monster Calls, a young boy, Conor, meets a slightly frightening tree monster, The Monster, as he struggles to cope with the illness of his mother. The Monster brings Conor comfort and challenges him to face his fears — his mother's sickness, his loneliness, his guilt — all while...well, doing what monsters do best: being slightly scary. In the exclusive clip from A Monster Calls below, The Monster proves that he can be pretty terrifying, even if he is a good monster in the end.
Since its premiere at the Toronto International Film Festival, A Monster Calls, out in limited release on Dec. 23 and everywhere Jan. 6, has earned a reputation for being the non-Pixar movie that makes grown ups cry like babies. But the film isn't all sadness and uncontrollable tears (though, it is, apparently, mostly that). It's also a little scary. The Monster, voiced by a particularly gruff sounding Liam Neeson, isn't cuddly like Sulley from Monster's Inc , he's hard as, well, a tree. He's also intimidating, tall and large, with particularly frightening orange embers glowing in his tree monster body. Don't believe me, check out the exclusive A Monster Calls clip below and see for yourself.
Watching as The Monster emerges from a tree is scary enough, but watching it walk towards you, as Conor does in the clip, is thrilling. "I have come to get you, Conor O'Malley," The Monster says ominously at the end of the clip — not really helping in the whole try not to scare small children effort. But The Monster is, actually, only as scary as Conor lets it. "The tree has been always an allegory for spiritual growth," said director J.A. Bayona in an interview with Entertainment Weekly . "The monster represents the man Conor is turning into." For The Monster to accurately represent Conor's fears and his growing maturity, production designer Eugenio Caballero decided that The Monster had to be "old, wise, and filled with great strength," according to the same EW interview. Well, if by "great strength" Caballero meant towering, intimidating and just shy of being something out of the Forbidden Forest of Hogwarts, then, it's safe to say they nailed it.
In all seriousness, The Monster is just frightening enough to demonstrate how afraid we all are of growing up, while appealing enough to show how we secretly want to.
Images: Focus Features