'Bachelor' Contestants Who Deserve To Find Love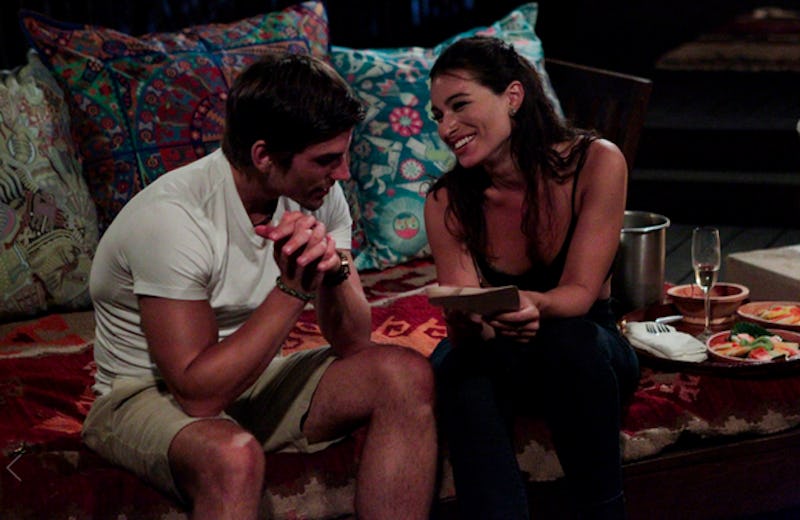 Call me slightly morbid, but every time a season of The Bachelor or The Bachelorette ends, I can't help but think about all of those contestants who didn't find love. The odds really aren't in anyone's favor in these shows (well, except for the Bachelor or Bachelorette, of course), because each season starts off with 25 members of the opposite sex, all vying for the attention of one single eligible man or woman. One out of 25 aren't terrible odds — they're better odds than, say, getting struck by lightning — but they're pretty unrealistic when it comes to dating in the real world. Rarely, after meeting a guy or girl that you're interested in, will you be up against 24 other people. But that is the unrealistic dating situation that these contestants find themselves in when they sign on to this show. And, as they get picked off one by one, I always hope to myself that they go on to find love in the real world, because they all do deserve it.
But viewers of the Bachelor nation shows, in all of their many iterations, know that finding love as a contestant isn't always easy. Many of the contestants come back for a second or third time, either on the same show, Bachelor in Paradise, or as the Bachelor or Bachelorette themselves. And, as much as I love to see contestants return for a second chance at love, there are still some contestants that haven't quite been able to make love happen though they deserve it. No matter how many times they've tried on reality television to find love, they are definitely some of the most deserving contestants in Bachelor and Bachelorette history.
1. Luke Pell
Who wasn't devastated when Pell didn't win JoJo Fletcher's heart on The Bachelorette? Someone give this man another chance!
2. Robby Hayes
Love him or hate him, this guy was all in for Fletcher's season of The Bachelorette. Whether you believe he was being sincere or not, any guy who puts himself out there that much in front of all of America definitely deserves another chance at love.
3. Becca Tilley
Third time's a charm? Maybe for Becca Tilley, who was a contestant in both Ben Higgins' and Chris Soules' seasons of The Bachelor.
4. Amber James
James has come close to love so many times I've almost lost count: First, during Higgins' season of The Bachelor and then again on Bachelor in Paradise. She was always the voice of reason on both shows, staying out of the dramatic fray and keeping her head in the game of love. A girl like that definitely deserves to find love and happiness in the real world.
5. Jubilee Sharpe
I think we all were hoping that Sharpe would finally find her love in Paradise after being swiftly evicted from Higgins' heart. But, when she was sent packing in one of the first rose ceremonies, it became clear that reality television isn't her ticket to finding love. Still, she's one of the few contestants that I keep tabs on outside, hoping that one day she will find someone deserving of her perfectly complicated heart.
6. The Twins
The Twins almost lost me when they played that weird switcheroo prank on Bachelor in Paradise. Don't they know that switching places like that is so Sweet Valley High? The prank backfired and neither of them ended up finding love, but that doesn't mean that they don't deserve to find it still.
7. Jared Haibon
I'm not sure whose heart Haibon won faster: Kaitlyn Bristowe's on Season 11 of The Bachelorette or all of America's when she sent him home in the last few weeks. This guy got two more chances at love on Bachelor in Paradise but was foiled both times by Ashley Iaconetti.
8. Chase McNary
He may have gotten kicked off on Fletcher's season of The Bachelorette, but McNary was definitely in the running for The Bachelor. When he wasn't picked, it was a sad day for his fans, but I still hold out hope that he can find love in the near future.
9. James Taylor
This man charmed the pants right off viewers everywhere, including Bachelorette Fletcher, during Season 12 of The Bachelorette. But clearly his guitar playing wasn't enough to win her heart, because she chose Jordan Rodgers instead. I'm still hopeful that some girl will be lucky enough to win his.
10. Wells Adams
Easily the fan favorite from Fletcher's season of The Bachelorette. He came back for a second round at love in Bachelor in Paradise, but left after, like, a day, because he was too overwhelmed by the process. I get it, Wells. You need a normal girl away from the cameras. Someone please send this guy one of those STAT.
11. Izzy Goodkind
Goodkind got a seriously bad rap on Bachelor in Paradise when she ditched Vinny for a guy she had only known for a few hours. But, let's be real, any of us would have done the same in the real world if we were dating a guy who seemed less than perfect from the start.
12. Olivia Caridi
No one deserves to find love more than Caridi, who had a difficult time on The Bachelor during Higgins' season, and spoke up after the show about what the experience was like for her after she left the series. Being humiliated in front of all of America, it turns out, is really unpleasant. Hopefully, she'll find the right one some day.
Here's hoping the game of love is a little easier on these former contestants in the real world. They deserve nothing less than a real shot at love with someone who is — finally! — just invested as they are.
Image: ABC (13)