10 Etsy Finds Every Book Lover Needs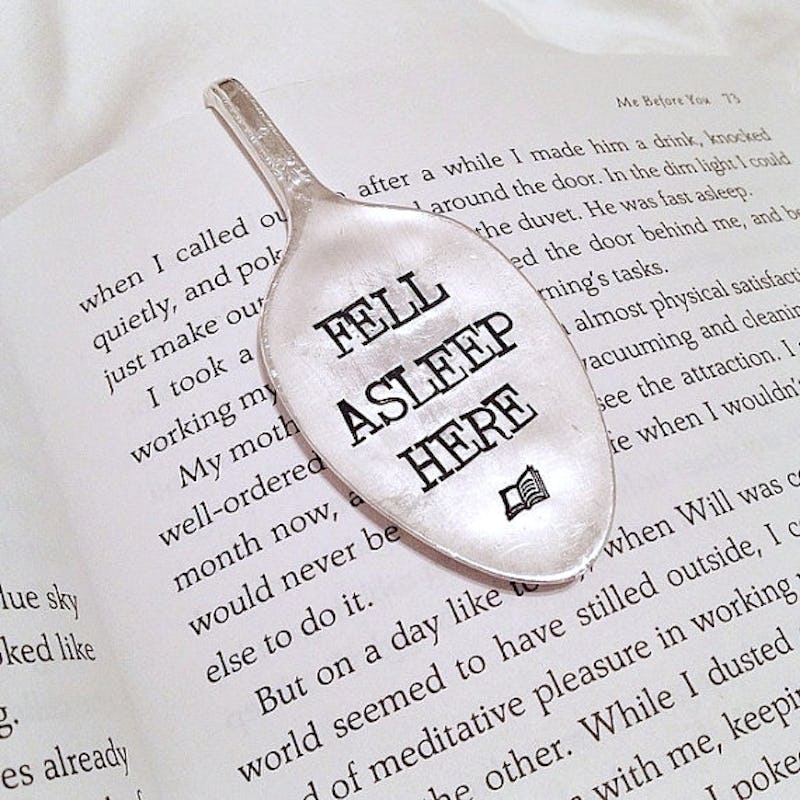 Etsy is a treasure trove for book-lovers, because you can pretty much find items inspired by any book you love. From classics to YA to bestsellers, the artists on Etsy have you got covered. They've got everything from Harry Potter-inspired candles to literary-inspired t-shirts, so if you need to think of a gift idea for a reader (or you're a lit-lover making a wish list), Etsy should be your one stop shop. Plus, if you prefer to DIY your own goods, Etsy is a great place to find inspiration. Just browsing the fantastic book-inspired clothing, jewelry, home goods, and miscellaneous items always inspires me to make my home and wardrobe just a little more literary.
Of course, you don't have to choose a specific book when shopping for Etsy merchandise. Maybe your favorite book changes by the day, or you're shopping for a friend and can't quite recall their current favorite novel. Not to worry: the beauty of this site is that there are plenty of items perfect for any book-lover. Just loving books is enough of a prerequisite to love the following items. Here are a few of my favorite book-inspired Etsy finds that every lit-lover will instantly add to their shopping cart.
1. Book Stamp
If you love lending out your books but you always want them to find their way home, this is the perfect Etsy find for you. Personalize this book stamp and mark the first page of your books, so your library will always make it back to you in the end.
Book Stamp , $26, packagery on Etsy
2. Reading At The Cafe Candle
Book-inspired candle scents are one of my obsession, and this "reading at the cafe" candle (with the scent of chocolate and coffee) is perfect for when you can't make it to the coffee shop, but you still want the full effect.
Reading at the Cafe Candle, $18, Frostbeard on Etsy
3. Library Card Pillow
If you're nostalgic for the old system of library checkout cards, this pillow is a perfect piece for your home. It's available in plenty of colors, so you can coordinate it with the rest of your (book-inspired) decor.
Library Card Pillow, $30, dirtsastudio on Etsy
4. Book Print Scarf
Decorated with text from classic novels (from Jane Eyre to Pride and Prejudice), this book print scarf is a must have for every lit-lover.
Book Print Scarf, $48, storiarts on Etsy
5. Tea & Books Pin
What more do you need? This pin professes your love for the two great things in life: tea and books.
Drink Tea and Read Books Pin, $8.15, JellyButtonUK on Etsy
6. Personalized Penguin Mug
If you love the classic look of Penguin books, and perhaps have always wanted to see your name as the author, pick up one of these personalized Penguin mugs. Whether you choose to have it printed with your name, or your favorite author's, it will pair perfectly with tea and a book.
Personalized Penguin Mug, $12.53, LoveMugsUK on Etsy
7. Book Stickers
Everyone loves stickers, even if the pressure of deciding the perfect place to put them is sometimes high. Grab a few sheets of these beautiful, simple book stickers so you can stick them on every surface from your laptop to your planner to your fridge.
Book Stickers, $3.75, honeyinked on Etsy
8. Personalized Book Necklace
This personalized necklace is a simple, pretty accessory that every book lover will adore... because we all know that books are meant to stay close to your heart.
Personalized Book Necklace, $24, inthelavenderhaze on Etsy
9. Spoon Bookmark
You can never have too many books, so it follows that you can never have too many bookmarks. This stamped spoon bookmark will keep your place, and you can't argue with its statement: you definitely fell asleep reading and you have no regrets.
Spoon Bookmark, $20, ForSuchATimeDesigns on Etsy
10. Book Purse
I will never buy a purse unless it's big enough to fit a book inside, because otherwise, what's the point? Of course, you could always just buy a purse that is a book. That works too.
Book Purse, $65, NovelCreations on Etsy
Image: ForSuchATimeDesigns/Etsy (1)