This Is How To Wear Kylie Cosmetics Fall Lip Kits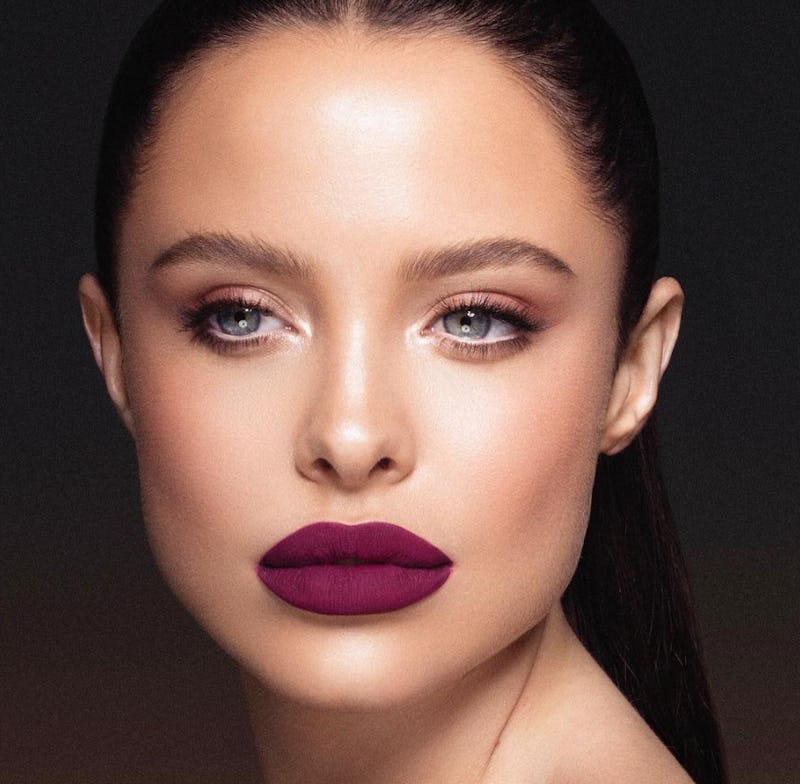 It's all about contrast and balance. The Kylie Cosmetics Fall 2016 Lip Kit colors are intense, from the poppin' purple Spice, the deep orange Pumpkin, the emerald Trick, and the griege Moon. The Kylie Cosmetics Fall 2016 Lip Kit lineup is full of rich, adventurous colors that are like intense updates (upgrades, even!) to previously existing KLK shades. In general, Kylie Lip Kits are designed to give you a power pout, since they are mega mattes meant to call lots of attention to your mouth. It's a good idea to balance a statement pucker with either soft or little-to-no makeup on other features, such as the eyes and cheeks. Unless, of course, you are Kylie Jenner, who pulled off major bronzing action and POW! lashes with serious swipes of the Fourth of July-issued, denim blue Freedom Lip Kit.
However, there is a semi-subtle yet totally gorgeous way to wear the new Kylie Lip Kits, as seen in the promo photos for the shades. You probably never thought of this technique, either.
Several of the models are wearing white eyeliner on their lower waterlines. Not only does the white liner make the pupil's eye color pop, but it also provides such a contrast and lovely effect when paired with the dramatic, velvety, and precise pucker.
You don't need to go totally bare when wearing such a high impact lip color, like Spice. A little white liner does a lot of good.
Allow me to pause for a hot minute to point out that Spice looks amaze with white liner and the shade also slays on all skin tones. I mean, gorge!
Seeing white liner pop against the jade Trick or even the power orange Pumpkin should send you to the local CVS or Walgreens to nab a cheapie kohl liner to try the white liner x bold matte lip trend.
When I first looked at these shots, I was really blown away by how my eye was drawn to both the eyes and lips, thanks to the white liner. Rimming the lower lashline and waterline in white is a simple and brilliant "Trick." It allows two features to stand out... without looking like you are overly made up and while using a minimum of products.
Pairing a white liner and a super pigmented, majorly matte power pout is the move. It strikes a perfect and beautiful balance.
Moon, Pumpkin, Spice, and Trick, aka the Lip Kit Klass of Fall 2016, go on sale on Wednesday, Oct. 12 at 6 p.m. ET/3 p.m. ET.
Images: Kylie Cosmetics/Instagram (5)