20 Feminist Best Friend Halloween Costume Ideas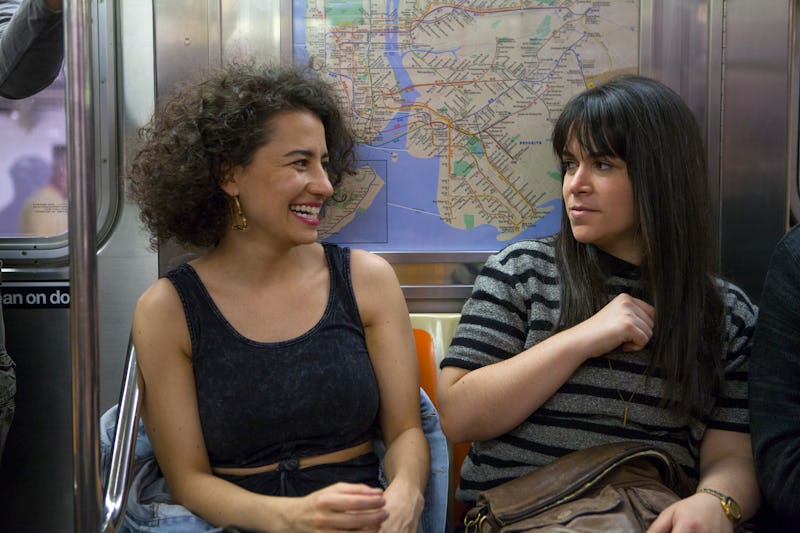 If you're dressing up with your BFF this Halloween, you might find yourself overwhelmed with choices that include everything from movie characters to punny sayings to historical duos. Though your options are seemingly limitless, let me narrow them down for you with some hilarious, relevant, and empowering feminist best friend Halloween costume ideas for 2016. From the the silly to the scary, there's a girl-powered twosome on the list for every kind of bestie.
Dressing up for Halloween means something different to everyone. To some, the holiday presents itself as an opportunity to be funny, clever, and relevant, a chance to show off their pop culture knowledge through smart costumes only people familiar with the internet will understand. For others, it's the annual event that allows them to embrace their dark sides and scare trick-or-treaters and party goers with their horror-inspired costumes. No matter what intentions you have for you and your best friend's group costume this year, however, there's one thing you should keep in mind: feminist costume ideas. You are dressing up with your BFF, after all, and who better to celebrate equality and empowerment with this Halloween?
In case you need some inspiration when it comes to picking out your own empowered ensemble this year, here are 20 feminist best friend Halloween costume ideas for 2016.
1. Daenerys Targaryen and Yara Greyjoy
The female power couple every Game of Thrones fan has been waiting for, Daeny and Yara make for a fun, feminist, and bookish costume for you and your bestie.
When it comes to dressing as these two bad-ass queens to be, you're going to need a lot of leather, suede, and tarnished metal. For Daeny, look for a hi-low suede maxi skirt in some shade of brown, a suede or leather crop top with ties and other embellishments on it, and bad-ass jewelry, like a medallion choker. If you're playing the Yara half of the dynamic duo, you'll need leather pants or leggings, a suede trench coat cardigan, and a large brown leather belt. Armor for either of these two women warriors wouldn't hurt your costumes, either.
Suede Crop Top, $14, Amazon | Black Leggings, $13, Amazon
2. Justices Ruth Bader Ginsburg and Sonia Sotomayor
If you're dressing up with your work bestie, why not honor your relationship by dressing as work besties?
The best part about this matching best friends costume is how easy it is to pull off, because all you really need is a long black robe or gown. If you want to give the standard judge uniform a little style, you can add gloves and a lace collar like Notorious RBG.
Black Robe, $20, Amazon | Lace Collar, $8, Amazon
3. Jessica Jones and Trish Walker
There are few friendships that have survived as much as Jessica and Trish's, and there are few besties as badass as these two.
While getting the ass-kicking skills of these two fierce friends may be out of your range of abilities, dressing like them isn't. For the Jessica Jones look, the most important thing you'll need is a cool black leather jacket. Beyond that, you can dress in whatever jeans and black or grey top you have in your wardrobe, and you can complete the look by wrapping yourself in a big grey blanket scarf. If you're responsible for the Trish part of the pair, you can wear any basic business casual outfit (a stylish one of course), but you're going to want to add a pair of large headphones like the ones she wears in the soundbooth of her radio show.
Black Leather Jacket, $39, Amazon | Large headphones, $14, Amazon
4. Pussy Riot
If your BFF is a whole group, not just one person, then I have the perfect costume for you and your partners-in-crime: Pussy Riot.
For the lazy group of friends who don't actually want to dress up, this is the perfect costume for you because it only requires one iconic item: a colorful ski mask. Pair that with the outfit of your choosing, and you're ready to rock, roll, and dismantle the patriarchy one punk song at a time.
5. Ilana and Abbi
Do you and your best friend share everything, spend all of your time together, and even go so far as to Skype each other from the bathroom? Then there's no better BFF costume for you than the dynamic duo of Broad City .
What's so great about this costume? It means you can pretty much wear whatever you want, because that is what Ilana and Abbi would do. But if you want to be recognizable, you know you'll be safe with a New York graphic crop top, high-waisted denim cutoffs, and a backwards hat for your Ilana getup. For Abbi, go the comfortable route with a pair of basic yoga pants and a DIY black t-shirt with the word "CLEANER" written on the front in white fabric marker.
Fabric Marker, $8, Amazon
6. Hillary Clinton and Michelle Obama
First Ladies, feminist role models, political geniuses, and work besties? Costumes don't get cooler (or more empowering) than these two.
If you're more of a Hillary than a Michelle, then I have two words of costume advice for you: power suit. For Mrs. Obama's look, you're going to want a dress as beautiful as the First Lady herself. To take these looks from everyday outfits to costumes, don't forget to add an "I'm With Her" button and an American flag pin.
American Flag Pin, $5, Amazon
7. Beyonce and Nicki Minaj
You and your BFF are strong, powerful superstars, so why not pick a costume that matches everything you are?
If you're going to be BFFs Nicki and Beyonce, you're going to need plenty of fabulous clothing. Think graphic bodysuits, like an Ivy Park bodysuit or a Bulls bodysuit, lace-up heels, fur coats and of course, two burgers to toast the night away with.
Bulls bodysuit, $6, Amazon
8. Mindy and Tamra
Another pair of unforgettable work BFFs, this nurse-and-doctor duo has everything you want in a best friends costume: sass, style, and a feminist attitude.
Both of these characters have their own style. If you're going as Mindy, you're going to want bright colors and bold prints, like a heart-print sweater top and a neon pencil skirt. Cover your outfit with a doctor's coat and instead of a purse, feel free to carry around a bag full of doughnuts. If you're going as Tamra, the easiest outfit to go with involves a long-sleeve shirt under nurse scrubs.
Neon Pencil Skirt, $16, Amazon | Unisex Lab Coat, $20, Amazon | Scrubs, $18, Amazon
9. Thelma and Louise
If your best friend drove off a cliff, would you be riding shotgun? If so, you're lucky enough to have found the Thelma to your Louise costume.
Whether you're dressing as the Thelma or the Louise, you're going to want a sleeveless t-shirt and jeans, and a head scarf or a cowgirl hat. In no time, and with things you can probably find in your closet, you'll look exactly like this notorious duo — just please, do not drive like them.
10. White Canary and Black Canary
What pair of best friends wouldn't love the opportunity to dress up like two kick-ass superheroes? These sister BFFs are your chance.
These sisters like their leather. Whether you're the white version or the black version, you're going to want a leather jacket, leather pants or leggings, and leather gloves ($38, Pink Queen), and a face mask. Oh, and you're going to want fabulous hair — really fabulous, flowy hair. You know, to distract the bad guys.
Leather Jacket, $38, Amazon | Black Leggings, $13, Amazon | Leather Gloves, $55, Pink Queen | Black Face Mask, $4, Amazon
11. Icona Pop
If you're looking for a costume fit for BFFs, there are plenty of music duos to chose from, but none of them are as funky and fantastically feminist as Icona Pop.
You and your bestie are going to be in matching outfits head-to-toe for this costume. Aside from some killer eyeliner, you're going to want a studded hat, headphones, and a DIY ripped black t-shirt. With those key ingredients, you're ready to rock and roll in no time — not that you care.
Studded Hat, $15, Amazon | Headphones, $19, Amazon
12. The Supremes
Speaking of kick-ass girl groups, add a little soul to your Halloween costume by going as the legendary Supremes.
It's diva all the way with these matching diva costumes. To create your group's own DIY version, think matching sequin dresses, evening gloves, and feather boas. If you really want to get in the spirit of things, don't forget your inflatable microphone either and some serious attitude.
Diva Costume, $50, Amazon | Evening Gloves, $9, Amazon | White Feather Boa, $6, Amazon | Inflatable Microphone, $9, Amazon
13. Powerpuff Girls
Want your Halloween costume to have more than just sugar, spice, and everything nice? This BFF group costume is just the thing you're looking for.
If you want to take the easy route, you and your besties can buy official Powerpuff Girl costumes. If you want to create your own, though, it's as easy as combining basic dresses in pink, green, and blue, a large black belt and white tights. Put on your sassiest, most ass-kicking face and you and your crew are ready to take on any bad guys you meet.
Powerpuff Girl Costume, $55, Amazon | Black Belt, $8, Amazon | White Tights, $8, Amazon
14. Buffy and Willow
Sick of dressing up as a vampire for Halloween? Go as a slayer and her witchy BFF instead.
To pull this off, you're going to need to channel your '90s cool girl style. Think crushed velvet tops, clothing embellished with sew-on daisies, chokers, and butterfly hair clips. Optionally, give Willow a witch's hat and Buffy her signature cross necklace, and your costumes are complete.
Sew-on Daisies, $7, Amazon | Butterfly Hair Clips, $10, Amazon | Witch Hat, $7, Amazon
15. Susan B. Anthony and Elizabeth Cady Stanton
Go old school, really old school, with your best friend this year by dressing up as two of history's most incredible women.
To look the part of these bestie suffragettes, you're both going to need to go back in time. Look for high collared shirts with ruffles, long skirts, rimmed boat hats, and, of course, a DIY "VOTES FOR WOMEN" banner. With that, grab your picket signs, and hit the streets with your feminist BFF in tow.
High Collared Shirt, $22, Amazon | Satin Sash, $6, Amazon
16. Daria and Jane
Get out your combat boots and sarcastic wit, because you're going to need them both if you and your best friend are going as MTV's most antisocial teenage BFFs this Halloween.
Want to dress as the coolest high school feminists pop culture has ever seen? To transform yourself into Daria, you're going to need a green blazer, a basic yellow t-shirt, a black pleated skirt, and glasses. If you'd rather dress as Jane, you'll have to find a red blazer, black shorts and tights, and some bold ear cuffs. Both outfits will require some pretty kick-ass combat boots and plenty of sarcastic banter.
Black Pleated Skirt, $13, Amazon | Round Glasses, $8, Amazon
17. Tina and Louise Belcher
Sisters, best friends, they're usually one in the same, am I right? If you're dressing up with your sister-friend, this hilarious feminist duo is the one to imitate.
Both of these characters have their own signature look — luckily, they're easy to recreate. For Tina's outfit, you'll need a denim or dark blue skirt, a light blue t-shirt, red striped tube socks, black Converse sneakers, and glasses. Louise's outfit is much simpler — just a green t-shirt dress, black flats, and of course, her bunny ear hat.
Tube Socks, $9, Amazon | Black Converse, $55, JCPenney | Glasses, $7, Amazon | Green T-shirt Dress, $17, Amazon | Bunny Ear Hat, $22, Amazon
18. Tina Fey and Amy Poehler
Out of all of the amazing celebrity best friends — Courteney Cox and Jennifer Aniston, Kendall Jenner and Gigi Hadid, Amy Schumer and Jennifer Lawrence — you can't get more feminist, or more fabulous, than Tina Fey and Amy Poehler.
There are a million different ways you can pull this costume off — Tina and Amy as Weekend Update hosts; dressed as most beloved characters, Liz and Leslie; or impersonating Hillary Clinton and Sarah Palin. But, the easiest way is to take on their Golden Globes hosting outfits. To do it, all you need is beautiful sparkly gowns, plenty of bling and jewelry, and a bottle of champagne. It wouldn't hurt to work out some jokes, either.
19. Ghostbusters
The glass ceiling of ghostbusting was finally shattered this year with the hilarious remake starring Melissa McCarthy, Kristen Wiig, Kate McKinnon, and Leslie Jones.
For this idea, you and your motley crew will need Ghostbusters costumes, complete with name tag and backpack, and a plan for who will be which character. With so many great women to choose from, you'll be happy with whoever you dress as.
Ghostbuster Costume, $34, Amazon
20. Supergirl and Kara Danvers
You and your BFF are two peas in a pod, Ying to the other's Yang, and Supergirl to the other's Kara Danvers. Own it this holiday.
For the ass-kicking hero half of the duo, you're going to need the whole Supergirl costume, cape and all. If you're dressing as the ever adorable nerd with a heart of gold, Kara, you'll need a sweater over a collared shirt, a pencil skirt, and her signature glasses ($10.99, Amazon) — you know, the ones that apparently prevent anyone from recognizing her as her alter ego.
Pencil Skirt, $16, Amazon | Signature Glasses, $11, Amazon
Images: Comedy Central; Giphy (20); Amazon.com (6)