How Have 'The Breakfast Club' Actors Fared?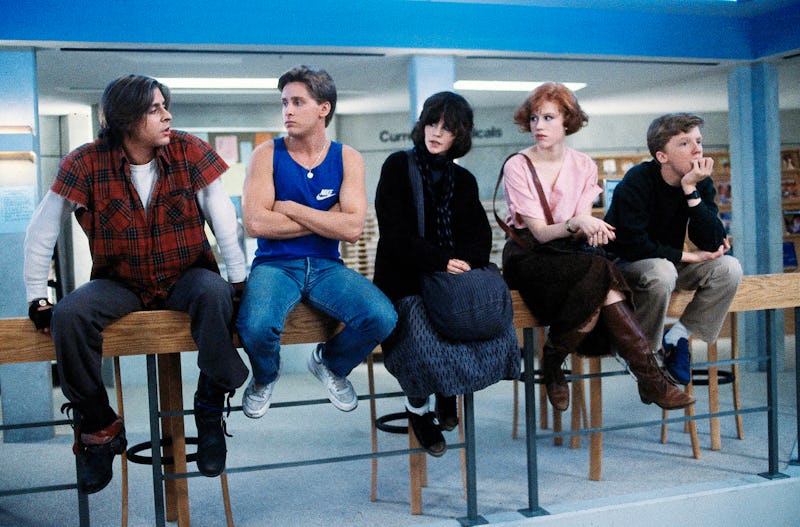 The Breakfast Club may not celebrate its 30th anniversary until next year, but serious fans of the John Hughes classic know that today marks another very special occasion: on March 24, 1984, the Breakfast Club fivesome met for detention. Thirty years later, a whole lot has changed. The teen movie genre has exploded. "Don't You Forget About Me" is best known from Pitch Perfect. Rob Lowe's the most successful member of the Brat Pack. Yet of all the events that have happened over the last three decades, one major thing hasn't changed a bit: the members of the Breakfast Club — or at least the actors behind them.
Despite everything else about the film being different than it was back in the '80s, the five members of the Breakfast Club — Molly Ringwald, Judd Nelson, Anthony Michael Hall, Emilio Estevez, and Ally Sheedy — are strikingly similar to the way they were thirty years ago. Take a look:
Molly Ringwald
Then: As Claire, Ringwald was labeled a princess, too good to be in detention and certainly not the virgin she eventually admitted to being. On that Saturday, she turned out to be a natural leader, even giving Allison (Ally Sheedy) a makeover.
Now: She might not be a teen queen anymore, but Ringwald is still taking charge. Her acting career stalled for a bit in the early '00s, but in 2008, she began starring in The Secret Life of the American Teenager, in which, like in Breakfast Club, she played a responsible, independent character. She worked to help her daughter and friends get their lives together, just as she once helped Allison change up her look. Ringwald has also released two books and one album, proving that, like Claire, there's much more to her than meets the eye.
Judd Nelson
Then: As Bender, the most trouble-prone member of the group, Nelson was labeled a tough, unfriendly "criminal" who only softened up once he got to know the others.
Now: Like his character, Nelson's had some trouble showing off his gentler side. Most of his roles over the last few decades have been murderers, gangsters, or soldiers out for the kill. Only after a long time in Hollywood did he begin to take on some lighter roles, including guest-starring parts on shows like Two and a Half Men and a side career as an author; to date, Nelson has written four books for Kindle, including one about a kid-saving dog. Who knew Bender had it in him?
Anthony Michael Hall
Then: The brain of the group, Hall's Brian was mocked for his nerdiness and driven to depression. By the film's end, he'd gained enough confidence to write the movie's famed, assertive letter to the principal.
Now: Hall may have said he didn't want to be typecast as a geek, but his taking on a role in Weird Science and becoming the youngest ever cast member of Saturday Night Live didn't do much to help his child prodigy image. Recently, he's started making the most of his dorkiness, guest-starring on geek-approved shows like Community and Psych and getting cast in a highly anticipated psychological thriller, Foxcatcher . Like Brian, Hall seems to have embraced his image and is taking advantage of all it offers.
Ally Sheedy
Then: Called a "basket case," Allison (Sheedy) was a quiet, thoughtful loner with a compulsive lying problem.
Now: Sheedy (probably) doesn't share Allison's issue with lying, but, like her character, she's stayed relatively isolated over the last few decades. She's appeared in a number of films and TV shows, but hasn't experienced the career resurgence that some of her Breakfast Club co-stars have.
Emilio Estevez
Then: As the "athlete" of the group, Andrew (Estevez) suffered under the pressures of his overbearing father and felt high expectations to succeed. He was a leader at his high school, but necessarily by choice.
Now: Estevez, the son of President Bartlet/Martin Sheen, knows a bit about high expectations. He's worked steadily in Hollywood, taking control of his projects as an actor, writer, producer and director. Like Andrew, Estevez has put pressure on himself to succeed; his 2006 film, Bobby, took six years to write.
Images: Universal