Try These 14 Movies If You Loved 'Girl On A Train'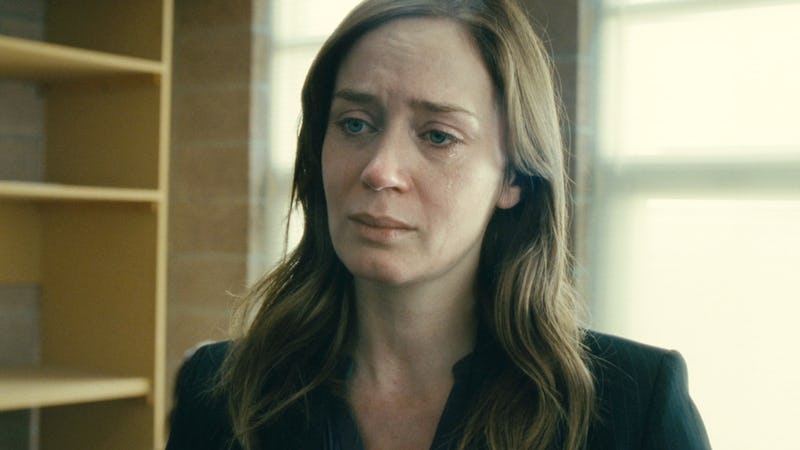 If you're heavily into the book it's adapted from, female-led thrillers in general, or the fabulous Emily Blunt, you've probably been looking forward to The Girl On The Train movie for a long time. And you probably saw it the very weekend it came out. Though The Girl On The Train has experienced reasonable comparison to Gone Girl, both of those movies are carried by elements that aren't very common in film overall. (I'll take a million movies described as "the next Gone Girl" if it means more female antiheroes.) So where should you turn if you're looking to satiate the craving this movie has left you with? You need to watch these 14 movies if you loved The Girl On The Train .
In thinking about this list, I didn't focus too much on the genre but also included different types of movies that have a strong link to The Girl On The Train. They won't all be thrillers. You'll even see a few comedies. I thought about Blunt's character and how's she's shaped by the people she knows and watches. And I thought about that overwhelming sense of paranoia that hangs over the movie. I'll get into some of the major plot points below, so consider this your spoiler warning. Read on for 14 recommendations for fans of the mystery phenomenon.
1. Gone Girl
Like I said, that comparison is totally legit. I can't imagine there are many who've seen The Girl On The Train and not this, but just in case. Rosamund Pike is fierce as the postmodern femme fatale at the center of this unsettling love story.
2. Malice
He may be Jack Donaghy and SNL's Donald Trump to you, but in 1993, Alec Baldwin was one steamy leading man. He stars with Nicole Kidman and Bill Pullman in a thriller about a young couple who take in an egotistical fertility doctor.
3. When A Man Loves A Woman
Playing an alcoholic isn't easy, and Blunt has won rave reviews for doing just that. Meg Ryan also nailed this difficult task in the 1994 romantic drama, When A Man Loves A Woman.
Stream When A Man Loves A Women here.
4. Young Adult
Difficult women, unite. You may not like Charlize Theron's chronically immature character in this Jason Reitman/Diablo Cody comedy, but you just might love her.
5. The Silence Of The Lambs
Clarice Starling is the mother of any female crime-solver who came to theaters after 1991.
Stream The Silence of The Lambs here.
6. Fatal Attraction
Call this the opposite of what happens between Megan and Tom. Fatal Attraction is an infidelity cautionary tale in which "the other woman" gets thwarted and then wants blood.
7. Blue Jasmine
Cate Blanchett took home a Leading Actress Oscar for her role as the unstable heroine at the center of the 2014 Woody Allen comedy. You'll be sympathetic to Jasmine's fall from high society, even as she looks down on everyone around her.
8. Rear Window
In 1954, Alfred Hitchcock basically invented spying on your neighbors. How are you supposed to solve any murders if you're not nosy?
9. Black Swan
Welcome to the unreliable narrator section of this list. Natalie Portman won her Oscar for Black Swan, an exquisite nightmare about the mental breakdown of a prima ballerina.
10. Fight Club
Who can you trust when you can't trust yourself? Maybe your other self. Unless he's a murderous anarchist.
11. Rebecca
In another Hitchcock film, a new wife is hounded the perfect impression left by her deceased predecessor. What really happened to the former Mrs. de Winter and why is her former staff so obsessed with her still?
12. Gaslight
This 1944 gave the world the term "gaslighting," i.e. to manipulate someone into questioning their own concept of reality. It's a tactic that Tom uses to make Rachel and others believe she's a destructive drunk.
13. The Changeling
Angelina Jolie plays a mother who knows that the kidnapped child who's been returned to her is not her real son but who is ignored and discredited by the authorities she consults. Tragically, it's a true story that illustrates how little power women had in the early 20th century and how mental health diagnoses were concocted to "control" them.
14. Mulholland Drive
This David Lynch thriller is not as cut-and-dried as The Girl On The Train — in fact, film critics can't agree on a single interpretation — but you'll be entranced by the sumptuous noir style and the performances of leading ladies Naomi Watts and Laura Elena Harring. Keep an eye out for bonus Justin Theroux.
These selections ought to tide you over until the next feminist literary thriller comes along. (Hopefully soon.)
Image: Universal Pictures