You Don't Want To Miss This Artis Brush Sale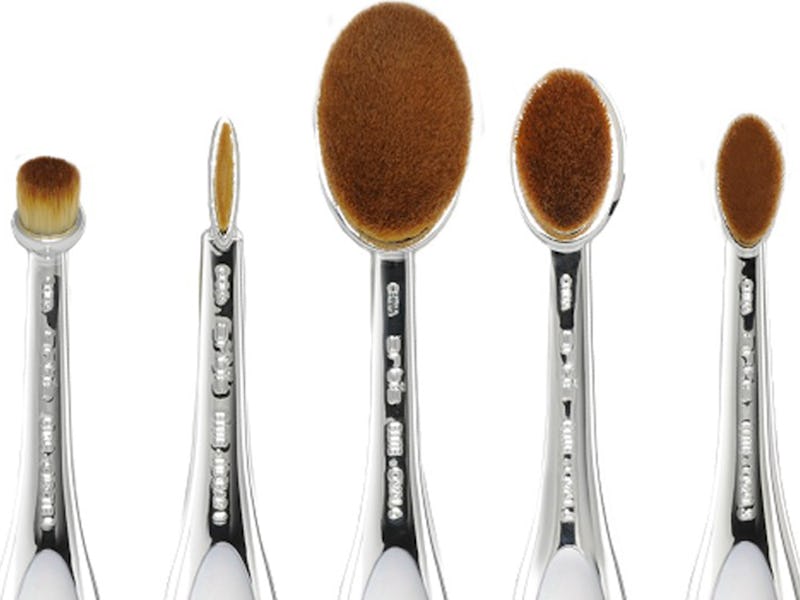 If you're a fan of beauty vloggers (or even follow makeup accounts on Instagram), chances are you're familiar with the signature long silver handle of an Artis brush. The brushes are beloved by beauty vloggers for good reason, but they're pricey. So finding an Artis brush on sale is an excuse to celebrate — and I'm about to make your night.
HSN host Amy Morrison will be hosting her usual show on Thursday, The Beauty Report. If you're a fan of HSN, you've probably seen her before. If not, it's pretty simple. Morrison hosts a beauty-themed shopping hour every Thursday at 7 p.m. ET, and this week is her special "Host Pick" episode. And one of her favorite picks? The beloved Artis brushes.
If you haven't heard of them, Artis brushes were developed by former MAC SVP Matthew Waitesmith. They're crazy popular with YouTube beauty vloggers (and Kylie Jenner) because of their soft bristles and long, silver handles — they make applying makeup on your own face a breeze. The brushes are pretty pricey — they range from $35 to $45 for each individual brush. But for a limited time, HSN is offering a sale on some of the brushes, and trust me — you're going to want to see this.
Artis Elite 5-Piece Brush Set, $145, hsn.com
The Artis 5-Piece Brush Set usually retails for $165, but in honor of the show, it's going for a discounted price this week — $145. And how great do these look?
The specially designed CosmeFibre® brush fibres are super soft, and they pick up makeup and deposit it super evenly on your skin without absorbing a bunch of makeup like a sponge.
Brush Cleaning Starter Kit, $30, hsn.com
If you purchase the 5-piece set, you also get a brush cleaning starter kit (which includes a brush cleaning pad and cleansing foam) for $30, when it's normally $35. A quick way to save $25 on these amazing brushes? Sign me up.
The promotion's here for a limited time only, so hop over to the HSN website to make your purchase now, or tune into HSN Thursday to learn more about the brushes and why you should be adding them to your makeup arsenal.
Images: Courtesy of Artis