13 Funny Costumes To Try With Your Friends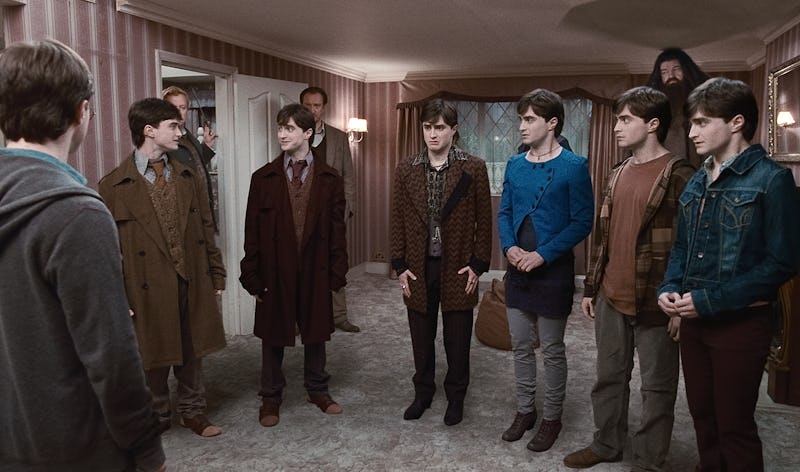 It can be difficult to find a funny group Halloween costume that every one of your friends agrees on. Some costumes can be too cheesy, while others are just unoriginal and so overdone that they lose their comedic value altogether. But you don't have to be a master of comedy to have a funny Halloween costume.
The best part of having a funny group Halloween costume is that moment when everyone sees you together and the costume suddenly makes sense, giving everyone (including you and your friends) a good laugh. Parties are the best for this kind of outfit because you can relive this hilarious moment over and over again with every new group of people you and your friends meet.
But no matter how much you go over it together, it always seems like you and your friends can't agree on a theme. Should it be a pun? Should it be an obvious joke? Should it be more obscure? Should it be a reference to something only your group understands? Then, once you've decided on a theme, there's the problem of whether you have the right number of people to pull off that amazing costume idea. Luckily, there are plenty of Halloween costumes out there that are perfect for incorporating any number of people, making it a great group outfit for you and your friends, no matter how many of you there are.
Check out these original and funny group costumes that'll be sure to make you and your friends the ultimate definition of squad goals.
1. Pumpkin Spice Latte
Pumpkin Costume, $18, Amazon | Ginger Spice, $26, Amazon | Latte Costume, $50, Amazon
This is definitely one of those costumes that only works if you're together all night, but there's no better way to celebrate the season than by dressing up as a Pumpkin Spice Latte. Cover yourselves in pumpkin spice lotion, or even carry around actually PSLs to bring the aroma of fall with you wherever you go this Halloween.
2. Fast Food
Burger Costume, $17, Amazon | Fries Costume, $31, Amazon | Soda Costume, $25, Amazon
Not only is it fast food, but it's a fast group costume to throw together. If anyone else wants to join your group, feel free to get creative by throwing a bottle of ketchup or even a milkshake in the mix.
3. The Juno Elk Condors Track Team
Track Costume, $55, Amazon
For any fans of the 2007 film Juno, we can all agree Paulie Bleeker's shorts were especially gold that day (Go Carol!). Show off how in sync you and your squad are with this Elk Condors track team costume. The best part is, you can add as many friends as you want.
4. Donald Trump's Hair
Donald Trump Wig, $10, Amazon | Troll Doll Wig, $20, Amazon | Straw Hat, $12, Amazon | Corn Hat, $10, Amazon
If you just can't get your mind off the stress of this year's presidential election, try bringing some light into all the darkness by dressing up as different things that Donald Trump's hair looks like. With all the little wisps, there are a lot of options for this group costume, so don't be afraid to get creative with it.
5. Eleven and Her Eggos
Waffle Sweater, $60, Amazon
Stranger Things quickly became every sci-fi lover's favorite show over the summer. Try honoring the telekinetic wonder child who is Eleven by dressing up as her and her favorite thing in the world — Eggo waffles. This is another costume that's great if you're not sure how big your group is going to be on Halloween night. There's always room to add another waffle (Eleven certainly wouldn't be complaining).
Check out how to create your own Eleven costume here.
6. The Belcher Family
Bob: Apron, $5, Amazon | Bob's Shirt, $17, Amazon | Fake Mustache, $4, Amazon
Linda: Linda's Costume, $35, Amazon
Gene: Gene's Shirt, $5, Amazon | Gene's Shorts, $35, Amazon | Gene's Shoes, $58, Amazon
Tina: Tina Costume, $35, Amazon
Louise: Louise's Costume, $28, Amazon
Every member of the Belcher family from Bob's Burgers has their own unique look, style, and personality. Gather your four closest friends to transform into this fun-loving (and strangely wonderful) cartoon family. If you decide to go as Linda, don't forget your wine glass.
7. Donald Duck and His Nephews
Sailor Dress, $20, Amazon | Sailor Hat, $11, Amazon | Baseball Caps, $5, Amazon | T-Shirts, $2, Amazon | Duck Bills, $5, Amazon
Whether you're looking for a fairly simple group costume this Halloween or you and your friends are just huge fans of the classic Disney character, this is an easy costume that will look great when you're all together. Add yellow pants or leggings to your costumes to represent duck feet, or go all in and buy some yellow diving flippers to complete these outfits.
8. The Cheetah Girls
Track Suits, $25, Amazon | Cheetah Headbands, $13, Amazon
This throwback costume takes us back to the days girl groups still rocked track suits and headbands without being considered completely unfashionable. Unleash your inner Cheetah Girl with this simple group costume. Don't forget to add plenty of jewelry to make your outfits truly shine.
9. The Wicked Witch of the West and Her Flying Monkeys
Wicked Witch Costume, $44, Amazon | Flying Monkey Costume, $85, Amazon
As creepy as flying monkeys were to me as a kid, just imagine how hilarious it would be to walk around dressed as the Wicked Witch of the West on Halloween with your friends following you dressed as a gang of wild, flying monkeys. Not only is this outfit funny, it's actually a pretty cool villain costume.
10. Party Animals
Basic Skater Dress, $17, Amazon | Glow Sticks, $8, Amazon | Pigeon Mask, $9, Amazon | Horse Mask, $10, Amazon | Unicorn Mask, $12, Amazon | Cat Mask, $8, Amazon | Dog Mask, $25, Amazon | Owl Mask, $15, Amazon
A super simple group costume with a little bit of humor (and creepiness?) thrown in, this group of party animals is here to liven up the night. With just a few animal masks, you and your friends can be the life of the party. The best part of this costume is you can choose to be almost any animal you want and still fit with the rest of the group. Add some glow stick bracelets and necklaces to really make these party outfits stand out (even more, that is).
11. The International Justice League of Super Acquaintances
Belt, $10, Amazon | Slippers, $5, Amazon | Green Tights, $8, Amazon | Orange Shirt, $8, Amazon | Sequin Black Shorts, $7, Amazon | Seashells, $14, Amazon
Quickster Goggles, $6, Amazon | Blue Rain Boots, $30, Amazon | White Jumpsuit, $30, Amazon | Red Lightning Bolt Necklace, $24, Amazon
Miss Appear Jumpsuit, $24, Amazon | Gold Belt Buckle, $5, Amazon
Elastic Waistband Jumpsuit, $18, Amazon | Goggles, $3, Amazon
Captain Magma Jumpsuit, $24, Amazon | Volcano Hat Paper, $10, Amazon | Gold Initial Necklace, $10, Amazon
You might remember this group of ragtag superheroes if you ever watched Spongebob Squarepants growing up. Try using purple paint to add Mermaid Man's starfish mask to your face, and use construction paper to recreate Squidward's Captain Magma volcano hat.
12. The Seven Potters
Harry Potter Wig, $22, Amazon | Harry Potter Glasses, $3, Amazon | Red Shirt, $7, Amazon | Track Jacket, $30+, Amazon
Some may know it as the Battle Over Little Whinging, while others might refer to it as the Battle of the Seven Potters. Whatever you call it, the Scene in Harry Potter and the Deathly Hallows Part 1 where all of Harry's friends (and Mundungus Fletcher) take polyjuice potion to transform into Harry is one of the most memorable in the series. You and your friends don't have to take polyjuice potion, though, to become the ultimate band of Harry Potters. Just don't forget to draw in the scar!
13. Beatle Juice
John Lennon: Wig, $19, Amazon | Glasses, $9, Amazon | Brown Mustache, $8, Amazon | Sideburns, $9, Amazon
Paul McCartney: Wig, $12, Amazon | Black Mustache, $6, Amazon | Sideburns, $9, Amazon
George Harrison: Wig, $8, Amazon | Brown Mustache, $8, Amazon | Sideburns, $9, Amazon
Ringo Starr: Wig, $13, Amazon | Brown Mustache, $8, Amazon | Sideburns, $9, Amazon
A slightly more punny option than the rest, this Beatle juice costume will make you and your friends laugh when you stick on your sideburns and mustaches to become the hottest boy band of the '70s. Check out this page to learn how to create your own juice box costume.
Images: YouTube; Polyvore Collage (13)