The 'Rogue One' Trailer Connects To 'A New Hope'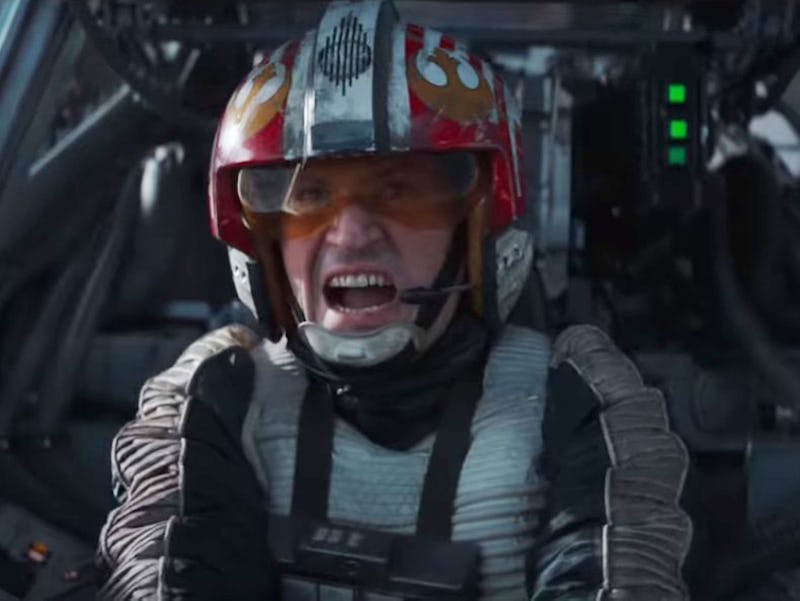 As December 2015 so gallantly taught us, at the moment, few things so excitedly bellow "it's the holiday season" like a new Star Wars film arriving in theaters. And, on Thursday, the latest trailer for Rogue One: A Star Wars Story was unveiled. Oh, boy, does it look spectacular. Not only does this new trailer reveal a few more character and story titbits that were previously unknown, but it also feels wonderfully nostalgic. Why? It probably has more than a little something to do with the number of A New Hope references in the Rogue One trailer. Trust me, guys, they are magical.
One of the most intriguing parts of all of the references to A New Hope in the latest Rogue One trailer is just how nuanced they all are. Many of the callbacks to the first installment of the original Star Wars trilogy are shots that appear to mirror those from A New Hope, brief (yet very direct) shout-outs to the film, or stupendous plot line parallels. Since Rogue One is set before the events of A New Hope , the subtlety of the references feels like a deliberate and organic way to further place the new film within that specific time and canon. Not only do all of these references evoke the spirit of A New Hope in their own way, but they're also a wistful reminder of the fearless optimism required for the Rebellion to take on and defeat the Empire.
1. "Rebellions Are Built On Hope"
Possibly one of the most obvious yet subtle references to A New Hope can be found in the line that Jyn uses to stir up confidence and optimism in the Rebel troops that she's addressing. It works both as a direct callback to the title of the first installment of the original trilogy, and also as a reminder of the fortitude of the characters of that film.
As a brief glimpse of what fans can expect from Rogue One, this line acts as something of a confident tease, suggesting that the Rebels (and, indeed, the story itself) of Rogue One will be something worth investing hope towards, and that it may live up to the quality of the original trilogy.
2. That Incredibly Familiar Background Shot
At the very start of the trailer we see a stunning, wide shot of Galen Erso surveying the desert ahead of him. If it looks familiar, that's probably because the shot is totally similar to one from A New Hope, wherein Luke walks up from his home to take in a dramatic view of a binary sunset over the desert. Also relevant — is that a moisture vaporator I spy beside Galen there? Because, if it is, then that's giving me total Tatooine vibes.
3. Jyn Erso And Princess Leia Are Both Rescued From Imprisonment
Not only that, but Jyn and Leia are both rescued in very similar manners. In A New Hope, Luke Skywalker busts Leia out of her cell with the gallant phrase "I'm Luke Skywalker, I'm here to rescue you," while Jyn is saved from her cell by a rebel saying, "Do you want to get out of here?"
4. The Prison Break Shoot-Outs Also Look Similar
In order to break someone out of prison, you obviously need to assemble some sort of a squad. In A New Hope, we had Skywalker, Han Solo, and Chewbacca, and, in Rogue One, it seems that Rebel troops are the ones blasting down doors in order to recover Jyn from her cell. The parallel shots of those doors being blown down (shown in the tweet above) are super similar.
5. All Hail The Mighty Hologram
The shot of a gang of Rebels gathered around a hologram provides another indelible parallel between the Rogue One trailer and A New Hope.
6. The Suggestion Of An Epic Space Battle
Let's be honest about this — A New Hope has one of the greatest and most iconic action sequences (in space or otherwise) of all time. The latest trailer seems to also suggest that Rogue One may also feature a space battle of similarly epic proportions (and featuring a set of very correlative shots to that of the original).
7. That Iconic Ship Window Shot
And, finally, we have this shot. Though the action may be different, the decision to shoot two characters from behind while they're in the front of a wide ship window revealing the vastness of space definitely isn't.
Suffice it to say, the throwbacks to A New Hope are definitely there, so don't be too surprised if Rogue One ends up delivering even more references to A New Hope when it's finally released in theaters on Dec. 16.
Editor's Note: This article has been updated from its original version.
Images: LucasFilm/Walt Disney (4); Starwars, MarceloZuniga (2), enguitar90/YouTube