The Formula For What Not To Do In Your Tinder Pic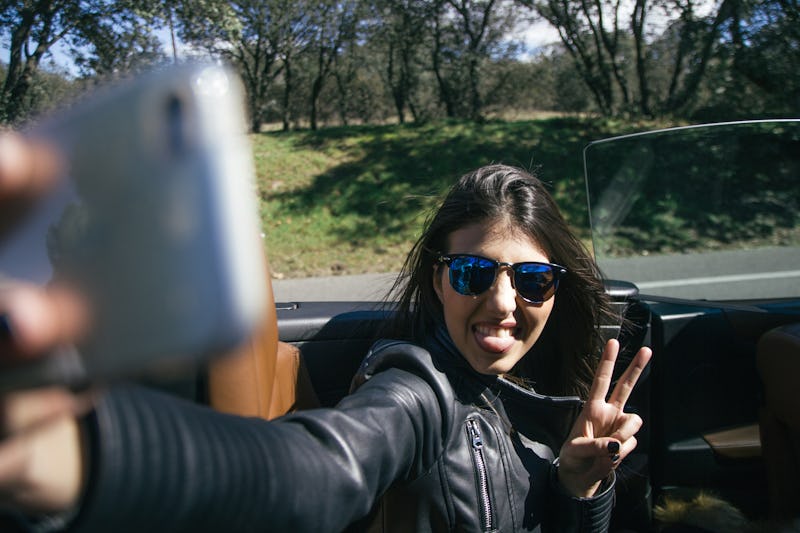 Many of us probably think we already know what makes the worst Tinder photo, or whatever the app of your choice happens to be — a blurry or outdated pic, one with too many friends (which one is the person you're swiping on?!), one with a tiger or some other gargantuan animal, and the list goes on and on. Romance Goals decided to investigate what makes for a bad photo by looking at 600 random profile photos in London, NYC, and Berlin. Then, they surveyed several hundred people for the 411, to see what made them swipe right or left. Finally, all your profile pic curiosities revealed.
"Photos are the first thing everyone looks at," Laurie Davis Edwards, founder of eFlirt and author of Love @ First Click, tells Bustle. She also suggests changing up your photos sometimes. "It seems like a small action, but it can make a huge impact on who you're connecting with."
Amanda Bradford, Founder and CEO of The League, agrees. In Bustle's I Want It That Way podcast, she discussed how photos can help reveal what your interests are, as well as dishes on dating deal-breakers, the About Me section of a profile, and more.
So, want to know what makes for the worst profile photo — so you can be sure not to fall into the bad-picture trap? Here's the deal, courtesy of Romance Goals' findings:
1. Car Backdrops If You're A Woman & Bathroom Ones If You're A Man
Ah, the infamous car and bathroom pics. Is anyone surprised these were the worst profile pic locations?! For women, only 26.1 percent got right swipes for car photos versus 62 percent for the highest-rated location to take pics — at restaurants. For men, just 27.8 percent ended up with right swipes for bathroom pics versus 44 percent for beach pics, men's best picture-taking location.
2. Group Photos
I'm sure I'm not the only one who wasn't sure which person in the picture was the one I wanted to message. While some group pics may be OK, not for the main profile pic. Only 42.2 percent of women received right swipes if they had three or more people in their main pic. If they stuck to just them in the pic, this went up to 58.4 percent. For men, just 25.1 percent got right swipes if they had three or more people in their pic, compared to 37.2 percent if it was just them. Lesson learned: Less is more.
3. Face-Only Shots
Women received more right swipes if they had full-body shots as their profile pics, 66.4 percent versus 58.1 percent for face-only ones. However, it was the opposite when it came to men's profiles — 30.5 percent received right swipes for full-body shots, compared to 38.6 percent for face-only ones.
Personally, when I was online and app dating, my profile pic was my face only, a picture that had been taken on vacation.
I also included a couple (very tame) medium- and full-body ones (with clothes, no bikini shots) among the rest of my photos. And I guess it worked — I ended up meeting my boyfriend on Bumble and Happn. But, as the Romance Goals results show us, to each their own.
4. Photos That Don't Show You Smiling With Teeth
You probably know someone (maybe even yourself) who doesn't smile in their dating profile photo. Instead, they attempt a mischievous or sexy look. Or perhaps they smile, but without showing off their teeth. Romance Goals found that a smile — with teeth — is worth the most in right swipes and not smiling/other produces the least number of right swipes. (Plus, it's good for you!) For women, not smiling/other resulted in 55.6 percent right swipes versus smiling with teeth, which produced 60.5 percent right swipes. For men, not smiling/other resulted in 34.1 percent of them getting right swipes versus 40.6 percent for those who showed teeth when smiling.
5. Bathing Suits If You're A Woman & Formal Clothing If You're A Man
Yep, you read that right. Women's and men's results varied for this what-to-wear-in-your-profile-pic category. Four clothing categories were assessed — formal, casual, business-casual, and bathing suit. For women, bathing suits came in last, at 41.7 percent, regarding what attire worked best in a profile photo, while formal attire came in first, at 62.4 percent. These stats were reversed for men (!) — 32.9 percent received right swipes when donning formal clothing versus 53.3 percent when wearing a bathing suit. Innnteresting.
Here's a quick-and-easy recap:
Images: Fotolia, Giphy, Natalia Lusinski, Romance Goals