10 Easy But Creative DIY Snapchat Costume Ideas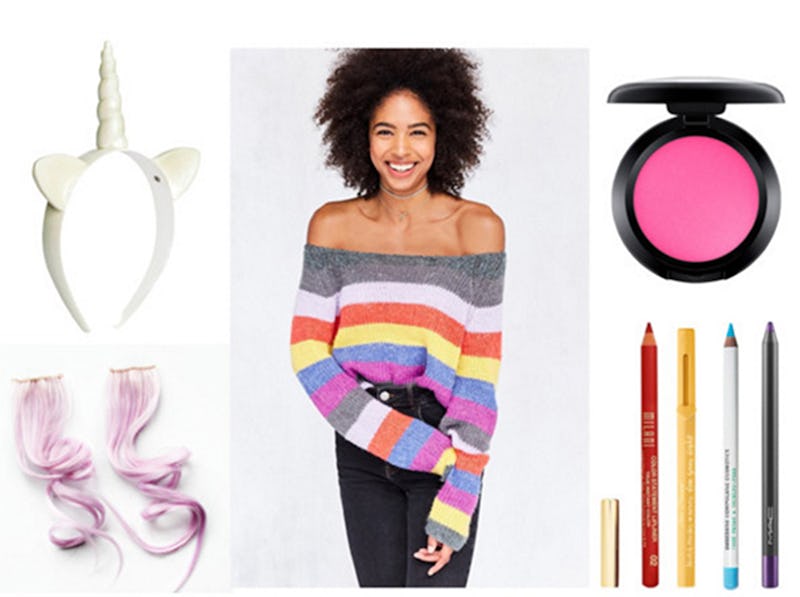 Last year, DIY emoji costumes were the clever thing to wear on Halloween. This year, Snapchat filter Halloween costumes are easily replacing them. In the last 12 months, Snapchat has become huge, and it just wouldn't be as great as it is without all of the amazing filters that come along with it. There are few things more fun than transforming your face into something completely different while taking a selfie. And some of these filters are straight up magic! We have ALL done the dog filter, even if it's been a while. And who can resist a good voice changer? No one.
Bring your love for Snapchat filters to Halloween. There are so many makeup tutorials out there that will allow you to capture the filter of your choice, but what about the rest of your look? What do you pair with a squiggly line of rainbow paint coming out of your mouth? The below ideas are easy to put together and might even include items you already own. Plus, a lot of the stuff listed can be worn or used on days other than Halloween. Want to look millennial AF this Halloween? Check out these DIY Snapchat filter costumes right now.
1. Butterfly Crown
One of Snapchat's prettiest filters is the gold butterfly filter, which makes you look sparkly with flawless skin and a magical golden crown. Bring it to life with a butterfly headband and some nude lipstick (the filter gives off that impression). Add a gold top and shoes to keep the theme going strong.
What you need: Butterfly Headband, $69, Nordstrom; Gold top, $10, Amazon; Black Pants, $26, Miss. Selfridge; Nude Lipstick, $32, Nordstrom; Gold Shoes, $65, Amazon.
2. Puppy Filter
One of Halloween's most popular costumes this year is sure to be the dog filter from Snapchat, which is, without a doubt, the most popular Snapchat filter. Its ability to make your skin look poreless and the way it makes everyone look just a little bit cuter is the reason it has held its spot as the number one filter for so long. Turn it into your costume with a dog ears headband and some face makeup. Add dog bone earrings for fun.
What you need: Dog Ears Headband, $12, iHeartDog; Brown Shirt, $12, Amazon; Brown Makeup, $16, Nordstrom; Pink Lipstick, $17, Nordstrom; Dog Bone Earrings, $20, Amazon
3. Unicorn Rainbow
One of the most fun filters is the unicorn rainbow, even though no one understands why we all love fake-vomiting a sparkly rainbow of colors. It's also the most fun Snapchat makeup. Use lots of makeup to get the look, then throw on a unicorn headband. Add colorful hair extensions and a bright rainbow sweater to really commit.
What you need: Unicorn Ears Headband, $10, H&M; Colorful Extensions, $10, Etsy; Rainbow Sweater, $79, Urban Outfitters; Red Makeup Pencil, $6, Amazon; Yellow Pencil, $20, Sephora; Blue Pencil, $16, Amazon; Purple Pencil, $17, Nordstrom; Pink Blush, $23, Nordstrom
4. Flower Crown
All hail the flower crown filter for its perfect makeup application and beautiful aesthetics that we would never be able to pull off in real life. Except it's Halloween, which means you can try! You can make your own flower crown, or buy one. Add some black liquid liner (which tattoos itself to your eyes with this filter), some lip gloss, and some powder that will make you look almost as flawless as Snapchat does.
What you need: Flower Crown, $15, Urban Outfitters; Black Liquid Eyeliner, $20, Sephora; Pink Lip Gloss,$16, Amazon; Perfecting Powder, $34, Nordstrom; Flower Earrings, $8, Kohls; White Top, $13, Amazon
5. Deer
The deer filter is definitely one of the cutest filters that has ever existed on Snapchat. Get yourself a deer ears headband and some face makeup. Be sure to use liquid eyeliner and the longest lashes you can find.
What you need: Deer Ears Headband, $37 Etsy; False Eyelashes, $26, Sephora; Face Makeup, $19, Amazon; Black Liquid Eyeliner, $20, Sephora; White Makeup Pencil, $18, Amazon; Optional: Deer Handbag, $65, Amazon
6. Panda
Is the panda filter weird AF? Yes. Is it also very fun to use when listening to Desiigner's "Panda"? Definitely. Does it make a great Halloween costume? Of course! Use lots of face paint, a panda ears headband (unless it's cold and you opt for a beanie instead), and a fern print top to mimic the style of the filter. Bamboo earrings are a fun touch.
What you need: Panda Ears Headband, $8, StylesForLess OR Panda Ears Beanie, $10, Monki; Fern Print Top, $13, Rose Gal; Bamboo Earrings, $28, Macy's; White Face Paint, $4, Amazon; Black Face Paint, $8, Amazon.
7. Bee Filter
We are all guilty of filming at least one Snap video while speaking in the high-pitched bee voice. Now you can be the bee for Halloween. You can make due with an antenna headband and some face makeup, but if you want to go all out, add yellow and black striped leggings and some yellow lipstick.
What you need: Antenna Headband, $13, Amazon; Striped Leggings, $67, Zazzle; Black Tee, $10, Amazon; Yellow Face Paint, $7, Amazon; Black Face Paint, $5, Amazon; Yellow Lipstick, $26, Amazon
8. Bear Filter
The bear filter is stupidly cute for no real reason — it doesn't even do anything! Be this cute little filter with lots of face makeup, bear ears, and a red bow-tie. It's easy and adorable.
What you need: Bear Ears Headband, $8, Amazon; Red Bowtie, $17, Amazon; Blush, $22, Amazon; Red T-Shirt, $16, Mango; Black Face Paint, $5, Amazon; White Face Paint, $5, Amazon.
9. Palm Tree
We have all applied the tropical filter to ourselves on a day when it is rainy/cold/snowy/etc. and wondered why we weren't actually sitting under a palm tree. Channel that energy this Halloween. You'll need a flower hair clip (preferably hibiscus), a top with a palm tree print, and some sunglasses and flip-flops.
What you need: Hibiscus Flower Hair Clip, $8, Etsy; Palm Tree Print Top, $9, Pink Queen; Palm Tree Earrings, $22, Ebay; Sunglasses, $48, Amazon; Flip Flops, $42, Amazon
10. Bratz Doll Filter
You might not be able to make your eyes gigantic, but you can mimic the rest of this fun Bratz doll filter. Is it REALLY a Bratz doll filter, or does it just look like one? Anyway, have fun applying a light purple lipstick and a few colorful temporary tattoos. This couldn't be easier.
What you need: Purple lipstick, $25, Dolls Kill; Rainbow Temporary Tattoo, $2, Trouva; Purple Star Temporary Tattoo, $15, Zazzle; Pink Heart Temporary Tattoo, $17, Zazzle; Pink Shirt, $10, Amazon