11 Kyshadow Burgundy Palette Dupes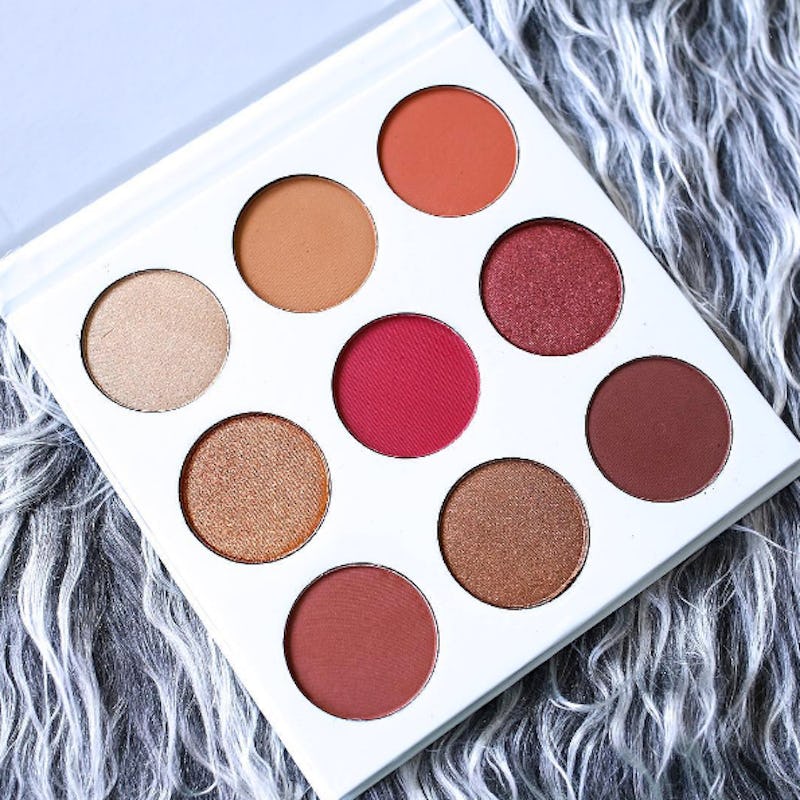 If there's anyone that knows how to build hype for a product launch, it's Kylie Jenner. The newest gem to join the Kylie Cosmetics family isn't even available for purchase yet (it drops Oct. 20) and the beauty sphere is already drooling. Knowing a few alternatives to the Kyshadow Burgundy Palette will save you some disappointment if you're unable to snag her soon-to-be released collection of eyeshadows — and many won't, as they sell out in minutes.
Jenner's new palette will feature a mix of nine warm neutrals and burgundy tones that come in matte and metallic finishes for $42. It's pretty much the autumnal sister-palette to the Bronze Kyshadow Palette. As beauty lovers anticipate the release of the Kyshadow Burgundy Palette, we know the launch is going to be intense. Millions of fans will be logging onto Jenner's site simultaneously, which means not everyone will have a successful checkout story to share.
Luckily, Kylie Cosmetics isn't the only brand getting us fall ready with deep reds, burnt oranges, and chocolate browns. If you can't wait until Thursday, Oct. 20 at 4 p.m. for the launch, or you simply don't want to deal with the chaos of it all, check out these nearly identical alternatives.
1. Morphe Fall Into Frost Palette
35F Fall Into Frost Palette, $39, E bay
You can expect to find dupes for each of the Kyshadow Burgundy Palettes, plus a host of other great shades in the Morphe 35F palette. At a fraction of the price, it's totally worth it and already available for you to add to your current makeup stash.
Makeup Geek x MannyMUA Palette, $49, Amazon
Makeup Geek's collaboration with beauty blogger MannyMua birthed this 9-well palette, featuring a mix of matte, shimmer, and foiled shadows that have a fall smoky eye written all over them. Shades "Mars","Sora", "Luna", and "Aphrodite" look very similar to the shades in the Kyshadow palette.
Marble Collection Warm Stone 12 Color Eyeshadow Palette, $17, Amazon
You'll have no problem going from daytime glam to a steamy evening look with this warm-toned BH Cosmetics' palette. The deep browns and bright oranges make it just as enticing as Jenner's palette.
Tartiest PRO Amazonian Clay Palette, $53, Tarte Cosmetics
Tarte's PRO palette is mostly comprised of mattes, but there's just enough shimmer to make it comparable to the Kyshadow Burgundy Palette. Plus, the addition of a prismatic teal shade will definitely make for some pretty unique fall makeup looks.
Modern Renaissance Palette, $42, Sephora
One of the most sought-after beauty products since its summer release, the ABH Modern Renaissance Palette is a definite must-have for the season. It's rich magenta tones and shimmery golden hues compete with the newest Kyshadow palette like no other.
26 Shadow Blush Palette, $17, Amazon
An affordable alternative to Kylie's collection, the Coastal Scents 26 shadow palette not only includes comparable shadows, but also a range of blushes that will accent your eye looks.
7. Makeup Revolution New-Trials vs. Neutrals Palette
New-Trials vs. Neutrals Palette, $10, Ulta
This 16-shadow Makeup Revolution palette may be more on the softer side of the color spectrum, but the shade range still gives off the same vibe as Kylie's new Kyshadows. And you just can't be that budget-friendly price point!
8. Violet Voss Holy Grail Palette
Holy Grail Eyeshadow Palette , $45, Violet Voss
The dupes in the Holy Grail Palette are so spot on it hurts. This gem captures the sultry fall essence of the Burgundy Palette, but with over twice the shadows to choose from.
Venus: The Grunge Palette, $15, Light In The Box
The Grunge Palette may include one less shadow than Kylie's, but it's still a winner. Shades "Venus", "Icon" and "Rebirth" are practically Kyshadow lookalikes with just as much pigmentation.
Revealed 2 Palette, $20, Amazon
Coastal Scents does it again with their Revealed 2 Palette. Imagine all of the smoky burgundy eyes you could do with this beauty.
Night on the Town Palette, $48, Amazon
At nearly the same price, this NYX collection features more than enough eyeshadows to get the Kyshadow glam down pat. Not to mention you could pull together an entire look with the blush, highlighters, and contouring shades this complete palette includes.
Don't sweat it if you can't add the Kyshadow Burgundy Palette to your collection when the launch hits. With any of these amazing alternatives, you'll be creating Kylie-level looks in no time.
Images: kyliecosmetics/Instagram; Courtesy Brands