19 Insanely Clever Products For Book-Lovers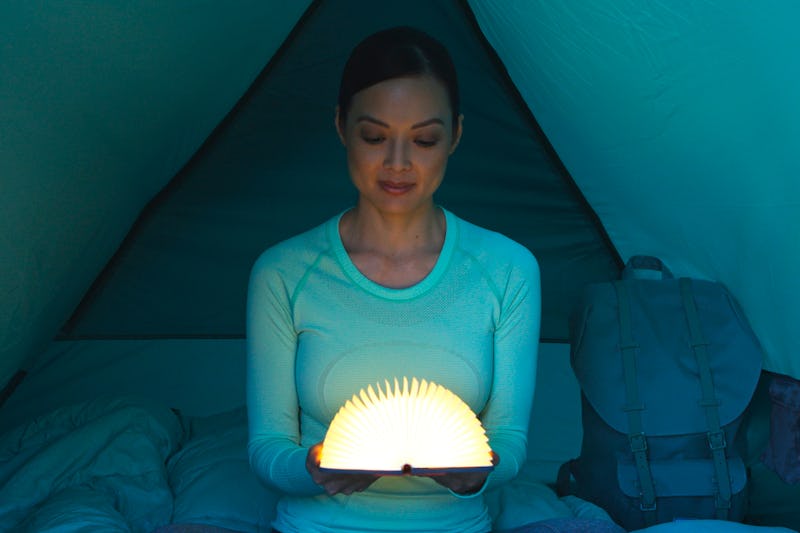 Being a reader can be a very expensive hobby: not only do you have to support your unruly book-buying habit, but it's impossible to resist all the other gorgeous bookish products on the market. If you want a truly Instagrammable bookshelf, you'll probably need to subscribe to a couple of literary subscription boxes to stock up on all the bookish merchandise they offer. You need book-scented candles, and literary pillowcases, otherwise how can you call yourself a real book-lover?
And then there are the t-shirts, and the tote bags, and all the other trinkets you can use to show the world your passion for books. Your Jane Austen themed shirt is the perfect way to start up a conversation on the subway with a bookworm who might become your new best friend. If you hadn't been carrying your "I'd Rather Be Reading" literary tote bag, you may never have got chatting to that cute barista who now gives you free coffee.
So books, bags, and bracelets are all necessary expenses so far — but don't put your purse away just yet, because it doesn't stop there. Reading is a serious business; you're going to need the right equipment. And the 19 insanely clever products listed right here are definite must-haves.
1. "The End" Bookends
The End Bookends, $18, Amazon
To organize your shelves properly, you're going to need a good bookend — and this is by far the cleverest one I've ever seen. With this hilarious bookend on display, you'll forever be reminded of the best bit of a book: the part just before the end.
2. A Bookmark That Keeps Your Exact Place
Finger Print Bookmark , $5, Amazon
Just think of all the time we waste on trying to find the exact sentence we last read on the page. Traditional bookmarks just won't cut it anymore; if you want to be a really efficient reader, you need this perfect place-saver.
3. A Bookmark That Does All The Work
Now matter how cute your bookmark is, it's not much use if you fall asleep and forget to mark your place. (Speaking from experience, like, every single night.) This super-simple bookmark will follow you along the way, so you don't have to worry about losing your place when the book falls from your hand at 2 a.m.
4. The Book Lover's Journal
The Book Lover's Journal, $10, Amazon
All that reading can be hard to keep track of — but when your friends ask for a book recommendation, you don't want to be left struggling to remember your last 5* read. With the Book Lover's Journal, you can keep a record of every book you've read, and exactly what you thought of it.
5. Thumb Ring Page Holder
Thumb Thing Book Page Holder, $5, Amazon
It feels like sacrilege to say even one bad thing about books — but my one criticism would be that you have to hold them with both hands. What if I want a free hand to hold my glass of wine?! That's why this thumb ring is so smart: with just one hand, you can hold your book open with total ease.
6. Transparent Book Weight
Book Shield, $25, Amazon
But let's take this even further. Holding a book one-handed is great — but holding it with no hands is even better. This transparent book weight will hold your book open for you, leaving you totally hands-free to pop open a bottle and tuck in to a snack.
7. KleverCase Kindle Cover
Kindle Covers, price varies, Etsy
E-readers are so convenient, but they're just not as pretty as books. But this adorable company based in the U.K. creates custom Kindle cases out of your favorite book cover, so you can show off your sophisticated reading tastes while secretly reading Fifty Shades for the fifteenth time.
8. A Poster You Can Read
Posters, from $19, Litographs
Why waste wall space on plain old pictures with no words? Instead, you can cover every surface of your house with beautiful books with these ingenious posters that contain entire novels on them.
9. Clip-on Reading Light
Mustard Tiny Tim Reading Lamp, $9, Amazon
For a late night reading sesh without waking up your other half, you need a mini reading light — and they don't come more adorable than this desk-lamp shaped one from Mustard and Co.
10. A Lamp Disguised As A Book
Lumio Lamp, $200, Hello Lumio
For a super-stylish alternative, how amazing is this fold-away lamp that you can disguise as a book? You can hang it from the wall, or keep it propped up on your bedside table, and it will tuck neatly away into the shape of a hardcover book whenever you don't need the extra light.
11. Automatic Bedside Reading Light
As far as reading lights go, I've saved the best until last. This incredible gadget functions as a shelf to keep your books on, a bookmark to prop open your place, and a light which automatically turns on when you pick up your book — and turns back off again when you set your book down for the night. You basically have no choice but to buy it.
12. Library Embosser
Library Embosser, $26, Horchow
Fed up of losing your books only to find them on your sister's bookshelf months later? Mark your territory with this super-classy library embosser which will make it clear exactly who is the rightful owner.
13. Personal Library Kit
Personal Library Kit, $11, Amazon
I always get a shudder of fear whenever someone comes round to browse my bookshelves, as I just know they're going to ask those dreaded words: "Can I borrow this?" When somebody borrows one of your books, chances are it's gone forever — unless you have this neat little library kit, that is.
14. Book Pillow
Olde Book Pillow Classics, $12, ThinkGeek
There's nothing cosier than snuggling down with a book in bed, but when your eyes are drooping shut with tiredness, it's hard to read more than one page before you're asleep with your face messing up the pages. This adorable book pillow solves all that: read your favorite page of Alice in Wonderland every night, and then fall asleep onto this super-comfy cushion.
15. A Book That Becomes A Chair
Bookniture, $149, Generate
In your tiny city apartment, there's not much room for extra furniture. But this chair will blow you away: after you've finished sitting on it, just fold it up and tuck it away on your bookshelf. Yep, this is a book that unfolds into a chair — and it's absolutely magical.
16. Bathtub Caddy
Bathtub caddy, $41, Amazon
Get ready for the most luxurious bath of your life: this bathtub caddy has room for your book, a bar of soap, and a much-needed glass of wine to enjoy while you soak in the bubbles.
17. Prism Glasses
This is genius: read in bed without even having to lift your head or raise your arms, by wearing these futuristic prism glasses. I'm never going to read in bed the normal way again.
Prism Glasses, $11, Amazon
18. Instant Dictionary
Point and Click Dictionary, $280, Hammacher Schlemmer
Ever since I got my Kindle and discovered the joys of the in-built dictionary, whenever I read a physical book I now find myself jabbing at the page with my finger when I come across a word I don't understand. Spoiler: it doesn't work. Now, I've got some bad news: this unbelievable gadget that can scan words from the page and look them up for you in the dictionary is currently unavailable — but perhaps if we all write a collective letter to the inventors, they'll bring it back quickly?
19. Pillow Chair For Reading In Bed
This is what I've been waiting for all my life. This luxurious chair has pockets for your books, a holder for your tea, and it looks wonderfully comfortable as well. The only downside: if I had this, I don't think I'd ever get out of bed.
NAP Bed Rest, $100, Brookstone
Images: Lumio