'American Pastoral' Feels Both Retro & Modern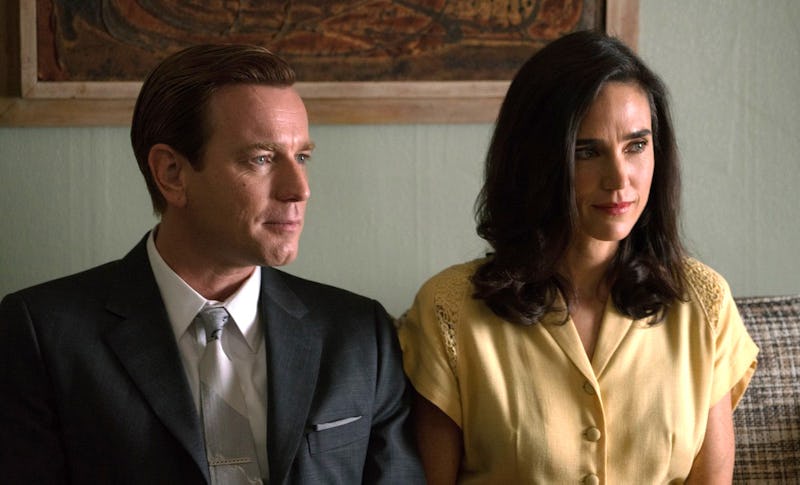 Regardless of how much time passes, the 1960s remain an era of fascination in American culture. Iconic pieces of entertainment that look back at the decade through nostalgic lenses have been produced since at least the 1980s with shows like The Wonder Years, through modern times with the likes of Mad Men, and it seems the '60s will never go out of style. Which brings me to American Pastoral , a new film about a seemingly idyllic mid-Twentieth Century couple (former high school star athlete and former beauty queen, respectively) whose lives unravel when their 16-year-old daughter becomes a political radical and commits an act of terrorism while protesting the Vietnam War. It definitely showcases the changing times of America in the '60s, but is American Pastoral based on a true story?
It's not. The movie is based upon the 1997 novel of the same name by author Philip Roth, who also penned the book behind another 2016 mid-century drama, Indignation . American Pastoral is a highly-acclaimed novel, winning the Pulitzer Prize in 1998 and being named to TIME 's "All- TIME 100 Novels" list in 2010. And even though the story takes place five decades ago, the volatile political climate it depicts is still very relevant today.
"There's lots in this story that, sadly, reflects things that are happening today," star and director Ewan McGregor told NPR. "There's a sequence in the movie that explores the riots in Newark in '67, where the African American community were on the streets there, protesting against not being given equal pay, and brutality from the force, the police force, and there was no representation in the local council. And Merry, our daughter ... is politicized and radicalized and becomes a bomber, as you said, so that's obviously sadly still very current today too."
The original story did of course have several real-life inspirations, as the novel discusses the presidency of Lyndon B. Johnson, the Black Panthers, and the Weathermen — the group who ultimately inspires the character of Merry to bomb a post office. The main character of Seymour "the Swede" Levov is even based upon a real person — Seymour "the Swede" Masin, according to The New Yorker's Tad Friend. Masin didn't have a daughter that committed a terrorist act, but he was a Newark native, star high school athlete, and successful Jewish businessman — just like Levov.
American Pastoral may not a true story, but its familiar 1960s political setting and real life inspirations make it feel both real and extremely relatable to modern America.
Images: Lionsgate Films