This Gang Almost Made It To 'Finding Dory'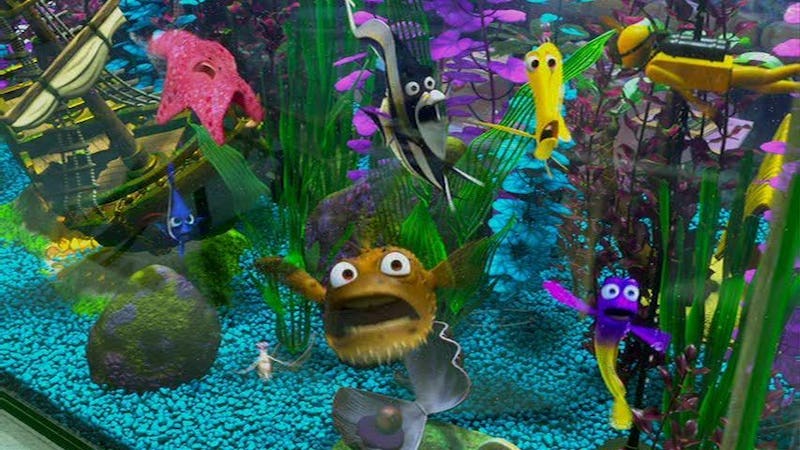 One thing that made Finding Dory great was that it showed familiar characters — Dory, Nemo, Marlin — in a new light. A new behind-the-scenes video from Pixar shows that more Finding Nemo characters almost made it into the sequel; deleted Finding Dory scenes show the fish tank gang making a triumphant return. In case you've somehow forgetting the iconic group, they're the fish in the dentist's tank that Nemo found himself trapped with in Finding Nemo. Consisting of Gill the leader, Peach the starfish, and Jacques the shrimp, among others, the tank gang notably named Nemo "Sharkbait" and escaped to the ocean in plastic bags.
The tank gang made a brief appearance in the credits of Finding Dory, but they were absent from the body of the film. However, deleted scenes and accompanying explanation that debuted on Entertainment Weekly on Monday shows that the gang almost played a major role in the film. In the series of illustrated clips, the gang, now a kind of mercenary spy team, helps Marlin and Nemo in their quest to reunite with Dory. Finding Dory director Andrew Stanton, who narrates the video, explained that he liked the idea of Gill and his crew continuing their overly optimistic attempts at escape and rescue that first appeared in Finding Nemo.
Why didn't the clip make it into the movie? Stanton explains that the scene remained in the picture for two and a half years during its production, but "the reason it got cut was because it ultimately became more about Marlin and didn't support Dory's story." He did, however, confess to experiencing some regret about excluding that particular plot from the movie.
While it would have been nice to see the gang return in Finding Dory, it makes sense why Pixar chose to cut the story. Including those characters in a role similar to the one they played in the first film might have made Dory seem like an unoriginal copy of Nemo. Additionally, it was Dory's story, and it payed off that Pixar made the choice to devote as much time as possible to that. Dory's emotional development and backstory was, after all, what so many of us loved most about the movie. And who knows? Maybe this will be great news for the tank gang, and they'll end up getting their own spinoff movie or short. Nemo fans can dream.
You can watch the deleted scenes here.
Image: Pixar