Emma Stone's 'Vogue' Video Is A '90s Kid's Dream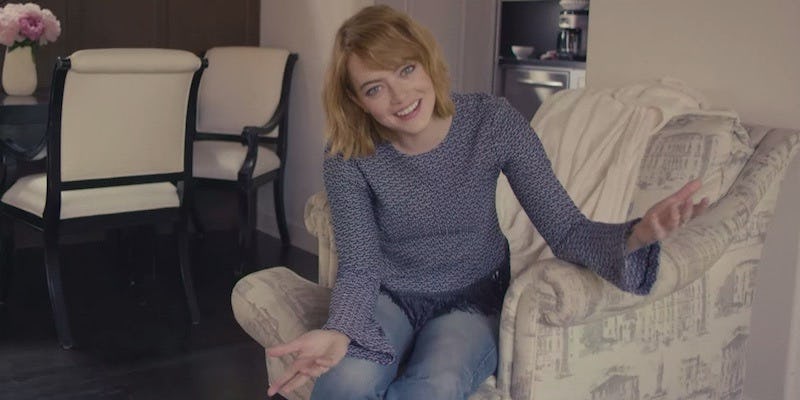 Emma Stone's on the cover of this month's Vogue, and you know what that means: We get a "73 Questions" video with the actress. Oh, what's that? You don't know what the "73 Questions" videos are? According to Vogue, the "73 Questions" videos are "filmed in a single shot," and include a cameraman from the magazine asking 73 questions to see what their subjects "like, what they hate, and most importantly – what they know." Good thing for us, what Emma Stone knows is... everything about the '90s. No really, Emma Stone's "73 Questions" video is dripping with references from the decade.
In addition to revealing that she once cried in front of Diane Keaton, Lorne Michaels, and Tom Hanks, that her La La Land co-star Ryan Gosling is both "bloodthirsty and vengeful" in real life, and that her favorite superhero is "still Super Man" (a slight nod to her ex, Andrew Garfield?), Emma revealed that she's a '90s aficionado. To see what I mean, let's unpack all the moments.
First, Stone hits us with a Titanic reference. When asked, "what historical figure would you love to have a cocktail with?" She says, "Mr. Andrews from Titanic. Although I always picture Mr. Andrews from Titanic as Victor Garber from the movie Titanic , so I think maybe I just want to have a drink with Victor Garber." Amazing. That's not the only epic film from the decade she discusses, either. When prompted with "What movie made you want to be an actress?" Stone lists a total of four movies — two of which are '90s classics: Hocus Pocus and Beetlejuice. (OK, technically Beetlejuice was released in '88, but '90s kids consider it to be one of the great films of their generation, so it still totally counts.)
Then, Emma Stone drops a '90s TV reference when she pulls out a Nickelodeon Kid's Choice awards. It just so happens to also be a kaleidoscope, which just so happens to be a favorite toy from the early '90s. So many levels here.
Somehow, it continues to get better. When asked "What's the worst beauty trend you've ever tried?" Stone was quick to answer: "Oh, those rhinestone tattoos from the '90s." If you can't relate to that statement at all, it's time to rethink some things. After that tidbit, the host gets curious about Stone's musical capabilities, so she begins to try and play the recorder. (Emphasis on the "try" because spoiler alert: Emma Stone cannot play a recorder.) What a great reminder that, as an elementary school child, you too could probably not play this seemingly simple device.
Next, Stone gives us an incredible impersonation of Britney Spears singing "(Hit Me) ...Baby One More Time." It's so uncanny that if you weren't looking right at her face doing it, you'd think it was Spears herself.
Lastly, please take note of her golden retriever's name. It's Ren. Like... Ren of Ren & Stimpy, the classic '90s cartoon? Though she didn't say for sure, based on the whole rest of the interview, I'm going to say there's a pretty good chance the answer to that question is "yes."
Oh, and that magic trick ending? Have you ever seen something so '90s? (Well, besides the rest of this interview.) Emma Stone, you're a real life dream, plucked straight from the greatest decade of all time.
Images: Vogue/YouTube (3)