5 Creative Jane Austen-Inspired Costumes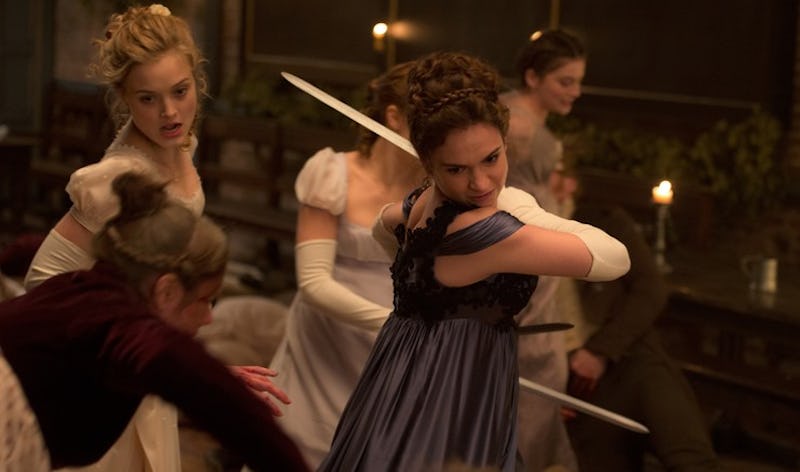 If you're stumped looking for Halloween ideas this year, may I point you in the direction of your bookshelf, where you'll find bookish monsters scarier than any horror movie character, literary couples lovelier than the most famous historical romances, and plenty of authors whose work is worth repping on the holiday. From the Bronte sisters to Emily Dickinson, Edgar Allan Poe to William Shakespeare, your options are endless, but if Pride and Prejudice is your favorite novel, then you'll want to check out these creative ways to create a Jane Austen-inspired costume this Halloween.
Jane Austen is a beloved author for her rich storytelling, unforgettable heroines, and breathtaking romances, but when October 31 rolls around, she becomes a literary inspiration for one more reason: Halloween costumes. The big gowns, silk corsets, floppy hats, and lace gloves from the pages of her novels are ripe for the costume picking. With so many different books and characters to choose from, Austen's library is the perfect place to visit and revisit for costume inspiration year after year, whether you're dressing up by yourself, with a partner, or with the whole crew.
Time to tighten those corsets and tie up the bonnets, because you're going to need them if you're going to pull off one of these 5 creative Jane Austen-inspired Halloween costumes.
1. The author herself.
If you're going for an Austen-themed Halloween costume, you can't go wrong with dressing as the author herself.
Regency Costume Dress, $59, Amazon; Medieval Peasant Bonnet, $20, Amazon
To transform into the beloved English novelist, you will need to go back in time and find a Regency costume dress, or make one of your own with a ruffled top and a long skirt. Don't forget your bonnet, gloves, and, most importantly, your book and a pen — you know, in case some of your fans want autographs.
2. Your favorite heroine.
Instead of dressing as your favorite author, dress as your favorite heroine from her books. From Emma to Elizabeth, there are so many amazing options to choose from — the real question is, how will you pick?
High Collar Shirt, $22, Amazon; Lace Gloves, $11, Amazon
Whether you're dressing as the star of Pride and Prejudice or the hero of Northanger Abbey, your costume is going to basically be the same outfit: long ruffled skirts, high collar shirts, lace hats and gloves. Pin your hair up in curls, and get ready to find your literary Mr. Right.
3. Wear your favorite book.
Want to dress up without really dressing up? Go as your favorite Jane Austen book — it's as easy as wearing a t-shirt.
Litograph T-Shirt, $34, Litographs
All this costume require is a Litograph t-shirt displaying the words of the Austen book of your choice, but you can always step your ensemble up with matching literary tattoos, scarves, or book-based jewelry, like this Pride and Prejudice book locket. This is a simple DIY costume you can easily customize to be whatever you want it to be.
4. Become the best couple.
Just like everyone has a favorite Jane Austen heroine, everyone has a favorite couple. If you're dressing up with your better half this year, make that half a dreamy Austen love interest.
Anna-Kaci Ruffled Dress, $35, Amazon; Ladies Straw Hat with Chiffon Ribbon, $19, Amazon; Bonnet, $8, Amazon; Billowing Sleeves Shirt, $35, Amazon; Top Hat, $5, Amazon
Your costume will be the same as the other female book characters, and even Austen herself — Regency style fashion featuring lacy and ruffled dresses, hats and bonnets, and gloves. Your partner will want to trade in his current duds for light colored dress pants, a tailcoat blazer, and a solid color collar shirt, preferably one with ruffles on it, leather boots, and, if he really wants to go all out, a top hat.
5. Get a group of zombie-killing Bennet sisters together.
If you and you're entire book-loving girl gang want a kick-ass costume, look no further that the zombie killing Bennet sisters of the parody novel Pride and Prejudice and Zombies.
Anna-Kaci Ruffle Dress, $25, Amazon; Costume Blood, $4, Amazon
Take those ruffle dresses, long skirts, and long white gloves and get them dirty with a little costume blood. If you want to go all out, have some members of the group use costume makeup to transform into zombies — you know not everyone makes it out alive.
Images: Litographs; Etsy; Giphy (5); Polyvore (5)