13 Literary Makeup Looks For Halloween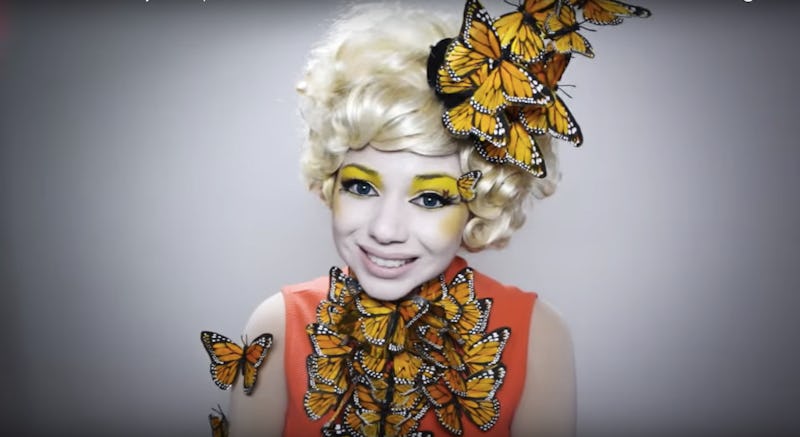 Halloween. The one day (or weekend) a year it is socially acceptable to go about your business with a bloody, painted clown face. If I could walk around every day with a face straight out of the Capital from The Hunger Games, I very much would—but alas, I live in a human society that frowns on full face-paint for everyday use. So if you're a makeup fanatic looking for a way to rep your favorite book this October, you're in luck: here are thirteen tutorials for literary makeup looks this Halloween.
Whether you like a genuinely creepy Halloween look, a pretty Halloween look, or just an easy Halloween look that will survive a night of hard partying and candy-eating, there's a tutorial out there for you. It just takes a little eyeliner (and a few giant globs of foundation) to transform into your favorite book character. Most of these looks can be achieved with the makeup basics you have at home, plus one of those affordable Halloween makeup kits, if you spring for wilder colors.
You don't have to be a makeup professional to look unbelievably creepy/gorgeous/literary this Halloween. Here are some makeup ideas for the book nerd who doesn't mind a little glamour:
1. The Cheshire Cat
There are many a Cheshire Cat makeup tutorial floating around Youtube, and with good reason: that wide, Cheshire Cat smile is the perfect mix of cute and creepy. Plus, who doesn't love literature's most confusing feline from Alice's Adventures in Wonderland? This look might seem a little daunting to the makeup novice, but it's actually much simpler than it seems. Just stick with the mouth and whiskers if you're not feeling fake contacts, and throw on some cat ears to complete the Wonderland look.
2. Effie Trinket
The Hunger Games series is full of pageantry and wacky costumes—but since setting yourself on fire is probably not the best idea, Effie Trinket might be the way to go. You'll need some yellow eye shadow (or yellow cream paint from a Halloween makeup kit), and a big plastic butterfly, if you're feeling extra ambitious.
3. Death from Sandman
Neil Gaiman fans will instantly recognize Death, the perky goth girl from The Sandman series of graphic novels. Non-Neil Gaiman fans will be thoroughly creeped out. Either way, it's a win! This look requires a little concentration for the swirl under Death's eye, but otherwise it's pretty straightforward (provided you own a lot of black eyeliner).
4. Pride and Prejudice Inspired Look
Not everyone likes to go over the top for Halloween. If you want to use your costume as an excuse to dress up like a Jane Austen-inspired woman of Regency England, here's a lovely, simple look to compliment your vintage dress.
5. Pride and Prejudice and Zombies Inspired Look
Or maybe you do like to go over the top for Halloween. If you're a fan of both Jane Austen and gore, then the only logical choice is to go full on Pride and Prejudice and Zombies, and freak out everyone in your book club. You can still wear a vintage dress, too.
6. Pennywise the Clown
For a deeply disturbing, more complex, and gender-neutral makeup look, we turn to Stephen King's It. Pennywise the Dancing Clown is one of the most spine-tingling monsters in all of literature. You might scar trick-or-treaters for life with this elaborate, demon clown get-up.
7. Poe's Raven
Feeling especially poetic this fall? Embrace it with this dreamy makeup look inspired by Poe's The Raven. The feathered eye makeup can be simplified for ravens in a rush. Also, this look gives you an excuse to walk around sadly, whispering "nevermore," at your roommate's Halloween party.
8. Daenerys Targaryen
Yes, you might need to shell out for a silvery blonde wig to complete this look. But Daenerys Targaryen is worth it. Bonus points if you dress up as Dany, and then stand outside George R. R. Martin's house all night on Halloween, demanding that he hurry up and finish Winds of Winter.
9. Bellatrix Lestrange
If you want to go as a Death Eater this Halloween, there's one clear choice: Bellatrix Lestrange. She's second banana to Lord Voldemort himself (and maybe possibly his kind of girlfriend?). Pair this look with a long, dark robe and a knobbly stick "wand" for an easy, dangerous ensemble.
10. The Queen of Hearts
Just one more from Alice's Adventures in Wonderland, because it makes for such odd and delightful costumes. Feel free to simplify this one: skip the wig or the white face paint if you just want a nod to the Queen of Hearts. Or go all out and run around screaming "Off with your head!" at children all night.
11. The Wicked Witch of the West
The Wicked Witch of the West hails from two different book series. There's L. Frank Baum's The Wonderful Wizard of Oz, of course, and Gregory Maguire's more adult Wicked, basis for the Broadway musical. Whichever you choose as your inspiration, this look is not too hard and instantly recognizable (just be careful not to turn everything you touch green).
12. The Great Gatsby Inspired Look
If you prefer cute and old-timey to elaborate and terrifying, The Great Gatsby is always a favorite. You, too, can represent the follies of the American dream! Go as Daisy Buchanan in your flapper best, or rope in some friends to go as the whole East Egg/West Egg gang.
13. The Dream from Scary Stories to Tell in the Dark
This look is a little more advanced, like the Pennywise makeup. But, for the makeup aficionado, it's a show-stopping costume. '80s and '90s kids will remember Scary Stories to Tell in the Dark as the absolutely horrifying book that ruined our childhoods—the illustrations were straight up nightmare fuel. Pay it forward by becoming one of those creepy illustrations, and ruining some new childhoods this Halloween.
Images: TinaKpromua, CharismaStar, Blackcatcvlt, goldiestarling, Shaaanxo, Pinkstylist, goldiestarling, Michelle Phan, Brizzy Voices, sokolum79, AUDFACED, Asiafe Dizon, Vince Racanelli/Youtube