How To Dress Up Like 'Harriet The Spy' In 5 Steps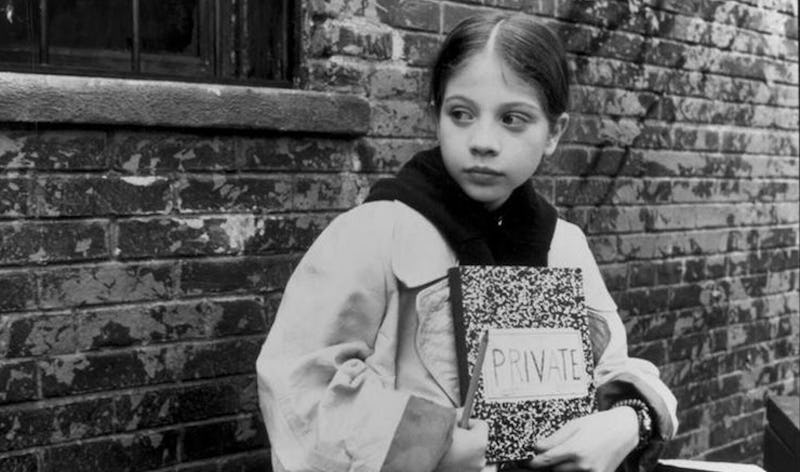 The hardest question for book-lovers on Halloween isn't "who are you going to dress as?" because there aren't any good options, but rather because there are too many amazing ones. But if you're a bibliophile looking for a bookish outfit that's unique, nostalgic, and easy to make, then look no further than these five easy steps for dressing like Harriet the Spy for Halloween.
One of the most famous literary sleuths of all time, Harriet Welsch has been inspiring little girls to be themselves for generations. Since writing the children's classic in 1964, Louise Fitzhugh and her most beloved character have become feminist icons by breaking the mold of what traditional girls and women "should be." Bold, unique, and unafraid to be themselves, even if that means being different, both author and character are bookish heroes, and what better person to dress as on Halloween than your hero? Only with this costume, you don't need tights, capes, or spandex anything.
You may not be able to afford her $5 million brownstone, but with her signature sweatshirt and her essential notebook, you can be just like her by following these 5 easy steps for dressing like Harriet the Spy this Halloween.
1. Find comfortable pants.
Baggy Jeans, $18, H&M
Unlike the other girls at her school, Harriet didn't wear what she was expected to, but instead picked clothes that were good for spying — namely, pants. Grab your favorite pair of jeans, or get a new set of comfortable, baggy jeans, you know, the kind that allow you to sleuth under cars, around corners, and in tight spaces.
2. Track down the signature read sweatshirt.
Red Sweatshirt, $25, Amazon
The most icon part of Harriet's sleuthing outfit, her red hoodie is a must when in comes to recreating the costume. Look for a red sweatshirt without any embellishments — just a simple hood, and an optional zipper in the front. When it comes to spying, comfort and simplicity is key.
3. Or go with the yellow raincoat from the movie version.
Yellow Raincoat, $17, Amazon
If you loved the 1996 movie as much as you love the book, you are probably familiar with Michelle Trachtenberg's signature yellow rain jacket. Add a yellow raincoat of your own to your costume, and any true '90s kid will understand your costume instantly.
4. Get your own PRIVATE notebook.
Marble Notebook, $9, Amazon | Notebook Clutch, $10, Etsy
Ever spy needs a secret place to write their findings. Make sure you have one just like Harriet's — a marble composition notebook with the word PRIVATE written on it in all caps. If you want an accessory that compliments the costume and is functional at the same time, add a unique twist to your costume with a notebook clutch instead. It's fun and functional, not to mention, on theme.
5. Don't forget to accessorize.
Ked's Sneakers, $45, Amazon | Flashlight, $15, Amazon | Binoculars, $3, Amazon
Any good sleuth needs tools, so make sure you incorporate some into your costume. From Harriet's practical sneakers to her emergency flashlight to binoculars for long-distance spying, complete your outfit with these essentials and your costume will be complete.
Image: Paramount Pictures; Giphy; Polyvore (5)