Could A Duo Win 'The Voice' Season 11?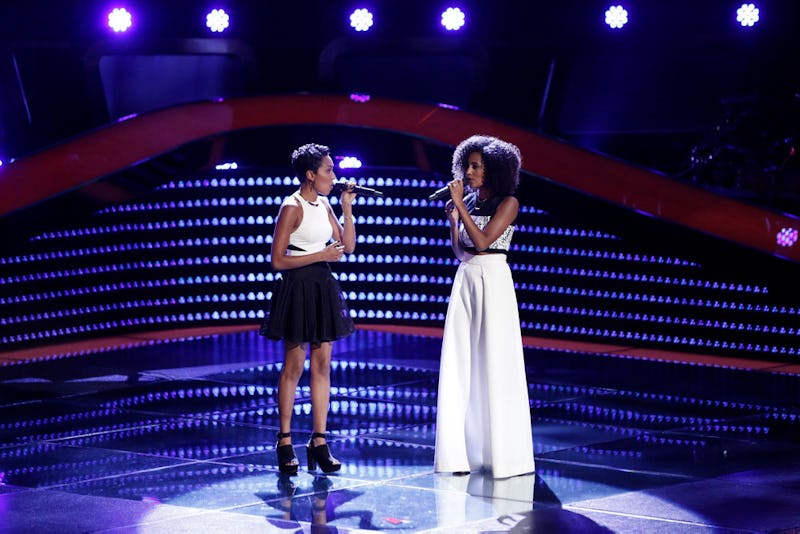 What do you get when you put three angelic-voiced artists on one stage to sing "More Than Words"? Pure amazingness. This is exactly what Alicia Keys gave viewers in her team's most recent The Voice Battle Round. Gabriel Violett battled sisters Whitney and Shannon to Extreme's "More Than Words," and it would actually take more than words to describe the beauty of their performance. All three of their voices blended together so perfectly. Honestly, the performance sounded more like a collaboration you would hear on an awards show than it did a cutthroat battle on The Voice. But alas, it was a battle and only one party could claim victory. The lucky artists to advance into the Knockout Rounds representing Team Alicia are Whitney and Shannon and it was absolutely the right choice.
Though Whitney and Shannon were the rightful winners of the battle, you've got to hand it to Violett. It couldn't have been easy singing against two beautiful women with equally beautiful voices, but he did it with great professionalism and grace. His vocals were amazing and his performance was captivating, but he lacked something that the sisters had—a duo act. The Broadway alum fought hard, but it was two against one from the start. There was nothing Violett could've done to come out on top. While it's extremely upsetting that he wasn't stolen, Violett has an even better chance at making it in the industry now than he ever has before and there's no way his road ends here.
Aside from having two voices instead of one, there's something about Whitney and Shannon that sets them apart. Their sound can only be described in one word—angelic. Their voices blend together so perfectly that they almost sound like one person. Honestly, if I were watching with my eyes closed I would think I was listening to one person. Though there have been duos to cross The Voice stage in the past, none have won the competition. With proper coaching from coach Alicia Keys, Whitney and Shannon will take their homegrown duo act from amateur to a professional, performance-ready level. Will they be the first duo act to reign victorious? I guess you'll just have to stay tuned to find out.
Image: Tyler Golden/NBC