OFRA's Fall Liquid Lipsticks Are Coming Soon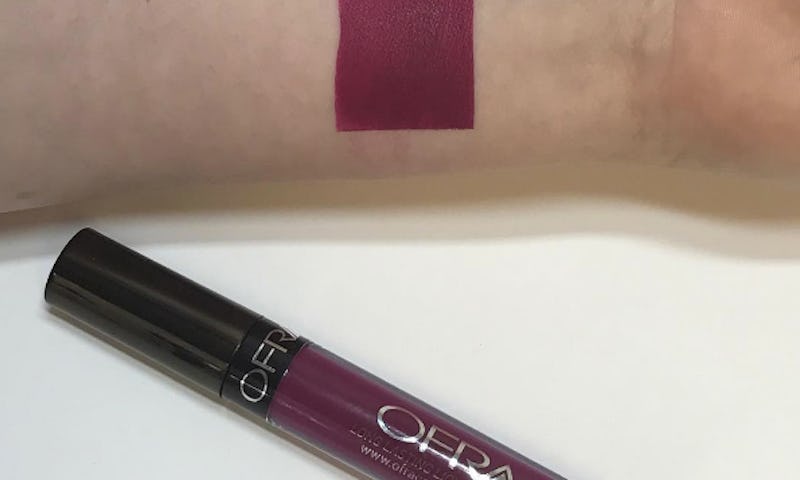 The season might be in full swing already, but so are the makeup launches. According to their Instagram, OFRA Cosmetics' Fall Collection is coming soon. How soon? Well, that's not exactly clear. One thing is for sure though — the lip colors are pretty darn gorgeous. Thankfully there's sneak peeks to hold you over until the big day. UPDATE: OFRA's Vintage Vineyard Collection will arrive on Oct. 25 at 10am EST.
EARLIER: Holiday collections are coming out left and right, but this launch will having you embracing the current season. OFRA's been busy launching new highlighters and their Skin Sculpting Set, but now they're going back to their roots. The company has shown off a few sneak peeks of their Fall Collection, and it looks to be all about the lips. So far, there are two dark, vampy shades that have been shown. In my opinion, it's a nice change from all the sparkly winter launches.
According to their Instagram, the new collection is coming soon. They didn't say exactly when, but it was enough to get fans excited. Their first hint was of a deep plum colored liquid lipstick. They showed a swatch of it on their Instagram, but are keeping the name a secret. It's the perfect color for those of you looking to ease into the vampy shades.
Ugh. I need this gorgeous color in my life. The second sneak peek, posted by makeup blogger Trendmood, was a little more bold. It's a super dark purple that looks almost black. While it might not be for every beauty lover out there, there's no denying that it's perfect for fall.
I see a purple theme going here. Maybe it will be an entire collection of the different shades of the color. It wouldn't surprise me, see as ColourPop Cosmetics just did the same thing for their Fall Edit. While you wait, there are plenty of other dark lippies to snag from their site, like Mina, which is from their permanent collection.
Mina Liquid Lipstick, $19.90, ofracosmetics.com
I don't know about you, but I can wait to see the rest of the collection!
Images: ofracosmetics/Instagram (1), OFRA Cosmetics (1)