Unique Eyeliner Trends To Try Instead Of Cat Eyes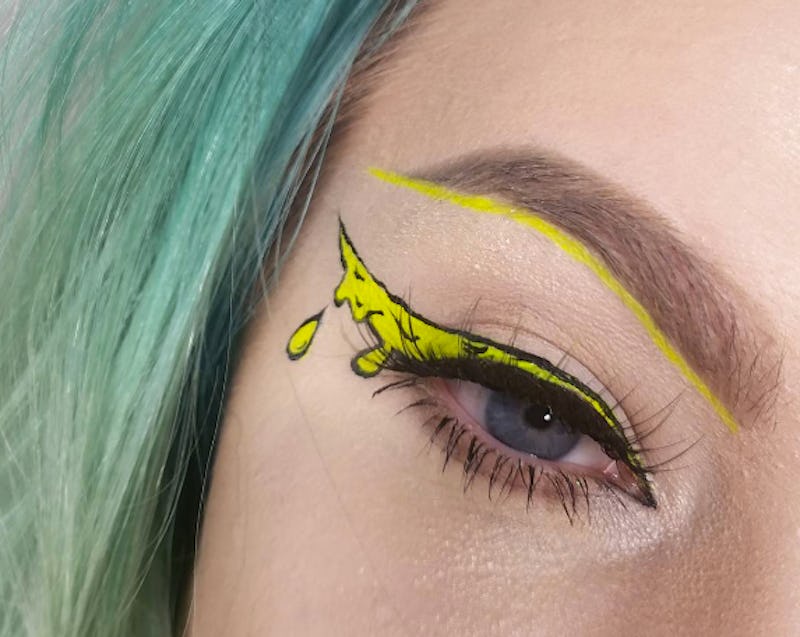 Ah, winged liner: the most simultaneously hated and loved part of a beauty fanatic's existence. No matter how many years of practice you've had, cat eyes are easily one of the hardest makeup application techniques to nail. Never fear: trying out some of the cat eye liner alternatives floating around the beauty sphere these days can give you a much needed break from the precise flick that practically gives you a heart attack every morning.
Think about it: A steady surgeon's hand couldn't even make bone-straight lines, not to mention getting both of your wings to actually match surely requires some form of witchcraft. Sure, there's something satisfying about crisp, winged liner no matter how much of pain it is to do. But with so many other fun eyeliner trends filling Instagram feeds and beauty blogs, it's a shame that cat eyes are still winning. Sure, they're a go-to for a reason— cat eyes say a lot about you, after all. Still, getting creative with a different eyeliner design can spice up your makeup and better show off your skills (although flawless winged liner will ALWAYS be mind-blowing).
So when you're stuck in a beauty rut or you're simply fed up with incessantly trying to perfect your wings, take a stab at these 9 amazing eyeliner looks.
1. Glitter Liner
Wearing glitter makeup can get intense and a ton of sparkle isn't for everyone. Glitter liner is one of the easiest ways to incorporate a bit of shimmer into your makeup without going overboard. It's even more captivating than your everyday cat eye.
2. Cutout Liner
Cutouts add an artsy flair to your liner looks. Get dramatic by carving out a large portion of your eyeliner or go subtle with a tiny geometric cutout.
3. Slimer Liner
Perfect for makeup lovers that can't be bothered with spending hours on creating straight lines, slime liner doesn't have to be super sharp. Achieving the slimiest effect is all about messy line work, so no need to get precise with your application.
4. Negative Liner
It doesn't get any cooler than negative liner. Rather than lining your lid, this look is created by strategically applying your eyeshadow around the areas where your liner would typically go.
5. Bat Wings
Just in time for Halloween, bat winged liner has been popping up all over Instagram as of late. It's definitely an edgier alternative to feminine cat eyes that can really draw attention to your lids.
6. Knife Liner
Creating killer makeup looks is a breeze when you opt for knife liner. Add red drops of makeup to get a bloody, Halloween worthy effect or keep things simple and clean for an everyday look.
7. Swirl Liner
Eyeliner featuring a swirly loop that weaves in and out of the wing is one of the latest makeup crazes of Instagram. The swirl is not only eye-catching, but also a great way to cover up any mistakes you may make when doing winged liner.
8. Flower Liner
Bring on the flower power with floral liner work. Although this technique will require a little more time and effort, your flowers don't have to be realistic. A few colorful dots go a long way to get your floral pattern down pat.
9. Smoky Liner
Smoking out your liner relieves the pressure of having to paint on a sharp wing. It's ideal for daytime looks that need just a hint of drama.
Don't worry: You don't have to part ways with cat eyes for good. However, switching up your go-to makeup with an inventive eyeliner look or wing every now and then doesn't hurt — and it also looks incredibly cool once you get it right.
Image: stjohnnnn/Instagram