This Is What Your Eyeliner Style Says About You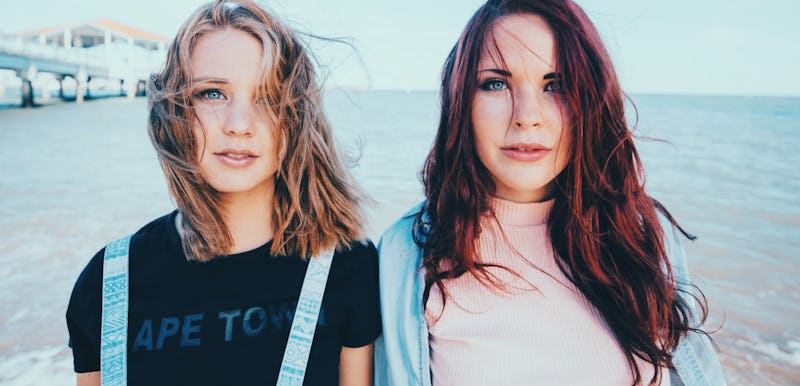 They say the eyes are the windows to the soul, so it's important to note that how someone chooses to embellish those eyes can also say a lot about the kind of human they are. Yep, your eyeliner style is like a second window into your aforementioned soul. Whether you keep your peepers covered with a constant smoky look or prefer a pristine, thin cat-eye, the way you style your eyeliner is a definite indicator of your personality, idiosyncrasies, and individuality. At least if you ask me, a total beauty aficionado and the kind of person who loves to analyze even the most minute decisions people make.
Eyeliner might seem like only a small detail compared to the clothes we wear or even the rest of our makeup. But since it lives in such close proximity to our most basic form of communication — our sense of sight — the way we choose to present our eyes definitely has some significance. Plus, since eyeliner is such a basic and universal beauty item, the way it is uniquely applied can serve as an autobiography of sorts for the person wearing it.
So here's what your eyeliner style says about you. From super thick wings to lining only the inner rims, it's true that our eyes say it all.
1. Glittery
Not only does your glittery eyeliner demonstrate your absolute adoration of all things shiny, but it also reflects your positive attitude and unwavering optimism. You're a glass-half-full kind of person, and there's no situation that you can't find the light in — even if your favorite glitter eyeliner tube dried up unexpectedly (a true tragedy).
Your bright, gorgeous smile lights up your face, along with the playfulness of a sparkling wing on your lids. It doesn't take much to make you happy, but you sure do love some glittery eyeliner.
2. Smudged
You're a free spirit, and you go where the wind takes you. You hate scheduling meetings, and you avoid appointments at all costs. You just don't know where you'll go, who you'll see, or what you'll do until it happens. That smudged eyeliner represents your carefree nature. After all, wherever it is that the wind is going to take you may not exactly be the best place for eyeliner touch-ups.
3. Colorful
Even though it sometimes gets you in trouble, you're not afraid to speak your mind. Or wear brightly-colored eyeliner, for that matter. That confidence and tenacity are exactly why people love having you around. You don't apologize for being yourself, and have the kind of fearlessness that even Beyoncé could envy.
Since your bright blue and purple-lined peepers are so eye-catching, you're not at all apprehensive about making such a big statement. Paired with your honest, truthful opinions, you're truly a force to be reckoned with.
4. Thin Cat-Eye
You don't take yourself too seriously, and laughing is your favorite hobby. You love the way a thin, cat-eye flick accentuates your bright eyes, but you also adore when it smudges down your cheek after laughing so hard that you cried.
You talk about comedians like they're your close friends, and never miss an episode of Ellen. Your simple, thin cat-eye prepares you for the day while allowing you to look gorgeous even when you're sending horribly embarrassing Snapchats to your best friends.
5. Thick Cat-Eye
If you had to pick one word to describe yourself, it would be "perfectionist." No matter what you're working on, it has to be absolutely pristine by the end. That also applies to your thick, dramatic cat-eye.
You've got the cat-eye down to a science, of course, and you feel like it prepares you for anything and everything that any given day could throw at you, be it a stressful work meeting or an even more stressful family dinner. You're always prepared for the worst, and for making the worst the best it can possibly be.
6. Under Eye
If there's one phrase that defines you, it's the whole "always take the road less traveled" thing. Instead of following the path that eyeliner-wearers have typically gone down, you like to switch it up by lining under your eyes.
Just like your approach to eyeliner, you're unapologetic in your uniqueness. You don't follow trends. You make them. And it's that poise and self-assurance that have everyone admiring your flawless Instagram posts and your über-chic handmade ensembles.
7. Double Winged
You are always the life of the party. Your friends look to you for their weekend plans, and you never lead them astray with karaoke nights consisting of singing '00s classics or driving around in go-karts. Your fun, outgoing nature draws everyone in, which is the same story for your artistic double winged eyeliner. It's alluring and unique, just like you, and pairs perfectly with your endless supply of unconventional lip colors and bright nail polishes.
8. Cut Crease
No one could ever figure you out, because you order bananas on your pizza and wear shorts in the middle of winter. But the fact that you're so original makes you a hoot to be around. Your cut crease eyeliner is unique but totally cool, just like your hippie, boho style. While it's not easy to pull off a cut crease, you make it seem like a piece of cake with your glowing aura and exceptional friendliness.
9. Lined Inner Rims
You enjoy the simple things in life, and dodge stressful situations at all costs. It only makes sense that you avoid complicated eyeliner situations and just line your inner rims instead. The process is easy, simple, and totally pretty. Plus, it's a foolproof accessory for your casual wardrobe of jeans, T-shirts, and cool bomber jackets.
You prefer walking places whenever you can, and read physical books even though you have a Kindle. You're an old soul, and your lined rims give you that simple yet put together look you crave.
10. Smoked Out
Just like your dark, smoky eyeliner, you love drama and having a good time. You appreciate dark, dim lighting more than anyone you know (it's the best for selfies, duh), and your closet's filled with alluring going-out ensembles.
Your smoked out eyeliner gives you the confidence and poise you need to kill it at work while allowing you to transition to dinner and drinks with friends afterwards. Sure, it might be a lot of makeup for every day, but it's your war paint. You simply wouldn't feel as fierce, determined, and fearless without it.
11. Extended Wing
You are not one to blend into a crowd, which is exactly why you take the cat-eye to the next level with an intense, extended wing. When it comes to your life, you're all or nothing. You take things very seriously, and are passionate and enthusiastic until the last step is complete.
You pair your extended wing with trendy clothes and statement-making accessories and strut down the streets with an element of charm and glamour to your look. It only makes sense, considering how much you take the phrase "life is your runway" to heart.
So whether you're a simple inner rim person or prefer the optimism of a glitter-lined lid, eyeliner styles can certainly say a lot about a person. Don't let this change your eyeliner ways, though. Instead, let your individuality show through those lids, whether they be colorful, cut-creased, or smudged.
Want more fashion and beauty tips? Check out the video below, and be sure to subscribe to Bustle's YouTube page for more hacks and tricks!
Image: neill_kumar/Unsplash