9 Places To Shop For Plus Size Glamour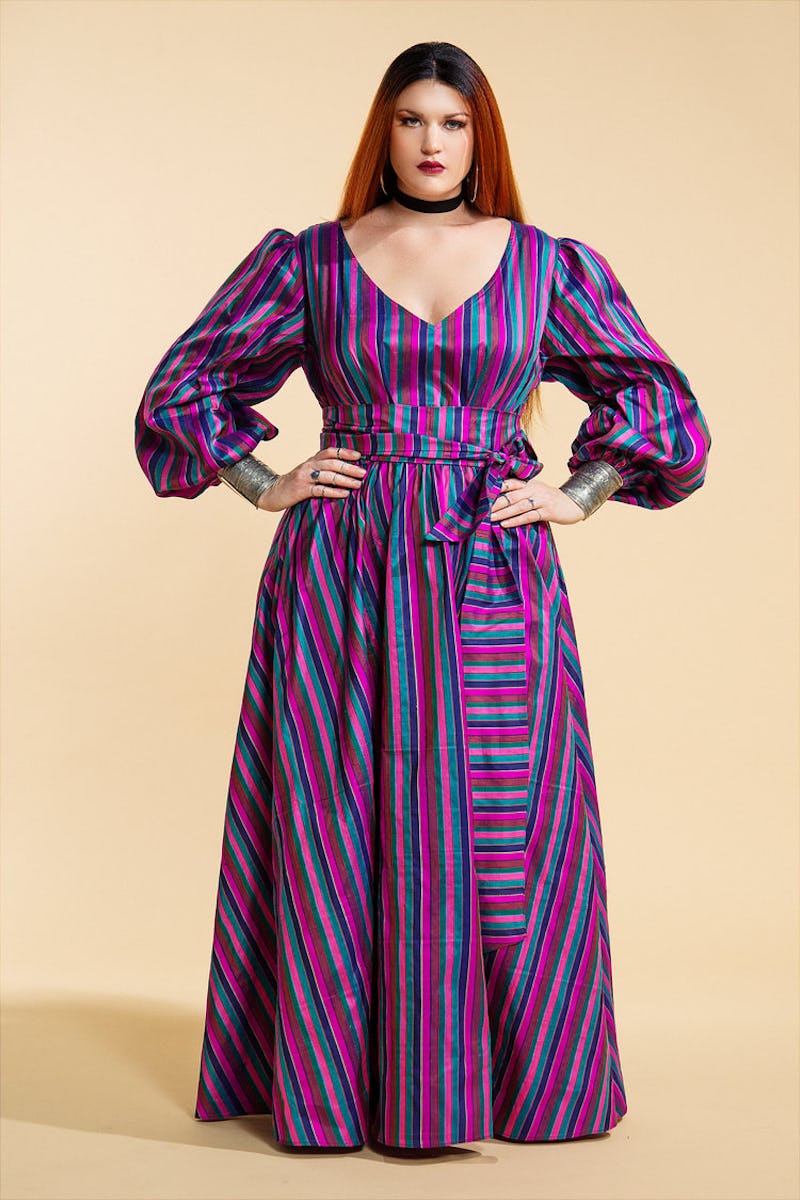 For lovers of traditionally feminine fashion, few style aesthetics are quite as exciting as those that seem to scream glamour. Luckily, embracing everything fabulous about style doesn't have to be limited to those who wear smaller sizes: Plenty of designers are catering to those who crave plus size glamour.
Whether you relate best to '50s teen dream aesthetics consisting of poodle-like skirts, form-fitting retro dresses that Marilyn would've been proud of, or a contemporary twist on glam that evokes imagery of lattes in Paris or cocktails in a Manhattan bar, plus size glamour exists in many incarnations. All you have to do is slip into it and allow yourself to embody the fearlessly modern femme fatale or unapologetically vintage diva of your dreams.
Although much can be said for the intentional rejection of classically feminine aesthetics in exchange for masculine or androgynous silhouettes previously thought to be reserved for men, there is also power to be found in wears that are the glammest of the glam. When femininity still feels stigmatized — regularly likened to weakness or incompetence — wearing it proudly on your sleeve while living your best life can still send a pretty thought-provoking message. If that sounds like your jam, look no further than these destinations for plus size glamour.
1. Jibri
Full-Sleeved V-Neck Striped Silk Maxi Dress, $275, jibrionline.com
If you fancy yourself the kind of babe who can equally kill it in a boardroom and on the runway of New York Fashion Week, Jibri is a must-stop-shop with items available in sizes 10 to 28. The higher price point might seem daunting at first (many of these pieces are the kind you save up for), but every garment is undoubtedly the kind of statement-wear you're likely to hold onto for years to come.
Long-Sleeved Mock Neck Flare Dress, $240, jibrionline.com
Jibri's garments navigate everything from the outlandishly glam to the subtler diva qualities one might associate with Audrey Hepburn's LBD á la Breakfast At Tiffany's. So whether you want your version of glam to be the kind that literally stops passerby in their tracks, or the type that gets fancier and fancier the more time you have to take it in, this shop will have you covered.
2. Unique Vintage
Voodoo Vixen Plus Size Emerald Green Floral Sheer Sleeveless Maggie Swing Dress, $88, unique-vintage.com
Unique Vintage is the destination for those who love to tow the line between Betty Draper and Joan Holloway. So if you want to feel like a '50s bombshell one moment and a demure housewife the next, it's time to feast your eyes on this selection.
Unique Vintage Plus Size 1930s Style Navy Blue Sleeveless Velvet Goldwyn Gown, $98, unique-vintage.com
Typically available in sizes 1X to 4X (translating to 12 to 20 for UV's own range), the size range might be limiting for some plus size babes. But for those within this spectrum, the retailer is really the place for pure vintage-inspired glamour. Seemingly drawing inspiration from every decade between the 1920s to the '80s, you'll be able to channel every historical glamazon from the 20th century while rocking details that feel totally authentic and always maintain an aura of sexiness.
3. Monif C.
Tina High-Low Jumpsuit In Lilac, $138, monifc.com
Independent designer Monif Clarke has been dressing curves for over 10 years and in that time, she's remained an undeniable force within the umbrella of plus size glam. If you like your glamour to be contemporary and minimalistic yet totally fierce, this is your place.
Eden Cold Shoulder Dress, $108, monifc.com
Never afraid of putting plus size bodies in asymmetrical cuts and experimental silhouettes that take up space, this kind of glamour is definitely the progressive kind. Clarke's size range is 1X to 3X (or approximately 14 to 24). This is a brand that does listen, and it'll carry you through your visions of a dreamy, glamorous existence.
4. Courtney Noelle
Kat Gown, $775, courtneynoelle.com
Courtney Noelle is a retail destination for higher-end designs that'll (most likely) break the bank. But logic would suggest that if the straight size market has room for everything from $5 fast fashion to $50,000 couture, plus size babes deserve it all as well. Independent designer Courtney Smith creates truly luxurious, quality pieces that are fit for the fanciest glam babies of them all. And most designs are available in a size range of S to 4X that bridges the gap between straight and plus just a little bit more than your average brand.
Coco Dress, $110, courtneynoelle.com
In 2015, Courtney Noelle (formerly known as Rome + Coke) also made headlines for its designer's decision to exclusively use plus size models of color. Representation of fat women, women of color, and those existing at an intersection of the two is still a rarity in the majority of the fashion industry, so this designer's commitment to visibility feels especially important.
5. Pinup Girl Clothing
Deadly Dames Plus Size Moto Babe Bolero In Red Faux Leather, $120, pinupgirlclothing.com
Pinup Girl Clothing is a magnificent brand that helps you embrace your kitschiest, glammest fat girl self. Whether you want to incorporate elements of bondage-wear into your secretarial '50s dress, loud leopard print on an otherwise classic LBD, or a bold pastel hue that Lisa Frank would die for in an ensemble perfect for the office, PGC is the place where glamour meets the intentionally garish.
Little Jun Jacket In Pale Turquoise Blue, $168, pinupgirlclothing.com
Most pieces sold here are available in a 1X to 4X size range. Rather than focusing on its namesake garments, Pinup Girl Clothing also brings together several brands committed to nailing vintage-inspired recreations with alternative twists. This way, you'll be able to hybridize your inner Lydia Deetz with your quintessentially Pink Lady soul.
6. SmartGlamour
The Marilyn Convertible Dress, $50, smartglamour.com
Over the past few years, SmartGlamour has proven itself to be the most size inclusive retail destination on the web, with designer Mallorie Dunn making items in sizes XXS through 6XL and to any custom measurement. But when it comes to this brand's aesthetic, well, the clue is in the name. Dunn manages to subtly capture an undeniably glamorous vibe while crafting pieces that'd suit any contemporary working girl.
The Emmeline Pleather Pencil Skirt, $50, smartglamour.com
If you want to feel glam but don't want to feel uncomfortable throughout the day, a lot of SmartGlamour's designs might just fit the bill. Dunn seems to prioritize a balance between looking fabulously feminine and feeling like you're physically ready to take on the world (kitten heels included).
7. Chi Chi London
Chi Chi Curve Allanah Dress, $98.15, chichilondon.com
Finding chic, plus size formalwear can sometimes be a hideous state of affairs. Although much is said these days about the evolution of plus size fashion, special occasion garments seem to be lagging behind on the journey towards size inclusivity. Although its size range isn't the most inclusive out there (with most designs coming in 14 to 22) Chi Chi London is producing some wonderfully glam pieces that were hard to find for plus size glamourpusses a few short years ago.
Chi Chi Curve Heidi Dress, $85.88, chichilondon.com
Some of these glam dresses feature fun detailing like flouncy asymmetrical trains and cuts — in other words, the kinds of details that take up space. Such pieces are the perfect fit for fatshionable beauties who couldn't care less about the mass their bodies occupy in this ever-changing and perpetually bizarre world of ours.
8. Lady V Vintage
Ivory Ursula Cross-Over Bust Wedding Dress, $153.42, ladyvlondon.com
For the moments when you want your glamour to be statement-making but also effortless enough to allow for a heck of a lot of accessorizing, London-based vintage recreation brand Lady V is a pretty safe bet. These dresses are simple while not being remotely boring, and can be amped up with a classic red lip or a ring of pearls. This is the kind of glamour that creeps up on you, subtly but surely enchanting the eye.
Oxblood Lyra Dress, $49.09, ladyvlondon.com
Lady V's exclusive plus size ranges — like those designed in collaboration with retro-loving blogger Georgina Horne of Fuller Figure Fuller Bust — tend to span sizes 12 to 28. The best part about these lines, however, is undoubtedly the comfort factor, which should allow you to feel like a modern-day Sophia Loren without jeopardizing easy breathing.
9. Elvi
Prima Black Feather Dress, $106.62, elvi.com
Once in a while, a gal just wants to feel like a fancy prima ballerina. At other times, she might want to feel like a mysterious cigar-smoking vixen with a secret. For both such occasions, Britain-based brand Elvi will supply the wares you need.
Hayley Hasselhoff Collection Long Velvet Coat, $121.65, elvi.com
What's particularly memorable about Elvi is that every garment is undeniably contemporary and in keeping with the trends while evoking a kind of glamour simply not associated with modern times. It's not especially vintage-inspired. Instead, it captures the sultry femininity so many love about the fashion of decades past while fitting perfectly with a 2016 babe's desire to remain up-to-date. Available in sizes 10 to 22, we can only hope this newbie expands its range quickly.
Bonus: Secrets In Lace
Retro Satin Panty, $24.95, secretsinlace.com
And as the perfect accompaniment to your fearlessly glamourous aesthetic, why not put on some femme fatale-inspired knickers underneath your clothes? Available up to a size 4X, the panties at Secrets In Lace are a dream come true for lovers of bombshell glam.
Satin Thong, $19, secretsinlace.com
You can even spice things up with a satin thong beneath any bodycon pinup dress on your horizon.
So if your mission is to find empowerment, sass, and sexiness as a plus size glamazon, then hopefully these shopping locales will help you on your journey. Now all that's left to do is slip into the outfit your inner bombshell would approve of and get to celebrating your fabulously fat diva lifestyle.
Images: Courtesy Brands