How To Get The Harry Potter-Inspired Wand Eye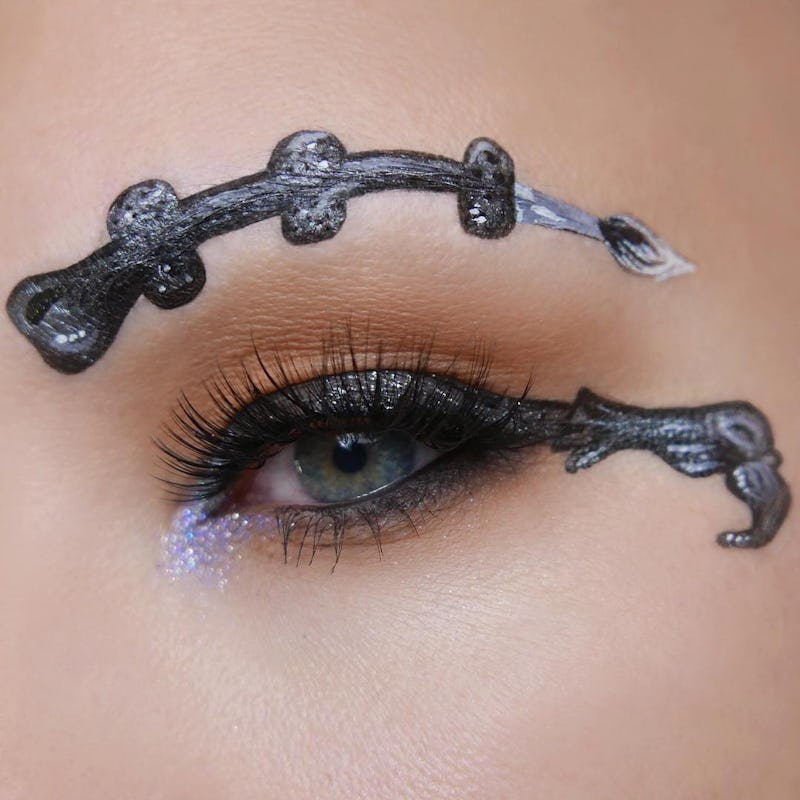 It's official: The Harry Potter makeup craze has taken the Internet by storm. Storybook Cosmetics' Harry Potter-inspired makeup brushes sold out in a matter of seconds, and the brand was launched into viral stardom pretty much overnight. Since many of us missed out on the brushes (or need a little more wizarding makeup while we wait for them to arrive) there is now a gorgeous wand eye makeup look, inspired by the Storybook brushes, that will help you wear your fandom smack in the middle of your face. Wondering how to get the look?
I spoke to makeup artist Lexie Lazear, the genius behind the Harry Potter-inspired look, to find out exactly how she created her eye makeup and which products she used. "As a huge nerdy fan girl, combining two things I love is always exciting!" says Lazear. Her Instagram is filled with bright, fun makeup looks that include everything from a comic-book inspired eye to half-metallic lip, and is definitely worth a follow.
Check out her HP-inspired tutorial and product recommendations below — there's plenty of time to start practicing before Halloween, which means plenty of time to teach your hand to be steady enough to draw those individual brush bristles.
Here's what you'll need:
1. Primer
Kevyn Aucoin's Sensual Skin Enhancer, $48, Sephora.com
"I started with Kevyn Aucoin's sensual skin enhancer all over my eye," says Layzear. "It's a super concentrated concealer/foundation hybrid that I use straight out of the jar as a concealer or mixed with something as a foundation." Because it's multi-use, it happens to be one of her personal favorite products.
2. Black Eyeliner
Kat Von D. Trooper Ink Eyeliner, $20, Sephora.com
Lazear used the Kat Von D Tattoo Liner in Trooper to sketch out where everything would go before applying color
3. Grey And White Eyeliner
Kat Von D. Ink Eyeliner in Woolf and Neruda, $20, Sephora.com
Lazear then then focused on the wand wing and brow, just adding layers, referencing press photos of the Storybook Cosmetics makeup brushes, trying to recreate the different dimensions and textures.
4. Metallic Eyeliners
Kat Von D. Lightning Liner in Jett and Amadeus, $20, Sephora.com
"I used a lot of different Kat Von D liners actually to those textural layers," says Lazear.
5. Black Paint
Wolf FX Face Paint In Black, $19, Facepaint.com
To clean up the edges of the liner drawing, Lazear used a little bit of Wolfe FX paint in black.
6. Black Glitter
Sugarpill Cosmetics Loose Eyeshadow in Stella, $13, Beautylish.com
"The sparkly black on my lid and under my eye is a loose powder by Sugarpill that I smudged into the liners to make them more sparkly," says Lazear.
7. Fake Eyelashes
Velour Silk Lashes in Fluff and Whispie, $26, Sephora.com
Lazear used silk lashes from to pump up the volume on the look.
8. Glitter Primer
Too Faced Glitter Glue, $20, TwoFaced.com
Lazear used this light adhesive to help the loose glitter stick to her skin.
9. Purple Glitter
Lit Cosmetics Glitter Pigment in Goober Grape, $16, Beautylish.com
To get the glittery look in the inner corners of her eyes, Lazear used a combination of loose glitter and glitter glue
10. Neutal Eyeshadow
Dark Matter Stack, $48, MeltCosmetics.com
The neutral shadows shading are all from Melt Cosmetics' Dark Matter stack, says Lazear.
Images: LexieLazear/Instagram; Courtesy of Brands