22 Cheap Halloween Costume Ideas For 2016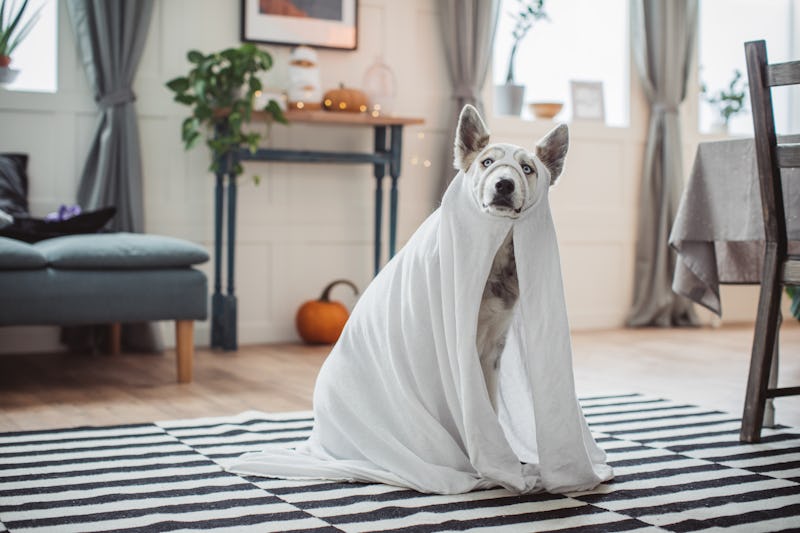 svetikd/E+/Getty Images
Just because you want to look fierce AF this Halloween doesn't mean you need to spend your entire month's pay check on one night. Being practical has it's benefits, people. Sometimes the best option is the cheapest option. Instead of going online and purchasing hundreds of dollars worth of accessories, you should spend some time in your local thrift store. They usually have amazing substitutes for what you were looking for in the first place — at dirt cheap prices! By entertaining the concept of cheap Halloween costume ideas for 2016 you will be making yourself and your wallet happy.
Take advantage of the internet! It was created to share information between distances and languages — and what better information to share than that of a good deal on army pants? Seriously, that's what the creators of the internet would have wanted. You can compare prices, find the best deals, and (if you do it early enough) you can basically have it show up on your doorstep in advance. No more nail biting moments of doubt where you beat yourself up for not having done your shopping sooner!
Another advantage of looking at cheap options has to be finding a costume idea that works for a lot of people's budgets. Couples costumes and friends costumes are always better when people don't have to spend their last dollar on something. You won't be getting eye rolls or side-eyes from anyone this Halloween. So take advantage of having a spending limit and get creative.
1. Grapes
This costume will require you to buy some balloons and nothing more. It might get a little hot and uncomfortable, but that just means you have to seek out the nearest fan.
What You'll Need: You will need to purchased around 20 purple balloons ($3.04, NewChic) for this look. Blow them up to whatever size you want and superglue or tape them to a black dress ($14, Hollister). Your goal is to look like actual grapes.
Image: Polyvore
2. Nudist On Strike
You don't need a lot of money to have a costume that's funny. Basically my slogan for life.
What You'll Need: For this look the most important thing is a dry erase board ($14, Amazon) with the words "nudist on strike". You will carry this around while wither wearing normal clothes that you wear every day or a hoodie ($22, Yoins). Why? People on strike always wear hoodies.
Image: Polyvore
3. Witch
If you're feeling gothy this holiday season, why not tap into that?
What You'll Need: To become a witch this Halloween you'll need to pull out a little black dress ($14, Hollister) and put on some black lipstick ($21, Sephora) and a sassy cat-eye. That's all!
Image: Polyvore
4. Frida Kahlo
This iconic painter will be your Halloween wallet savior! Wow. I'm just rolling out these slogans left and right here!
What You'll Need: To become Frida you will need to buy a cheap flower crown ($13, Amazon) and style your hair in a pretty braided look. There are so many tutorials online for that. Then you'll need to use your eyeliner to create her signature unibrow ($8.55, TheHut).
Image: Polyvore
5. Minion
These little guys have stolen all of our hearts. Now you can steal a great deal.
What You'll Need: This look will require you to bust out those high wasted jeans shorts ($40, Etsy) and yellow t-shirt ($16, ThredUp) from summer. Then you just add a pair of goggles ($11, Amazon) and black suspenders ($4.39, NewChic). If you want to get technical, those science goggles from high school can also work just fine.
Image: Polyvore
6. Mime
This traditional Halloween costume won't break your bank. If anything, you will save yourself by not talking all night and throwing out your voice.
What You'll Need: You'll need to buy white face paint ($12, NewChic). Luckily they usually come in a pack with black face paint so you can make accents around your eyes. Then you will need a black and white sweater ($7.99, RomWe) to finish off the look.
Image: Polyvore
7. Skeleton
This timeless idea will be your last minute go to this Halloween. Pretty simple to achieve and equally as cheap.
What You'll Need: This look will require the same black and white face paint ($12, NewChic) as the previous look. There are many tutorials online on how to create a skeleton look on your face that you can look at on YouTube. To complete the look you'll need to purchase a dress or shirt with a skeleton body ($25, WearAll) on it.
Image: Polyvore
8. Rosie The Riveter
This badass icon is an easy cheap alternative to all the fuss other people will be putting into this Halloween holiday. You'll look like the image of feminism with this outfit.
What You'll Need: All you'll need is a jean shirt ($65, TopShop) and a red bandana ($2.30, GoJane). The rest is just a powerful cat-eye and some red lipstick!
Image: Polyvore
9. POP Art
This art movement looks awesome on your walls and on your face. It might be a little time-consuming, but it is totally worth it.
What You'll Need: You'll want to do your makeup in the POP Art fashion using face paint ($12, NewChic). Then you will top the look off with a red wig ($21, MayKool). You can pretty much just wear regular clothing.
Image: Polyvore
10. Cat Lady
If you are a cat lover, what better way to celebrate than with a tribute look this Halloween? Easy to guess and easy on the wallet, this look is timeless.
What You'll Need: For this look you will need to find the snuggliest bath robe ($35, SaksOfFifth) you can find. Then using safety pins or glue you can attach cat plush toys ($16, VeryUK) all around.
Image: Polyvore
11. Strawberry
This look is as simple as it sounds. You'll be the cutest little berry in town.
What You'll Need: Find a cheap sweater ($19, PinkQueen) with strawberries all over it. Then finish the look off with some pink makeup and a green beanie ($15, LuxuryDivas) as the stem.
Image: Polyvore
12. Regina George
This iconic movie role will serve you well in terms of this Halloween. You can really impress people with accuracy and attitude.
What You'll Need: This outfit will need you to cut a white t-shirt ($7.99, RomWe) in strategic places so that the purple sports bra ($20, ThredUp) underneath shows through. Then you'll want a pin straight blond wig ($18, Amazon) to transform you into one of the plastics.
Image: Polyvore
13. Thief
The classic robber outfit might be a little cartoonish, but it's cheap as hell.
What You'll Need: An all black ensemble is the key to pulling this look together. A black turtle neck ($14, WearAll) and black beanie ($15, Nordstrom) are your go to's. You can also apply black eyeshadow around your eyes for the added effect it creates.
Image: Polyvore
14. Mummy
Not only was the movie franchise awesome, the Halloween cotume version will make you so happy!
What You'll Need: You'll want to buy as much toilet paper ($2, Amazon) as you can. Wrap it around your body and on top of a black t-shirt ($13, NewChic). That way the black peaks through a tiny bit and makes it look like you have no body underneath the wrap.
Image: Polyvore
15. Ghost
Obvious the movie version of this look is sexier and cooler, alas it won't fit into that tight budget of yours. Settle for this second equally as good look.
What You'll Need: Cut holes inside of some white sheets ($40, Nordstrom) using a pair of scissors ($9.79, Wallpaper). That's it!
Image: Polyvore
16. Nerd
Out of all the costumes you can wear with Halloween, one of the most iconic happens to be this one. Being a nerd is a rite of passage. There is nothing lame when it comes to saving some serious scratch.
What You'll Need: You'll need to wear nerdy glasses ($14, PopMap) and a pair of black suspenders ($4.39, NewChic) over a regular outfit. You can also do this over something that's business causal.
Image: Polyvore
17. Farmer
Simple and stylish, this outfit will turn heads and make you feel much less guilty about shopping. Reason being — you can alway swear the outfit components separately on a daily basis.
What You'll Need: You'll need to buy a pair of dope overalls ($15, H&M) and wear it over a plaid shirt ($17, Zaful). Again, both of these items are in style and can be worn any day after Halloween.
Image: Polyvore
18. Bird Watcher
If you're really not looking to spend any scratch. This accessory might be your savior.
What You'll Need: Bird watchers always wear very big hats ($12, Yoins) and binoculars ($12, Amazon). You can purchase a real pair or just get a toy one for the effect. No one will blame you if you get the toy version!
Image: Polyvore
19. Librarian
This "dream job come to life" look is simple and classy. You'll need to bring a book from home, but otherwise this look is pretty simple.
What You'll Need: You'll need a comfortable cardigan ($21, Shein) to start off. Librarians are always cold. Then you will add a pair of glasses ($14, PopMap) and a book ($10, Cymax) to complete this costume.
Image: Polyvore
20. Chef
Channel your inner Monica Gellar-Bing and bring this look to life. Plus, the food accessories are worth buying the Chef hat.
What You'll Need: You can get a very cheap Chef's hat ($14, Etsy) online. It's basically all you really need for the look. If you are trying to make it even more obvious you can wear a shirt with a knife and fork ($25, FueledByRamen) on it to really nail home the point.
Image: Polyvore
21. Greek Goddess
Not only will this costume be great for Halloween, you can reuse it at any Greek party event in college that you are invited to! That's a pretty great money saver trick.
What You'll Need: Create a toga using white bed sheets ($40, Nordstrom). Add some glamorous golden makeup and a golden head wreath ($18, Dollskin) to transform yourself into an ancient goddess.
Image: Polyvore
22. Medusa
You won't be turning anyone to stone on Halloween, but you will be a stone-cold-saver!
What You'll Need: Instead of buying a snake wig that will cost you a ton of money, why not just draw snakes on your face with eyeliner? Wear a green dress ($13, Amazon) that gives of a vibe of trouble, and add gold jewelry such as a snake arm band ($24, PopMap) and gold knot necklace ($11, GoJane).
Image: Polyvore
Images: svetikd/E+/Getty Images; Giphy (3), Polyvore