Too Faced Is Collaborating With Skinnydip London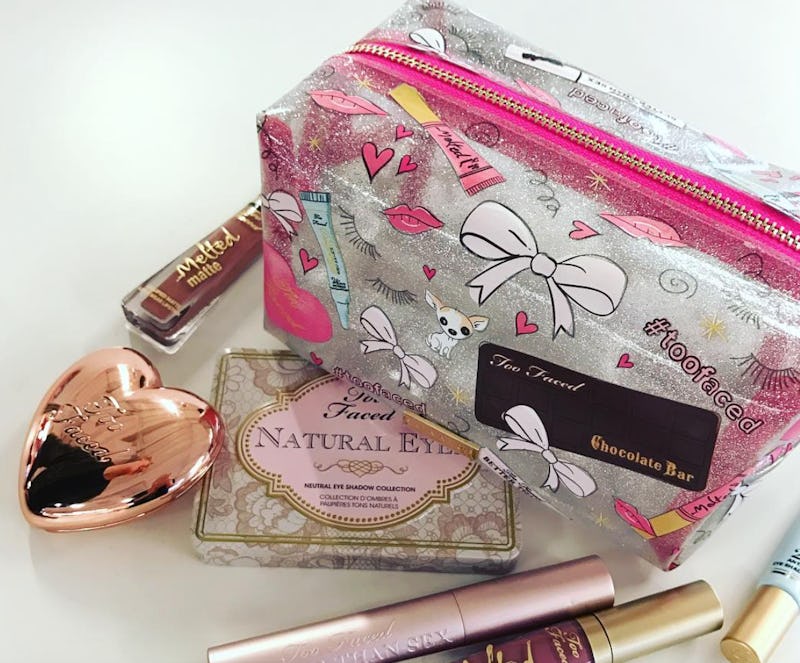 Too Faced is all about the cutest, most covetable collabs. Brand founder Jerrod Blandino hinted about the Too Faced x Skinnydip London collab on his Instagram, as he is known to do. Who and what is Skinnydip London? The company must be cool if Too Faced was compelled to partner with it, right? Skinnydip is incredibly cool, indeed.
Skinnydip London is an across-the-pond accessories brand that specializes in iPhone cases, bags, and headphones, among other things. Judging from the teaser pic that Blandino posted, the collab is going to include a super cute Too Faced x Skinnydip makeup bag. [Insert squeal here.]
As Too Faced's upcoming, post-holiday partnership with Kat Von D notes, brands are better together, teaming up rather than dividing and competing for dollars with disses. The brand previously partnered with Nikkie Tutorials for a palette and its link up with Skinnydip London is equally as thrilling.
To do a quick scan of the official Skinnydip Instagram is to dive into a treasure trove of cuteness. It's seriously cuteness overload. You will get sucked into a vortex of adorable. Colorful graphics, print backpacks, and more abound.
But let's observe the Too Faced x Skinnydip London collab, which is due out in early (!!!) 2017, per the caption of Blandino's Instagram post. He loves to give his fans and followers "sneaky peeks," as he likes to call them. We love him for it.
It's adorbs! Want! Need! Love! Further details, such as the price, if the bag will be sold with product, like that which is pictured, or on its own, and how are TBD.
These are some of Skinnydip London's other wares. Denim for days!
You are knee deep in "OMGs" right now, aren't you? Me, too! Thanks, Mr. Blandino and Too Faced, for putting this brand on my radar.
I think I just fell in love. How about you?
The Coca Cola collection is pretty sweet... no pun!
#CaseGoals, yo.
I could hang out on the Skinnydip London Insta for hours and never get bored. I could also go into deep debt, since everything is crazy cute. I hope the Too Faced x Skinnydip partnership is extensive and includes more than one bag for entirely selfish purposes. But we'll have to wait and see.
Images: Jerrod Blandino/Instagram (1); Skinnydip London/Instagram (5)