'Pretty Woman' Was Almost Super Bleak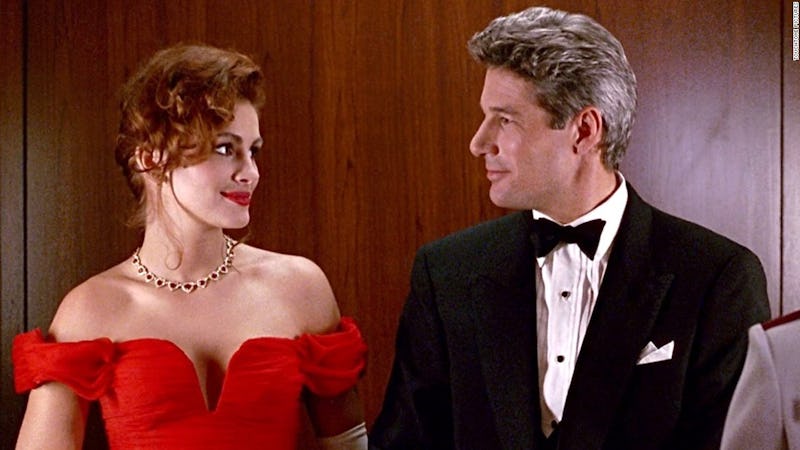 In the canon of American romantic comedies, no film is more beloved than Pretty Woman. Julia Roberts and Richard Gere's chemistry combined with the modern take on a fairy tale to produce a romcom like no other, — but it turns out Pretty Woman was originally a serious drama. As first conceived by screenwriter J.F. Lawton, Pretty Woman was called 3,000 — the amount of money Gere's Edward pays Roberts' Vivian to be his companion for the week.
According to Vanity Fair, the original Pretty Woman ending found Vivian and her best friend Kit on a bus to Disneyland with Kit excitedly imagining the fun day ahead, and Vivian staring off in space, heartbroken over the life she would never have. That is a far cry from having Edward overcome his fear of heights to scale a fire escape to profess his love for Vivian, but it makes sense when you find out Lawton's original script was inspired by films like Wall Street. Lawton never intended for Pretty Woman to be a love story, it was supposed to be a cautionary tale about the mingling of the haves and the have nots.
But don't worry — though it wasn't the anticipated plot, Lawton loves Pretty Woman the way it is just as much as you do. Before Pretty Woman, Lawton was best known for writing ninja films, and, according to him, he just wanted to sell a script. Ultimately, many of the scenes from 3,000, like Vivian's iconic shopping trip, made it into the final film. The ending was much lighter, but the bones of the story remained the same.
Director Garry Marshall and Disney saw the potential for Pretty Woman to be a major hit, especially when they cast their leads. With Roberts and Gere in the roles of Vivian and Edward, Pretty Woman had to be a love story. This is one case where Hollywood made the right choice by tinkering with a writer's original vision.
If Pretty Woman had been 3,000, it may have won an Oscar or two, but it is unlikely it would have come to define a genre. Even the original ending featuring Vivian and Kit on the bus is derivative of the endings of films like The Graduate and Midnight Cowboy. Dark and gritty films are great, but when you have all of the ingredients to tell a story about people connecting against all odds and making their dreams come true, it only seems right to run with it.
Thank goodness Hollywood and Lawton agreed because it is impossible to imagine the romcom world without Pretty Woman in it.
Images: Touchstone Pictures; Giphy