TLC is Repeating Tragic History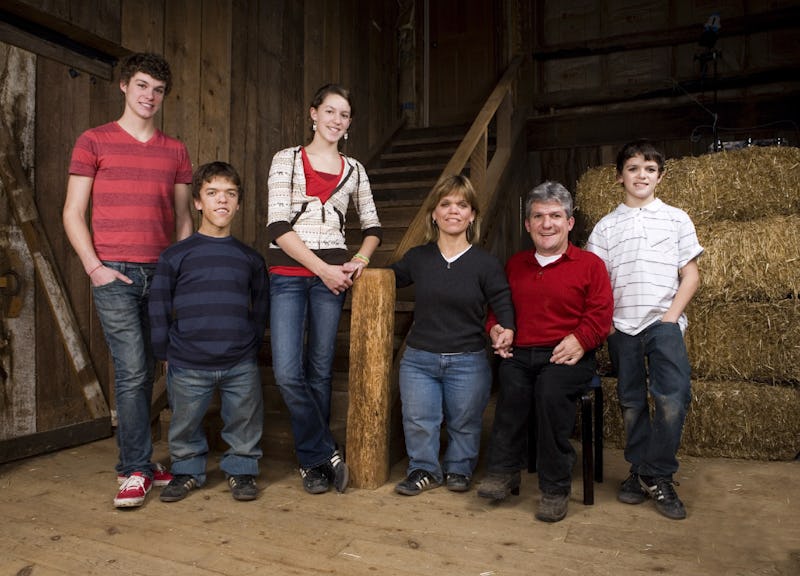 The Little People, Big World parents' marriage is going on hiatus but their show sure isn't, because there's nothing better to do for your children than keep the cameras rolling while their world falls apart. The new season promo for the TLC show lets us see that Matt and Amy Roloff are living separately but still continuing to film their popular series during the trial separation. If you're having reality show flashbacks you're not alone. (If you're not, then congratulations, you avoided watching the public Jon and Kate Plus 8 Meltdown of 2009.) TLC has experienced a situation almost identical to this one in the past and for some reason they're letting it happen again. Why? One word: ratings. 10.6 million viewers tuned in to watch Jon and Kate Gosselin announce their separation (and later their divorce). So when the Roloffs announced their own separation earlier this month, TLC likely got dollar bills in their eyes.
The couples 26-year-marriage is on hold right now while Matt Roloff has moved out and into a guest house on their farm. It seems the choice was all his, and Amy isn't very pleased about it. In the promo she says, "It's just sad to me that for some reason we're, at the moment, just definitely not compatible. I don't know if we ever were. Those will be the unknowns for the coming year."
Amy may think there will be unknowns, but as a former-TLC viewer I can tell you exactly how this goes down based on the history of this type of situation.
THE SEPARATION IS LIKELY TO TURN INTO A DIVORCE
Call it a trial if you'd like, but data shows that 79% of separations end in divorce. TLC track record confirms this with the televised Gosselin announcement. In interviews with the two parents they talked about their decision to separate, but at the end of the show a message was added stating that on the day the episode aired the couple filed for divorce. The Roloff's separation has lasted a little longer than the Gosselin's thus far, but history still shows their relationship is likely to be doomed.
ONE OF THE PARENTS WILL LIKELY DROP OUT OF THE SHOW, AND/OR ONE WILL BECOME A FAME HOUND
In the Gosselin's case it was Jon who opted out because going through the motions of a reality show when your life is being turned upside down is hardly what you'd call a good time. Kate had the opposite reaction, clinging to the show and any spurt of fame as a lifeline because it was all she knew, and all that kept her world looking as it always had. Yes, the Roloffs aren't the Gosselins, but parallels can be drawn when you see that one spouse wants the separation more than the other. It was clear that Jon was the one who instigated theirs, with Kate claiming during the announcement that personally it was a decision she wasn't happy with. The same can be said for Amy, who has not been pleased with her husband's decision to move out. Matt seems happy with their new arrangement saying, "It's comfortable over here. The kids aren't dropping by; it's quiet. It gives Amy and I space away from each other and that's ok." Because of this, my bet would be that Matt drops out of the show to let Amy head it up since he seems to be enjoying the quiet right now.
THE SHOW IS LIKELY TO COME TO AN END
Sure, the J+K divorce announcement brought in a ton of viewers but those viewers jumped ship soon afterwards. A likely reason is that divorce is fucking depressing and enough people are dealing with it in real––no one wants to watch that play out on television too. We turn to TV to escape our realities, not to live them further. Jon and Kate's show ended the season they made the announcement, and Kate tried carrying the spinoff on her own but soon the public stopped caring enough to tune in and the show was cancelled.
NO GOOD COMES FROM A TELEVISED SEPARATION
From two of the Gosselin kids being expelled from school, to Jon claiming the show gave his children developmental problems it seems no one was the winner when it came to filming the family falling apart. The Roloff children are a little older than the Gosselin clan at 23, 20, and 17, so maybe it won't affect them outwardly as much, having gone through a divorce myself at age 17, I can say it's definitely not something I'd want the world to see. Plus, it's harmful for kids to see their parents fighting and saying bad things about one another on national television. Knowing everyone in the country is aware of your personal business can be damaging.
So what's the ultimate takeaway? TLC should respect the family and stop filming while they work on things. For the to make money of people's misery is gaudy, and do we really want another televised Jon and Kate-esque debacle? I think not.
Image: TLC