Here's Your Weekly Horoscope For October 24-30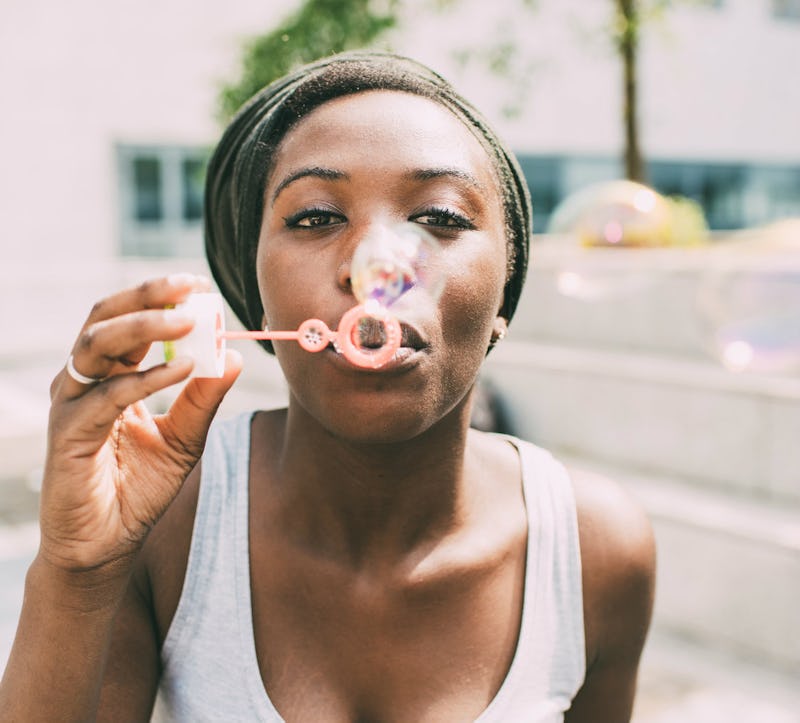 We're constantly fascinated by what our zodiac sign says about our lives, whether it's which signs are most compatible, the best sex positions for each sign, or how each sign handles conflict in relationships. That's why Bustle has enlisted Mecca Woods, a New York City-based Astrologer of MyLifeCreated.com to tell us all about how astrology is affecting our lives each week. This week's topic: your weekly horoscope for the week of October 24-30.
The intensity builds this week as Mercury (communication) enters the deep and penetrative waters of Scorpio on October 24, joining the Sun (strength). Under Mercury in Scorpio's watch — words, thoughts, and other forms of communication take on a more profound tone which could help us to have more meaningful exchanges and periods of sharp insight. The downside to this transit though is the danger of taking things too personally or seeing a slight where there is none. However, part if Mercury in Scorpio's power is helping us to uncover the truth.
On Thursday, there some tension going down between Mars (action) in ambitious Capricorn and Uranus (independence) in impulsive Aries. When these two get together it can usually make for an explosive kind of vibe, but the best way to harness this energy is to pay attention to where you need the biggest breakthrough in your life, then making a solid plan to make it happen. By the time the New Moon in Scorpio arrives on October 30, we'll be ready for a new chapter. Tap Scorpio's power of transformation and rebirth to tear down what's no longer working and start fresh.
Read below to find out what this week's stars means for your sign.
And remember to tune into Bustle's weekly horoscopes video live on Facebook each Monday at 4 p.m. EST for a rundown of your weekly horoscope.
Aries (March 21 - April 19)
This is the perfect week to brainstorm how you can improve your finances. Working with a money coach or financial advisor could help you uncover smarter ways to manage your money. Overall, expect to explore how your thoughts and feelings can attract what you want (and don't want) to you.
Taurus (April 20 - May 20)
Partnership continues to be a major theme for you this week as you're encouraged to reach out and connect with someone. You could meet someone on the professional level who could help you broaden your reach and your bank account, while a romantic partnership could be promising.
Gemini (May 21 - June 20)
Expect the pace to pick up significantly this week, which means it may be time for a bit of a detox. Looks to ways you can simplify your life by purging the stuff you don't need right now, like junk food, one too many late nights out, or excessive worry about things you can't control.
Cancer (June 21 - July 22)
It's time to shake things up a bit, starting with your social life. While you don't have to meet and greet a bunch of strangers, something says you could stand to get out a little more. Catch a movie, try new restaurant, hit the dance floor, or act on a creative urge. Whatever you do, have fun with it.
Leo (July 23 - August 22)
If you've been thinking about moving house or laying down roots, this week is perfect for house hunting, initiating a property sale, signing a lease or deed, or beginning a home improvement project. When it comes to family, this is also a great time to reconnect and reminisce with the ones you love.
Virgo (August 23 - September 22)
You've always been the one to trust fact and logic over your heart, but what if there's a way to blend the two? There is. It's called intuition, and yours is on fire now. Instead of agonizing over a decision, feel into what you want and follow your first thought. Something juicy is coming.
Libra (September 23 - October 22)
If you've been looking for work or have had plans to expand your business, this is the week to begin acting on those plans. Send out resumes, fill out applications, prep for interviews, or launch a new service or product. In matters of your home and heart, watch out for disagreements.
Scorpio (October 23 - November 21)
Just when you thought you couldn't be in any higher demand — surprise! With nearly half the cosmos aligning in your favor, be prepared to launch/initiate whatever plans you've been working on behind the scenes as the spotlight is yours. Give the people what they've been waiting for.
Sagittarius (November 22 - December 21)
You may need to take a bit of a hiatus this week as you'll need the quiet time to clear your head and figure out if something you're doing is what you really want to do. You may be feeling the urge cut and run in the name of freedom, but you'll need to have your next steps lined up before you move.
Capricorn (December 22 - January 19)
When it comes to fulfilling your future goals sometimes you need to take a moment to reassess whether the lessons or views you've taken in the past fully align with the person you are becoming today. It may be time to break free of tradition in order to get to where you want to be.
Aquarius (January 20 - February 18)
Whoa there! It looks like you've been quite the busy bee. While things are heating up on the career front and your schedule continues to get fuller and fuller, take care that you're not pushing yourself too hard. While you've never been the one to sit idle, it's OK to take it slow.
Pisces (February 19 - March 20)
Why are you holding back, Pisces? There's something you've been wanting to do for quite some time now but you've been playing yourself way too small. Consider this your week to go hard or go home as you're being called to level up across the board. The old way just won't cut it.
Images: Fotolia; Caroline Wurtzel/Bustle