15 Things OG 'RHONJ' Viewers Know To Be True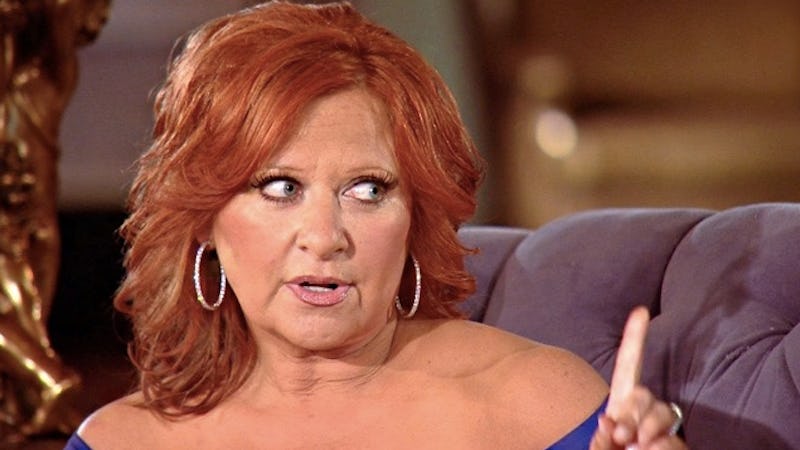 Real Housewives of New Jersey has been one of my favorite shows to watch right from the very start. But RHONJ is not the same as it originally was. Just like many great TV shows, it has evolved a lot over the years, and there are some things that you only know if you've watched Real Housewives of New Jersey since the beginning. I mean, come on, there's only so much that can be included during the "previously on Real Housewives of New Jersey" recap at the start of each episode. There are some things that only the OG fans know about.
I'm not hating on anyone who joined the RHONJ fandom late in the game. In fact, I want to make it clear that I encourage everyone to watch this show. Seriously, just ask anyone who's ever met me — I am always trying to convert people into new fans. My point is that there is a difference between the people who have been following along with Real Housewives of New Jersey since it first started and people who are only familiar with the more recent seasons.
Thankfully, for anyone who's new to the Bravo show, I am here to fill in some gaps. And for the fans who have been watching the whole time, enjoy this walk down memory lane.
1. The Show Has Always Been & Always Will Be About Teresa
No matter what anyone says, the major story lines have always been, and always will be, about Teresa Giudice. Even the new calmer, yoga-practicing Teresa is still the most entertaining person on RHONJ. Love her or hate her, she has always been the center of attention — and controversy — on the show.
2. Ashlee Changed The Spelling Of Her Name From "Ashley"
Without any real explanation, Jacqueline Laurita's daughter, formerly Ashley Holmes, started going by "Ashlee" in 2011.
3. Dolores Has Been On The Show Pretty Much The Whole Time
I have no idea why it took so long for Dolores Catania to become a Housewife. She has been on the show as a friend of the cast members this whole time. She is in the background of a lot of episodes and has often had the title of being someone's friend when she appeared in the past.
4. Milania Is The True Star Of The Show
Without a doubt, the funniest moments of the show have come from Teresa Giudice's daughter Milania. She always has the most random things to say. She tells it like it is and she provides some much-needed comic relief.
5. Danielle Is The One Who Brought The Teresa/Melissa Feud To The Show
During the Season 2 reunion, Danielle Staub asked Teresa if she acknowledged her nephew, and Teresa started screaming and pushed Andy Cohen out of the way to get to Danielle. And now we all know that the nephew Danielle referenced is Melissa Gorga's son and that the sisters-in-law were at odds for years.
6. The Word "Garbage" Used To Be The Most Common Insult
There is nothing that gets this cast riled up like the word "garbage." From heated battles between Caroline Manzo and Danielle during reunion episodes to the brawl at Melissa's son's christening, that word has incited a lot of controversy.
8. Jacqueline Used To Be The Cast Member Who Was Friends With The Whole Cast
When the show first started, Jacqueline's biggest social issue was being friends with a bunch of people who argued with each other a lot. Now, Jacqueline is the one who's arguing with everyone. Oh, how times have changed.
9. Before She Was #TeamJacqueline, Kim D Was Teresa's Strongest Supporter
The infamous Kim D was Teresa's biggest supporter. She went to bat for Tre and went after Melissa and anyone else she was against. Now, she's just on the show as Jacqueline's confidant. That's quite a turnaround.
10. The Season With Amber & The Twins Should Be Forgotten
I have no idea why Amber Marchese, Nicole Napolitano, and Teresa Aprea were brought onto the show. As a New Jersey resident, I am aware that they didn't even live that close to the other ladies, so all of them hanging out didn't make a ton of sense. They also had no real relationships with the rest of the cast, so that made their presence even more awkward. Aside from the Teresa drama, Season 6 was just a total wash.
11. Danielle Staub Needs To Return
The show could stand to revamp the cast once again, and it would make sense for original cast member Danielle to come back. She always brought the drama. The woman couldn't be boring even if she tried.
12. It All Comes Back To Family
Out of all the Real Housewives shows, New Jersey is the one that is all about family. Sure, Real Housewives of Beverly Hills has sisters Kim and Kyle Richards, but the N.J. crew really revolves around family and there is just something special about it that draws viewers in. Dina and Caroline Manzo were original cast members who are sisters and sisters-in-law with Jacqueline. Teresa and Melissa are sisters-in-law. Teresa is cousins with Kathy Wakile and Rosie Pierri. And even though I just said that I don't want to talk about Season 6, the twins do prove my point for this one list item: Family is everything on RHONJ.
13. Teresa's Table Flip Is Iconic
Teresa's table flip during the Season 1 finale is one of the most iconic scenes in reality TV history. It will live on forever and ever. Nothing will ever beat that moment. Ever.
14. The Pronunciation Of "Giudice" Is Always Different
Teresa is constantly pronouncing her last name in a different way. At first, "Giudice" was pronounced "Jew-dice." Then it started to get more of an Italian pronunciation as "Judy Chay." Andy Cohen called Teresa out on this during a Watch What Happens Live appearance and even she didn't have an explanation for it other than "Judy Chay" being more Italian. Nevertheless, Teresa and everyone else seems to pronounce it differently every time. In a 2012 Facebook post, Teresa wrote, "To answer all your questions about my last name, I have no idea why they pronounced it so weird on CA last night. People Americanize it to 'Jew-dice' and we just go with it, but I gave the correct Italian pronunciation in Skinny Italian--'Judy Chay.'"
15. Rosie Should Have Been A Housewife
I'm sorry to throw shade, but there have been a few Housewives who were pretty boring. That's why it makes me so angry that Rosie has been around for a while, but never given the Housewife title. Not only is she entertaining and hilarious, but it is about time for a lesbian Housewife. Plus, she does have a genuine connection with the cast so it really makes sense.
If you've been watching Real Housewives of New Jersey the whole time, you are more than aware of these points — especially if you're like me and you've seen every episode multiple times. And if you're new: Welcome! Now you have all the basics.
Image: Bravo