'Return To Roanoke' Is A Terrifying 'AHS' Show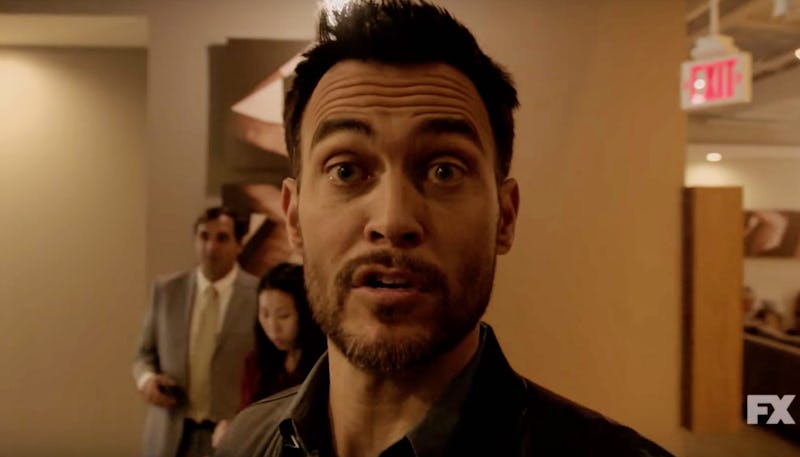 I think that we can all agree that Season 6 of American Horror Story is by far the most confusing, but also most exciting season of all. Basically, as soon as fans understood the documentary show-within-a-show, AHS went and flipped it all around again in Episode 6. My Roanoke Nightmare ended with Shelby, Matt, and Matt's sister Lee barely getting away from The Butcher with their lives, and it seemed like there was nowhere to go from there. Luckily, there's now a new reality show-within-a-show called, Return To Roanoke: Three Days In Hell. But is this new show real?
Well no, it's not. But it draws upon some real show formats for sure. Since the documentary-style series about the Roanoke house did so well, skeezy producer Sidney (played by Cheyenne Jackson) decided that he should strike while the iron was hot. So, of course, he forced all of the real interview subjects into that same Roanoke house along with all of the actors that portrayed them. Seems safe for everyone's psyche right?
This new show has flipped the script somewhat. For example, Sarah Paulson's character is Audrey, who played Shelby in My Roanoke Nightmare. Audrey actually married Evan Peters' character Rory, who is the actor that played Edward Phillipe Mott in My Roanoke Nightmare. Fans are now mourning the fact that Rory was sacrificed on the first night because those damn killer nurses just needed a letter "R" to finish off their wall decor.
Viewers were also treated to the shocking fact that the real Matt and Shelby are no longer together, because Shelby had a fling with the actor Dominic, who played Matt. Now all of these troubled players are going to be living under one hellish roof for three days, while being filmed. Yeah, so it's basically a delicious mashup of The Real World, any paranormal research "reality" show, and The Real Housewives of Roanoke.
The twist of this whole thing is that viewers were informed via another black screen message that everyone but one person died in the house over the course of the three days. So now viewers get to wait another couple of episodes to see who is the lone survivor. Also, the show stated in the message that the show never made it to air because, duh, everyone was murdered on film. So, is this a third show that we are watching? Is this a documentary about the reality show? How meta are we going to get here? Also, should Cheyenne Jackson's character be the lone survivor because his name is Sidney? Perhaps it will be a small homage to Wes Craven's Scream?
Whatever the outcome, it is sure to be a mind blowing second half of the season. Stay tuned, friends.
Images: FX (2)