SJP's First LBD For Bloomingdale's Is This Price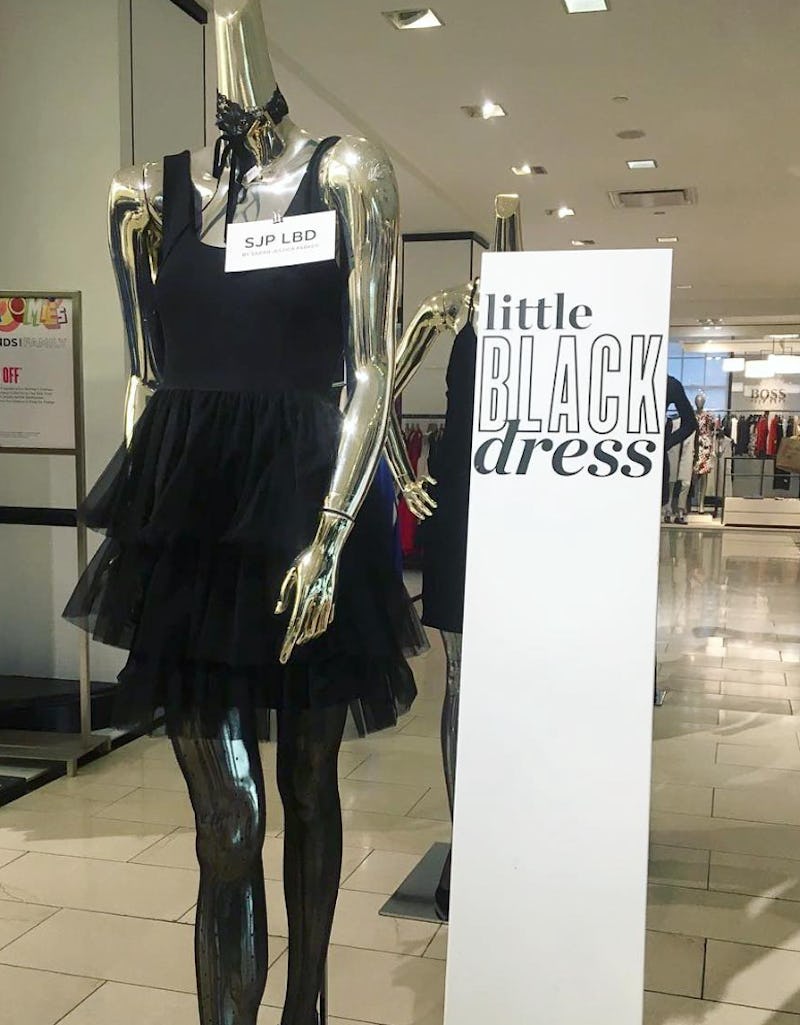 "I have too many little black dresses," said no one ever! That's why Sarah Jessica Parker's LBD-only line for Bloomingdale's makes me so, so happy. The former portrayer of fictional fashionista Carrie Bradshaw and the retailer are rolling out dresses in a slow and steady way. The very first SJP LBD, called "Title," has arrived. It's a ballerina-inspired, fit-and-flare frock, boasting a tank top and a tiered, tulle, and above-the-knee skirt. It's the perfect party dress for the upcoming holiday season and beyond. Yep, SJP's Title LBD is an instant closet essential. How much is Sarah Jessica Parker's Title LBD for Bloomingdale's?
Grab your credit card, because this insanely wearable dress costs $395. Since Title is a timeless style that you can wear across seasons and for years to come, that price will end up being pennies per wear! Title and SJP's LBD line are sold online exclusively via the Bloomingdale's site and at select Bloomie's locations.
According to the product description, the silhouette runs small. Therefore, the brand recommends ordering a size up. The Title LBD comes in sizes 2 through 12. More styles are coming in early 2017, per SJP's Instagram post. SJP LBD is going to be comprised of several silhouettes of this beloved and necessary basic. So, let's hope future SJP LBDs are offered in a wider range of sizes.
Title leaves arms and shoulders bare. But you can totally dress (and warm) this frock up in colder temps by adding a cardigan. If you choose to wear it in warmer weather, you can pull an SJP and pile on the accessories. Strappy heels, which look like SJP's own Fugue heels, and stacks of bracelets and multiple necklace strands add the necessary oomph to this simple silhouette.
OMG, it twirls.
Title has so much movement. It's a wonderful choice to premiere the line. While this dress would seem be a bit "safe" for an adventurous fashionista like Carrie Bradshaw, this frock avails itself of so many unique styling options. It can be dressed up or down.
I look at this dress and I think "Black Swan," thanks to the color and the ballerina inspo!
The scooped back is elegant and ballerina-esque.
Title is a total fashion homerun from SJP!
Images: Courtesy of Bloomingdale's (2); SJP Collection/Instagram (3)