Ezria Says Goodbye To 'PLL,' So Try Not To Cry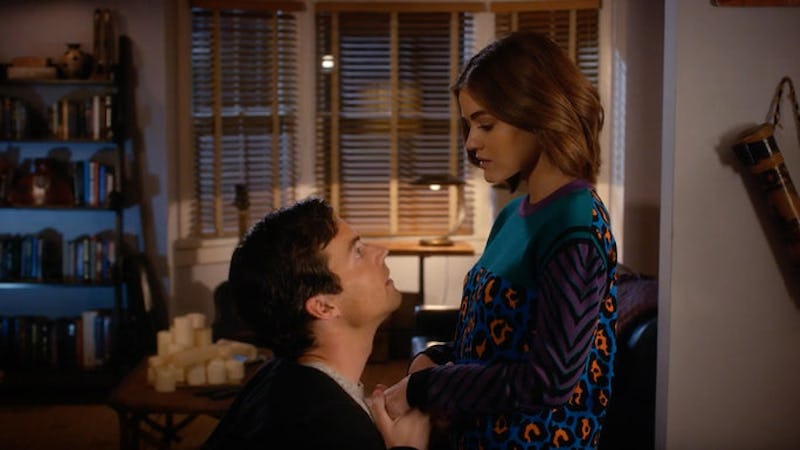 Fans of Pretty Little Liars still have to wait months before the rest of Season 7 airs in Spring 2017. However, social media has been swamped with tributes and photos from the cast as they film their final episodes, and needless to say, some of the posts have been beyond heartbreaking. In particular, Lucy Hale and Ian Harding shared several heartfelt messages, giving Ezria shippers exactly what they needed — proof that the best PLL ship stands the test of time. Harding and Hale may have said goodbye to Pretty Little Liars, but true fans know that #Ezria is forever.
Season 7A left viewers with one of the worst cliffhangers of all time. Nope, I'm not even referring to Spencer's fatal looking gunshot wound or Toby's dramatic car accident. The most upsetting moment of Season 7, Episode 10 had to be when Aria watched Ezra kiss his ex-girlfriend Nicole on live television. The pair was supposed to elope in Italy, but when Ezra found out that Nicole might still be alive, he flew to find her. While fans are still pretty certain that Ezra and Aria will work things before the series finale, the episode put a speck of doubt into everyone's minds. Which is why the tributes from Harding and Hale are so exciting, as they give hope that Ezria has a future together after all.
Harding is clearly going to miss playing everyone's favorite TV teacher Mr. Fitz, as evidenced by the photo of his chair that he shared on social media. As one of the characters to undergo several dramatic reinventions over the course of the seven seasons, Ezra has proven he's in it for the long haul when it comes to his relationship with Aria. Despite the events of the mid-season finale, it doesn't look as though their love is fading any time soon, and Harding was quick to celebrate his incredible working relationship with Hale.
In arguably the cutest Instagram post of all time, Harding shared a photo of Hale wearing his letterman jacket (his name was embroidered on the sleeve). The actor wrote of his co-star,
This one has made every day of work a total joy. Thank you for putting up with my dumb songs and my affinity for not shutting up. You're a gem miss Hale. I'll miss you tremendously. Much love and Happy wrap.
If that doesn't make you weep profusely, maybe you're dead inside?
As if Harding's tribute wasn't bad enough, Hale posted her own Ezria tribute on Instagram and said of her co-star, "This guy made my job and life so fun. Thank you @ianmharding for being you. Cherish you always." Clearly, Hale and Harding loved working together as much as fans loved watching them reign as the best PLL couple of all time. The pair have amazing chemistry, and it's no surprise they had so much fun working together, considering how magical it was to watch whenever Aria and Ezra were on screen.
Making matters even more exciting, some eagle-eyed Ezria fans on Twitter pointed out that the photo of Hale that Harding posted, in which she's covered up by his letterman jacket, suggests that Ezra and Aria are getting married. If you look zoom in super close on the photo, you can see that Hale is possibly wearing a veil. Not only that, but she also has what looks like a suspiciously white and sparkly dress underneath.
Basically, Hale may have worn a wedding dress during her last day on set and Ezria fans are freaking out. Coupled with the dapper photos of Harding in what's presumably his wedding outfit, fans are ready for the most exciting wedding of 2017 between the best PLL ship of all time. Yes, I said it. Fight me.
While Harding and Hale's tributes to each other are bittersweet and signal the end of Pretty Little Liars, at least a wedding may be on the horizon. Ezria forever.
Image: Freeform