13 Tips For Getting Into The Writing Zone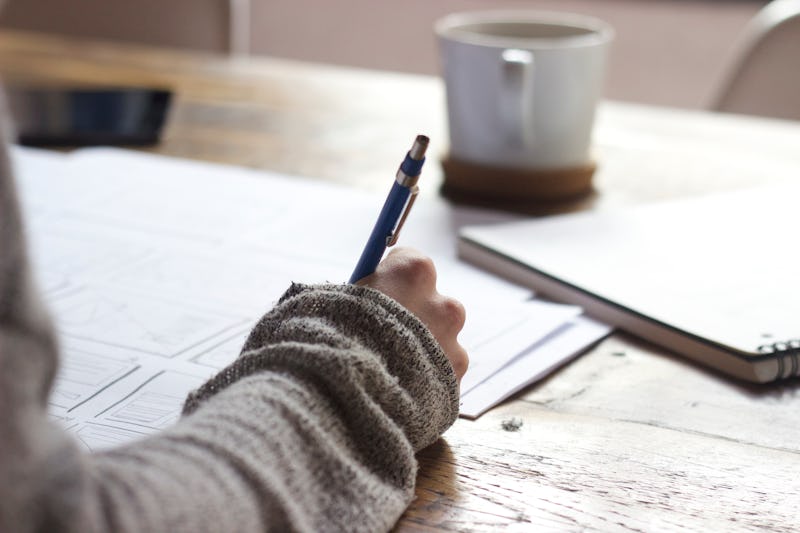 For writers everywhere, the month of November signifies just one thing: National Novel Writing Month. It's a time when thousands of writers gather together online and off, in coffee shops and libraries and classrooms all over the world, collectively committing to write an average of 2000 words a day, for 30 days straight, amounting to somewhere between 50,000 and 60,000 words (more, if you're one of the lucky few whose creative juices just cannot be stopped.) As a writer who has failed her fair share of NaNoWriMos over the years, I consider myself uniquely positioned to offer some great tips for getting into the writing zone this November — because let's face it, as a repeated novel-writing hopeful, I've tried enough tricks during my annual months as a WriMo to know what works and what doesn't (and what would definitely work if only I could make myself stick with it for 30 whole days.) And I'm sharing them here, with you.
So now, the only question is: will you write a novel this November?
Here are 13 tips for getting into the writing zone, just in time for your most successful NaNoWriMo ever. From my keyboard to yours: Happy National Novel Writing Month, you dazzling WriMos, you!
1. Re-Read Some of Your Favorite Novels
Nothing inspires my writing life more than reading, and I have at least one shelf full of my favorite go-tos for when my own work just isn't flowing. Reading is essential to the writing process, IMO — reading work you love, reading writers whose prose you can get lost in, reading the books that made you want to be a writer in the first place. I think every reader has a stack of books like this. Keep yours within arm's reach during your next 30 days of creative hustling.
2. Read the Novels That Were Started During NaNoWriMo
Novels like Water for Elephants by Sara Gruen, Wool by Hugh Howey, The Night Circus by Erin Morgenstern, and Fangirl by Rainbow Rowell were all first-drafted during NaNoWriMo. Other novels, like The Boy in the Striped Pajamas by John Boyne, A Clockwork Orange by Anthony Burgess, and On the Road by Jack Kerouac were all drafted in 30 days-or-less as well. What you're writing during NaNoWriMo is what each of these writers were writing when they first sat down with their ideas: a messy first draft. Reading these amazing novels will remind you that messy first drafts are just that, and that after the magic of the first draft comes the even better magic of editing.
3. Read Something Other Than Novels
If you haven't noticed by now, reading is essentially my favorite way to prepare for writing. Once you've read your favorite novels, and a handful of those NaNoWriMo-originated novels, and a couple of those books filled with advice about writing books for good measure, read something that isn't standard prose. Poetry, song lyrics, graffiti on the subway, one of those experimental Eimear McBride novels that will just never stop blowing your mind — something. Anything that will take you outside your literary comfort zone and expand your understanding of what the written word is capable of. Your own prose will thank you for it.
4. Commit to Your Writing Time Ahead of Time, And Then Stick to It
You schedule everything else in your life — dedicate as much thought and commitment to your writing time as well. Whether it's from 4:30 to 6:00 in the morning or spread across several 20 or 30-minute intervals throughout the course of your day, make a writing schedule, write that schedule down, and stick to it until it starts to feel like an essential part of your daily routine. Habits aren't formed overnight, after all.
5. Clean Off That Desk of Yours — Like, Really
I don't know about you, but my desk is always covered in things — piles and piles of things. Sometimes (see: almost all the time) I don't even know what these things are, or how they got here, or what deranged person piled them on my desk in such disarray, or why I'm holding on to them. And these things, wherever they come from, are one of the single biggest barriers to my creativity. They're distracting, and sloppy, and I constantly find myself moving them out of the way to make room for more things. Things like my computer, which is where the vast majority of my writing gets done. So, if you have a desk that looks anything like mine, before you sit down to write your novel remove all of the things. I don't care if you put them where they belong, or stack them into a big pile on the floor, or use them to build your "I'm Writing A Novel Go Away Fort" — just get them off your desk and keep them off, all month long.
6. Set Up Your Outline… Or Not
I'm not a big fan of outlines — I like to keep a vague idea of where my writing is going in my mind, but in terms of putting an outline down on paper in ink, it's not my fave. I do, however, make an exception to this during NaNoWriMo. The entire month is about pushing your creative boundaries and getting out of your comfort zone, after all. So this year, I'm doing the one thing that I don't normally do when I write: I'm outlining. The opposite might be true for you — if you're a diehard writer of outlines, try flipping the script this month (by literally throwing it out, or neglecting to write it to begin with.) See what happens to your creative spirit when you're not tied to an outline. You might be pleasantly surprised.
7. Finish Whatever Series You're Halfway Through on TV
No, I'm not kidding. I don't care if you have to take the day off work to binge-watch every last episode of Frankie and Grace — do it now, because you are forbidden from indulging during NaNoWriMo. Watch so much TV you don't even want to hear the word "binge watch" again for 30 days — and then stay the heck away from television until your novel is done.
8. Head Over to The NaNoWriMo Website
Practically everything you need to succeed during the month of November is available at nanowrimo.org — prep materials and pep talks from fellow WriMos and famous authors alike, a regional writing group, writing prompts and word count helpers, and tons (seriously TONS) of NaNoWriMo swag to keep you motivated. It's your one stop shop for National Novel Writing Month success.
9. Don't Tell Anyone You Signed Up for NaNoWriMo This Year
Treat NaNoWriMo like the sexiest affair you've ever had with yourself. Make your novel your secret love — the one you steal yourself away for, and look forward to spending time with more than anything else. Keeping your literary plans to yourself takes some of the pressure off, IMO. When you tell everyone you know that you're writing a novel in November, they start doing things like checking in on you, asking you how it's going — well intentioned inquiry, sure, but turning your novel into just one more thing to check off your to-do list isn't what you need right now. You need a little magic. So keep that magic for yourself, at least for the next 30 days.
10. Schedule Unstructured Time… Yup, You Heard Me
Between work and/or school, your family, your friends, your cat, your laundry, time spent finally mastering the smoky eye, an absolute need to detail the inside of your car the minute NaNoWriMo begins, watching baby goat videos on Instagram, ordering all that pizza you're going to be eating (because who cooks during NaNoWriMo, really?) and time spent mastering your Vrscikasana pose, adding writing a novel AND scheduling unstructured time seems nearly impossible. (Plus, if you have to schedule it, is it really unstructured?) However, this might be the single most important tip for ensuring your NaNoWriMo success this year. Unstructured time — walking, listening, smelling, observing, being — is what informs your writing, gives it life, and might even take your story in a direction you never expected. Practically all of the greatest classic novelists of all time espouse the virtues of longs walks on the creative process. Take one. Or even a long subway ride. I'm not picky.
11. Silence Your Inner-Editor
Easier said than done, I know. I am a writer who edits as I go — sometimes lingering on the same sentence for the same amount of time it would have taken me to scribble out an entire, sloppy page — so turning off my internal critic is nearly impossible. If you're like me, one simple way to guide yourself away from the impulse to edit is by setting a timer. Write for 60 minutes, no stopping (you might even be surprised how quickly you get to those 2000-per-day words this way.) Then, if you must edit immediately, at least you've gotten all your words out first.
12. Buy Yourself That Fancy Journal You've Been Eyeing
Every writer deserves to treat themselves every once in a while, and NaNoWriMo is a great occasion to do that. Plus, you're going to want to keep a journal with you at all times (if you don't already) throughout the month. You never know when inspiration might strike, and at 2000 words per day, you're going to want to grab ahold of every single one that comes to you.
13. Write About Your Writing Process Everyday
I know, I know — once you've made your pledge of 2000-ish words a day, one of the last things you're probably going to want to do is more writing. But trust me, taking even 15 or 20 minutes each day of NaNoWriMo to write about your writing process: your struggles, your breakthroughs, the things that energized you, and the things you found defeating, will make you a better writer. Not only is taking a moment to check in with yourself a great way to keep your writing day separate and sacred from the rest of your day, at the end of the month you'll be able to look back over the course of your entire NaNoWriMo journey and explore, with fresh eyes, what the writing process looks like for you. Think of it as a month-long case study designed to teach you how to be your best writing self — you'll learn what works for you and what doesn't, and this will set you up for greater success in your writing life beyond NaNoWriMo.
Image: Green Chameleon/Unsplash