The 'Game Of Thrones' Spoilers Might Be Fake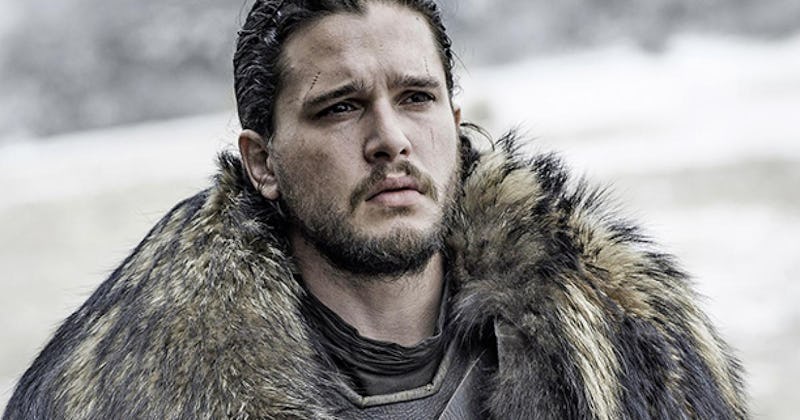 While it seems like last season was kept pretty well under-wraps, Game of Thrones Season 7 spoilers have been leaking from the set at what I'm sure is an alarming rate for the show's creators. While the images and hints that have emerged in the past few weeks seem to confirm major plot points about the HBO show's upcoming episodes, spoilers haven't always led fans in the right direction in the past. As Entertainment Weekly pointed out on Thursday, you shouldn't believe every GoT spoiler you see. Why? Alleged images from the Game of Thrones set have been misleading in previous seasons, sometimes intentionally so.
If Game of Thrones creators David Benioff and D.B. Weiss are messing with fans, they're doing it on a grand scale, since a lot of images have leaked from the set so far. Spoiler alert: Those who don't want details about the penultimate Game of Thrones season spoiled should skip to the next paragraph. For the rest of you, pictures supposedly taken during filming have shown what appears to be the long awaited meeting of Daenerys Targaryen and Jon Snow, the reuniting of Snow and Tyrion Lannister, and the return of the long-lost Gendry. Additionally, the entire Season 7 plot summary was seemingly leaked online by a mysterious reddit user earlier this week.
Fortunately, for all of you who have seen spoilers that you wish you hadn't, these hints might not actually happen on the show. Every new season of GoT has stirred up speculation and spoilers, some of which end up playing out on-screen, but many don't. Even pictures aren't the solid evidence that they seem. EW pointed out that leaked Season 6 images showing Sibel Kekilli in costume on set led many to believe that her character Shae would come back from the dead, which didn't happen, of course. The creators misled the press intentionally, trying to divert them from the resurrection of Snow that viewers were so interested in finding out about.
Could any of these Season 7 spoilers be a similar effort in misdirection? It seems possible, since the large amount of leaks would motivate the creators to retaliate. At least one of the key characters shown meeting on set could be there as a diversion. Maybe they hired Joe Dempsie as a stand in to get all of us to hope that Gendry made it off that rowboat alive. It's also possible that the leaked plot summary is the diversion, serving as revenge against all the prior photos and speculation. Personally, I'm going to wait until the season actually airs to find out more about the plot. Whether or not the spoilers are true, it's usually better that way.
Image: HBO, Giphy