'Fantastic Beasts' Is Cooking Up Something Special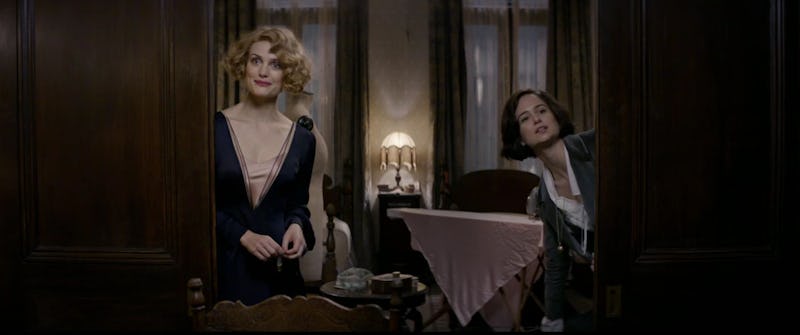 Fantastic Beasts and Where to Find Them arrives this November, but you don't have to wait that long to be delighted by its magical offerings. A new Fantastic Beasts clip featuring Queenie Goldstein (Alison Sudol) and her impressive culinary abilities has surfaced online. In the clip below, the creature-taming wizard Newt Scamander (played by Eddie Redmayne) and his No-Maj friend Jacob (Dan Fogler) are being presented with some food — but not just any food: the kind you produce out of thin air and in under 3 seconds. It's brought to you by Queenie's baking skills, or more fittingly, her wizarding ones.
In the clip, Queenie asks Newt, "You prefer pie or strudel?" He replies, coyly, "I really don't have a preference." But to Jacob, Queenie says, "You prefer strudel, huh, honey?" He laughs and prepares himself for the delicacy by adorning a makeshift napkin bib. Then much to Jacob's amazement, Queenie waves her wand and out of nowhere it appears — a perfectly crafted strudel, complete with rose crust embellishments and powder sugar topping. Newt and Porpentina (Katherine Waterston) aren't as impressed by the strudel as Jacob is, but that makes sense. He's the Harry Potter franchise's first central Muggle character. So, he reacts accordingly.
While this feat is both impressive and mouth-watering, it does leave some unanswered questions in the greater world of Harry Potter's specific magic. According to expert-on-all-things Hermione Granger, "Food is the first of the five Principal Exceptions to Gamp's Law of Elemental Transfiguration." In other words, it's impossible to make food out of nothing, or with just magic. The ingredients have to be there. From the look of this clip, it's hard to tell if they are. And what would have happened if, for instance, Jacob preferred pie over strudel? Or wanted cake instead? Is there a caveat to Gamp's Law that fans don't know about?
Fantastic Beasts might not answer these questions, but it will provide backstory for the Hogwarts textbook, referenced by the title and written by Newt Scamander himself. Set in 1920s' New York City, Fantastic Beasts follows Newt, Porpentina, Jacob, and Queenie among others as they try to collect a group of accidentally released magical beasts — beasts that are threatening to expose the world of magic. In the madness, they find themselves in the middle of a conspiracy between the government and wizards. Though, among all of that, they still have time for strudel, which really just goes to show that everyone in the film understands how priorities work.
Warner Bros. and author J.K. Rowling have recently announced plans to release five Fantastic Beasts movies in total. TBD on how many more pastries will materialize out of nowhere during those films.
Images: Warner Bros. Pictures