Kylie and Kendall Spoof Kim's 'Vogue' Cover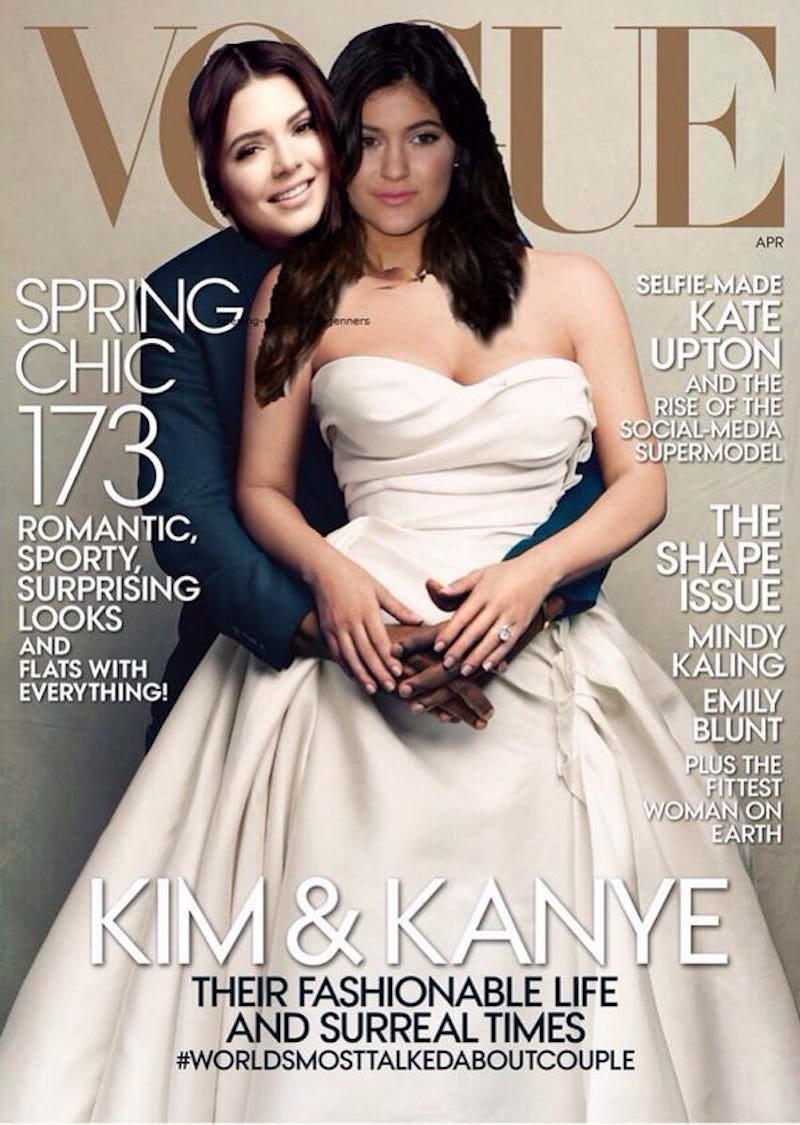 Everybody's doing it: Kermit and Miss Piggy, James Franco and Seth Rogen, any person on the Internet with a rudimentary knowledge of Photoshop. So it was only a matter of time before Kendall and Kylie Jenner did a spoof of their sister's Vogue cover.
The youngest of the Kardashian sisters parodied the Annie Leibovitz-shot cover, Kylie photoshopping her head onto Kim Kardashian, while Kendall took on the role of Kanye West. Kylie tweeted the picture along with a "Sorry Kim." Wonder which the soon-to-be Mrs. West prefers?
Like Kim Kardashian and Kanye West's "Bound 2" video, Kendall and Kylie's version is just one among a mountain of spoofs. Theirs was not the first, nor will it be the last. Already, there's been covers of Frodo and Sam, Obama and Putin...you name it, it's on the Internet (although really, that can be said about anything). But among all these spoofs, there are some famous couples getting left out. So we decided to rectify the situation and put some of our favorite duos on the cover of Vogue. After all, we have two thumbs and rudimentary Photoshop skills too! If Kendall and Kylie can do it, why not us?
Ilana and Abbi
Out of all the reigning queens of comedy, Ilana Glazer and Abbi Jacobson seem like they would have the strongest relationship (and the best Vogue cover). After all, isn't real love acting as a human shield while the other person changes clothes on the sidewalk in New York? And sneaking a peak?
Bert and Ernie
Yeah, Kermit and Miss Piggy are cute, a classic Muppet couple. But what about a cover that's more LGBTQ friendly? From the adorable couple who were recently featured on a little magazine called The New Yorker ?
Kourtney and Scott
And what about the other members of the Kardashian family? Sure, Kendall and Kylie are cute, but they don't have kids together. And they also don't seem to actively hate each other while somehow still remaining in a relationship. Scott Disick and Kourtney Kardashian's love may seem a little weird, but unlike Kim and Kanye's relationship, no one would ever think that it's fake.
Image: Twitter/KylieJenner