'AHS: Coven' & 'Murder House' Crossover Is Coming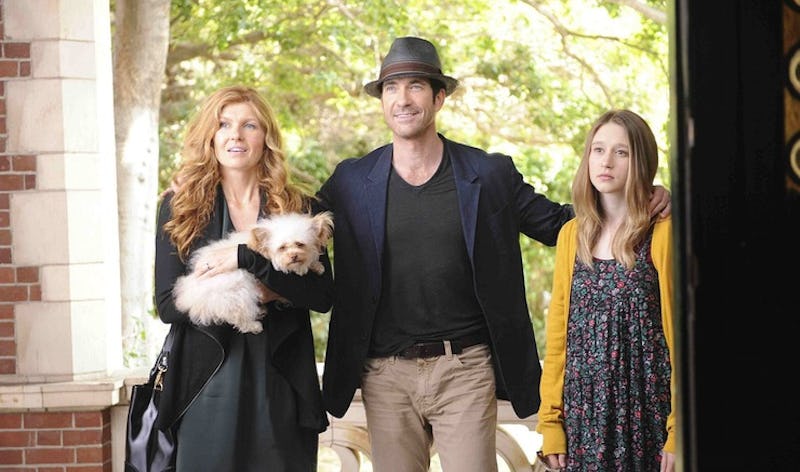 Hold on to your horror fests, friends, because American Horror Story is planning one heck of a crossover. Speaking at the Ryan Murphy and Friends panel at Entertainment Weekly's PopFest on Sunday, Ryan Murphy admitted that big things were in store for future seasons of American Horror Story. When pressed about the hints that he's dropped in the past about bringing Coven back in some capacity, Murphy said openly that they know exactly how they plan on doing that: With a crossover. "We do know what we're going to do," Murphy shared exclusively with the audience in attendance. "It's not going to be next season, but we are going to do a season that's a crossover between Murder House and Coven together, which is very bizarre." But before I lose my mind over this exciting news, let's get down to brass tacks: If this crossover thing is really going to happen, there are some characters who need to be in it.
Because making a mash-up of American Horror Story's first season and their most popular one is such a brilliant idea. Especially since there are so many opportunities for the two storylines to mix. The crossover will combine the show's first season — the one about the Harmon family who move into a mansion where previous residents who have died on the property are also residing — with the show's third season — the one about a coven of witches living in New Orleans Both season used flashbacks in similar ways, and I think that crossover in time would be the perfect way to mix them. But, if that's the case, there are going to be some characters that definitely need to come back.
1. Cordelia Foxx (Sarah Paulson)
What would a season of American Horror Story be without Sarah Paulson? But beyond this star's staying power, Paulson brought Foxx to life in a whole new way in Season 3. This headmistress of Miss Robichaux's Academy for Exceptional Young Ladies reigned supreme over the coven, so clearly a crossover wouldn't be the same without her.
2. Fiona Goode (Jessica Lange)
The late mother of Cordelia Foxx, Fiona Goode is the former leader of the coven. She enjoys a life of luxury and rubbing elbows with big celebrities.
3. Madison Montgomery (Emma Roberts)
This teen movie star is obsessed with her career and her partying. She provided just the right amount of terrifying creep with her bad attitude and penchant for killing people who got in her way.
4. Marie Laveau (Angela Bassett)
This might be the best way to get these two shows to intersect: With some great characters from the past. And Bassett's character, who practiced in the art of voodoo, would definitely accomplish that.
5. Vivien Harmon (Connie Britton)
Poor Vivien Harmon. After her husband has an affair and her baby is lost in a miscarriage, it's up to her to give her family a fresh start. Too bad that fresh start comes at the cost of her family's safety.
6. Dylan McDermott (Dr. Ben Harmon)
Every horror story needs a protagonist with a past, and that is exactly what this crossover would get in Dr. Ben Harmon. This psychiatrist has some serious skeletons in his closet, all of which could come out nicely for another season of AHS.
7. Taissa Farmiga (Violet Harmon)
Clearly I want the entire Harmon family to come back for another round. I think the interplay of their complicated family dynamics would play perfectly off of the history of the witches' coven.
But we'll see what Ryan Murphy decides to do. Whatever it is, I'm sure it will be brilliant, and I hope it includes these characters.
Image: FX