5 Reasons To Wear Theater Makeup IRL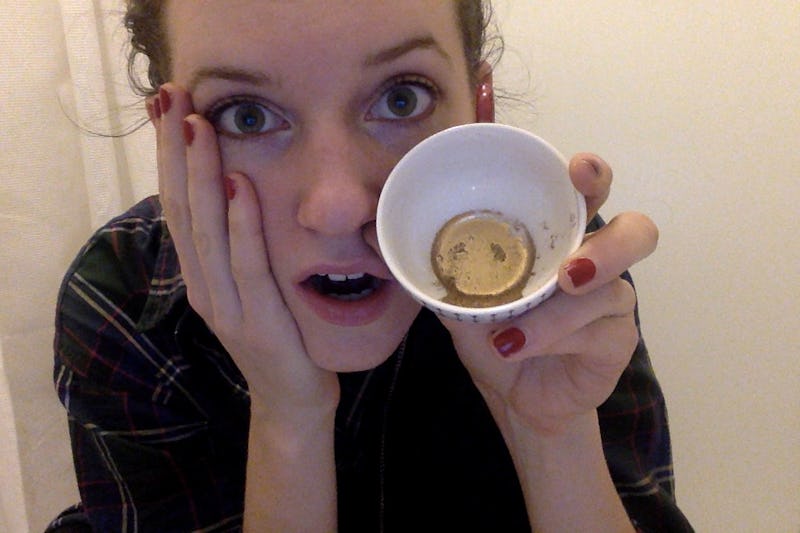 Have you ever gone backstage at a ballet recital, only to be been shocked by the garish faces of the ballerinas up close? The over-rouged cheeks, sticky false eyelashes, and white face paint — it's like you've wandered into Moulin Rouge. Anybody who's spent a little time beneath stage lights knows that theater makeup is one big crazy illusion: you pile it on extra-thick backstage to appear extra-normal onstage, and everyone, even the guys, has to wear it. It's perfect under stage lights, but awful in the lobby afterward, and those thick creams and grease paints would never translate well into real life.
OR WOULD THEY?
Don't get me wrong — theater makeup is usually much too heavy for your skin on a regular basis. But for a crazy night out? Here's why the illusions of the stage can't be beat:
1. It's crazier than regular makeup. *jazz hands*
I began to realize the incredible versatility of theater makeup after I snagged a bottle of something called Metallic Powder with Mixing Liquid by the revered stage brand Mehron. It was basically magic: a fine gold powder that, when combined with the mysterious "Mixing Liquid," transformed into something like melted gold leaf. It went on easily with a little brush and stayed on — well, it probably would have stayed on till kingdom come, since it's designed to cover actors' entire bodies during sweaty productions. But once I was done with my golden cat-eye, it came off in seconds.
Are we obsessed or are we obsessed?
Try: Mehron Metallic Powder with Mixing Liquid when you need to shine like the sTaR you are.
2. It'll stay forever, if you want it to.
Theater makeup was built to last, baby. You can't have Sweeney Todd's face smearing onstage during his big killing spree, can you? This means that whatever offstage activities you throw at it — sweaty dancing, cocktailing until 8 A.M., accidentally falling into the river — your makeup won't budge until you purposefully wash it off.
Try: Ben Nye Cake Eyeliner in Black for a matte cat eye that reviewers claim they've slept in without smudging.
3. It's really cheap.
A tube of silver paint designed to be used all over the body (Tin Man, anyone?) sells for $3.50 and claims to be enough for "several applications." But say you're just using the paint for a thin line above each eye? It'll last until Cats comes back to Broadway.
Try: Silver Fantasy F/X for '80s dance parties.
4. The colors are extremely saturated.
Am I the only one tired of drugstore eyeshadows screaming things like, "Hello, I'm green!" when really they're just the vague color of seasickness? Cheap makeup usually fails to deliver in the saturation region — but that's where stage makeup comes in. Because when you're playing the Blue Fairy, you better be really, really blue.
Try: Ben Nye Creme Color Liner in Vivid Violet if being a Purple Fairy is more your thing.
5. If you're feeling weird, you can really get weird.
Superfans may recall that I once preached the benefits of applying actual face paint before going out. (Pros: you'll be the craziest-looking one at the club! Cons: you'll be the craziest-looking one at the club!) If that's your thing, theater makeup opens up a whole new wo-o-o-o-orld of freaky possibilities. Use theater wax to give yourself a raised beauty mark, Miss Monroe. Flutter your "showgirl" fake eyelashes at everyone who looks rich. You can even play around with fake blood to give yourself especially luscious, vampiric lips. Oh, what fools these mortals be.
Try: Mehron Stage Blood for emergency-kissing Edward Cullen.