There's A New Holiday Drink On The Starbucks Menu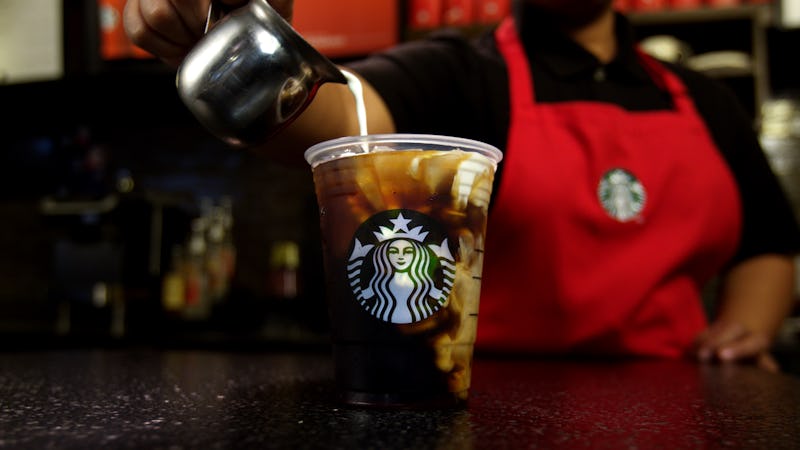 I'll admit that when I think of cozy holiday beverages, the word "cold" isn't usually part of the picture. However, the new Starbucks Spiced Sweet Cream Narino 70 Cold Brew might just change that — especially since I'll probably be visiting family in Southern California during the actual holidays this year. For those who might also find themselves in warmer climates at that particular time, this new beverage sounds like an excellent way to get your holiday cheer on without overheating. Everybody wins!
Starbucks' cold brew has been on a steady rise to fame over the past few years; it first entered the testing phase way back in 2014 before making its way to many more stores in March of 2015. It became a permanent menu item during the summer of 2015 — and then the following spring, a few variations began to pop up: Nitro Cold Brew and Vanilla Sweet Cream Cold Brew. I'll be honest: Vanilla Sweet Cream Cold Brew is exactly what it says it is (that is, sweet), so if you're not into coffee drinks that basically taste like sundaes, it's probably not going to be your thing. But if you crave a bit of sweetness every now and again? Go forth, I say. You won't regret it.
So what exactly is in the sophisticated-sounding, holiday version of Vanilla Sweet Cream Cold Brew? It all starts with Starbucks' Narino 70 Cold Brew coffee — a custom blend of 70 percent Colombia Narino and 30 percent African coffee beans. Slow-steeped for a whopping 20 hours, this blend results in the super smooth flavor characteristic of cold brew. Generally speaking, cold-brewed coffee tends to be less acidic than coffee made with hot water — a quality which appeals to many a coffee drinker.
But that's just the beginning. The cold brew is then spiced with the flavors of cinnamon, anise, nutmeg, and vanilla, before getting finished off with a float of house-made sweet cream. Having discovered a deep and abiding love for Starbucks' original Vanilla Sweet Cream Cold Brew earlier this year, I'm all atwitter with the idea of it getting punched up by a few of my favorite spices. And yes, the whole thing does come with a kick — a 12-ounce Tall Spiced Sweet Cream Cold Brew has about 140 mg of caffeine. (Alas, the drink isn't currently available in decaf form — sorry, low-test drinkers.)
This isn't the first time Starbucks has released a one-off, holiday-themed riff on a drink that debuted on the main menu earlier in the year; in 2015, for example, we met the Holiday Spice Flat White, which took the regular Flat White that debuted in January of 2015 and made it into an extra-special holiday treat. Is it a trend? We'll have to wait and see, but I would argue that if it happens again next year? Well, three times isn't exactly a coincidence anymore, is it?
The Spiced Sweet Cream Narino 70 Cold Brew costs about $3.25 to $4.25 for a 12-ounce Tall, depending on the market; it's available for Starbucks Rewards members starting on Nov. 3 (that's today, y'all!), and will join the full Starbucks holiday beverage lineup at participating stores in the United States and Canada later in November. Happy almost holidays!
Images: Starbucks; Giphy (2)